The inaugural session of the 3G India 2009 conference organised by Bharat Exhibitions in Mumbai on Friday was on 'The Road Ahead for Telecom Landscape in India – 3G in India and Indian Service Provider's Perspective'.
The panellists for this session comprised Aloke Kaul, chief general manager, Maharashtra, BSNL; J Gopal, executive director, Mumbai, MTNL; Anil Tandan, chief technology officer, Idea Cellular, Abhay Savargaonkar, senior vice-president, network quality and 3G, Bharti Airtel; Mallikarjuna Rao, chief, network and engineering operations, Aircel; and P Balaji, vice-president, marketing and strategy, Ericsson India.
Balaji referred to a survey on the expected use of 3G in tier one and two cities in India. Its results showed that two out of five internet users are interested in mobile broadband. The major uses of 3G are expected to be for mobile broadband, content download, gaming, mobile TV and location-based services (LBS).
Savargaonkar shared some figures, saying that whereas internet subscribers in India are 14 million and Broadband subscribers are 6.62 million, wireless data subscribers number 126 million. He cautioned that the gross revenue of the Indian telecom sector has fallen by three per cent over the last quarter. "The growth rate is tapering a little. And our ARPUs (average revenue per user) are falling. This a big challenge," he said. The only way to give an impetus to the industry, he added, is to increase ARPU of mobile internet subscribers.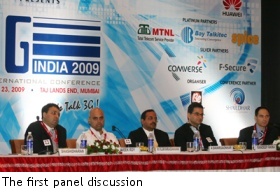 Savargaonkar added that 3G is "not a hunky-dory story". "MTNL and BSNL have been struggling to build up customers," he remarked.
Rao said that with increasing competition, operators will be forced to innovate. He agreed that mobile internet will be the killer application for 3G.
Tandan raised the question whether India can skip 3G and if it is worth investing in. "Technically, 2G can provide the all the 3G services except video calling," he said, adding that an ecosystem of applications will have to be built for 3G.
Kaul announced that 3G will be launched by BSNL in Pune and Goa by December and in 50 cities of Maharashtra in the next six months. He added that it will take some time to become popular and will gradually catch on.
The first session on 'Business Drivers for Growth of 3G in India' was chaired by Savargaonkar of Bharti Airtel. The panellists comprised Sethumadhavan Srinivasan, deputy director, network strategy and marketing, Asia Pacific, Huawei; Randeep Raina, head of 3G business, India region, Nokia Siemens Networks; Aveek Roy, regional director, Audiocodes; Raghunath Vijayaraghavan, director, marketing, Bay Talkitec; and Sefi Alvo, product sales head, Asia Pacific, Comverse.
Srinivasan pointed out in his presentation that Asian operators are expected to double their income from 2006 and 2011. The factors which will make this possible are low cost voice, mobile broadband and 3G value added services (VAS).
Raina said that mobile penetration is expected to be 92 per cent in urban areas and 43 per cent in rural areas by 2013. 3G subscribers are expected to reach 150 million by 2014. He said that there is a great market opportunity in data cards, which are expected to be used by 27 per cent of 3G users by 2014.
Roy said that 3G was first launched in 2003 outside India and that we are seven years ahead of the cycle. He focused on HD (high definition) Voice and said that corporate customers would be willing to pay a premium for higher quality of voice as congestion lowers the quality of voice services.
Vijayaraghavan spoke about the services that would do well in 3G in urban and rural areas. In urban areas, web to mobile and mobile to web services will do well, he said. Apart from this, day to day information such as flight status, traffic updates and stock updates provided through video are expected to be popular.
He added that in semi-urban and rural areas, video education and video doctors could do well. Corporate customers would prefer video caller ID, video marketing video yellow pages.
Alvo said that a new segment of customers will come up which will log on to the internet directly through mobile. Citing a report, he said that mobile internet revenues will growth at a CAGR of 32 per cent from 2008 to 2013, and that five per cent of the subscribers will account for 90 per cent of the traffic.