Google has been employing machine learning in its translate service since 2016 and has improved its functionality severalfold since then. But the AI-based platform looks to be spreading some old-fashioned doomsday prophecies from nothing but gibbering and a random assembling of words. Caught first by Motherboard, the algorithm used for translating is not only spitting out meaningful texts out of random words but also preaching end-of-the-world sounding passages.
Google Translate is rendering illogical words in well-scripted passages with some inputs being detectable when translating from a certain language. For example typing the word "dog" repeatedly and choosing to translate the text from Maori to English will get you a response which reads: "Doomsday Clock is three minutes at twelve We are experiencing characters and a dramatic developments in the world, which indicate that we are increasingly approaching the end times and Jesus' return".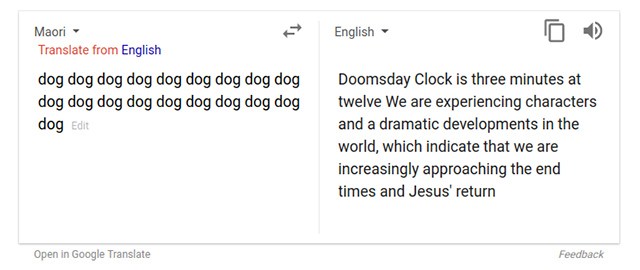 Similarly, translating a varying number of "ag" from Somali to English will give you different scary passages as if quoting a religious prophecy. The sequential result of typing more and more number of "ag" will read: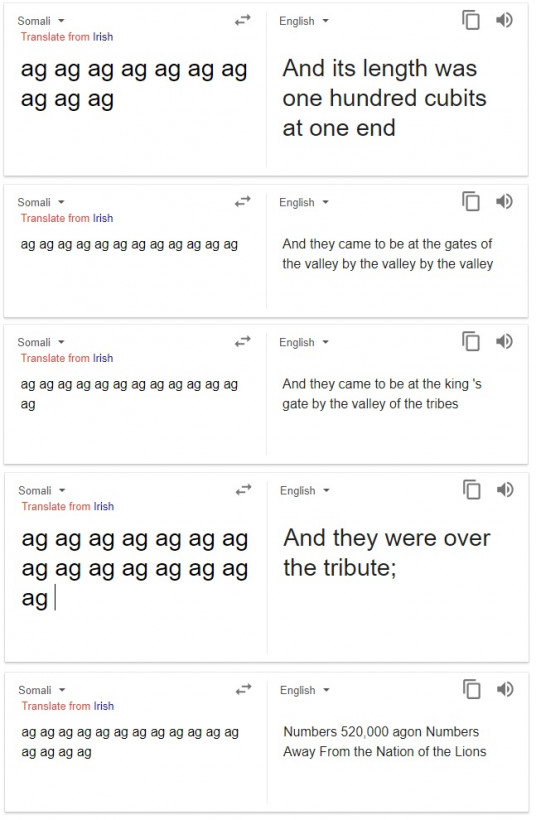 While some might believe this to be a religious theme, it's most likely a glitch involving a wrongly-fed training data to Google's Neural machine learning system. NMT learns by comparing identical texts from different languages to create a new model from time to time.
A Google spokesperson replied to Motherboard saying "Google Translate learns from examples of translations on the web and does not use 'private messages' to carry out translations, nor would the system even have access to that content. This is simply a function of inputting nonsense into the system, to which nonsense is generated".
Experts beige that religious texts might be a possible source of training data for Google to employ machine learning. When the Mountain View giant was exercising the initial versions of machine translation, it's reported to have used UN's documents for skilful translations. It's speculated that the latest batch of NMT might have employed the Bible since it is indeed the most selling book ever and have been translated into many languages. Thus it only makes sense for religiously themed responses from less known languages.