Google Translate is being powered by a Neural Machine Translation(NMT) technology for over two years now and thanks to the latest update to its app on Android and iOS, the feature can be used extensively offline. What this means is that NMT will be available directly onto the device to help users get high-quality translations even in situations when a user doesn't have access to the internet.
Effective immediately, the newest update will work with any language pack that has been downloaded onto your Android or iOS device. While flagship devices powered by Snapdragon 8435 or later will work smoothly, it's unclear whether the new feature will need an AI-based smartphone on its own to run the neural machine technology.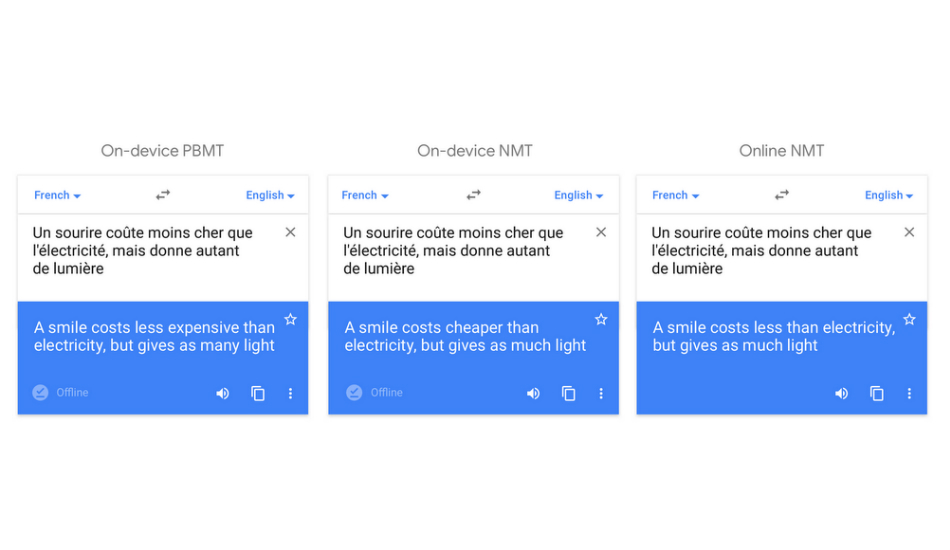 Neural Machine translation will work so as to analyze and translate whole seethes while avoiding grammatical errors and looking for clues where the same work has a different meaning in different contexts. With a mere 50 MB, a traveller will now be able to manage conversations while roaming about a new country or many considering how large smartphone storages have gotten to be. While we already had the offline translation available on Google Translate, the newest feature streamlines the app for a detailed and precise translation, all of which will be done without a data connection or a limited speed one at that.
According to the blog post by Google, the new offline translations is currently available as an update to the language packs that can be downloaded onto your device storage. To access the NMT feature, you'll need to open the Translate app and click on the banner on your home screen which prompts you to update your offline files.
For users who haven't used Google offline translation yet, they can head over to offline translation settings and tap the download icon adjacent to the language to download the needful language packs.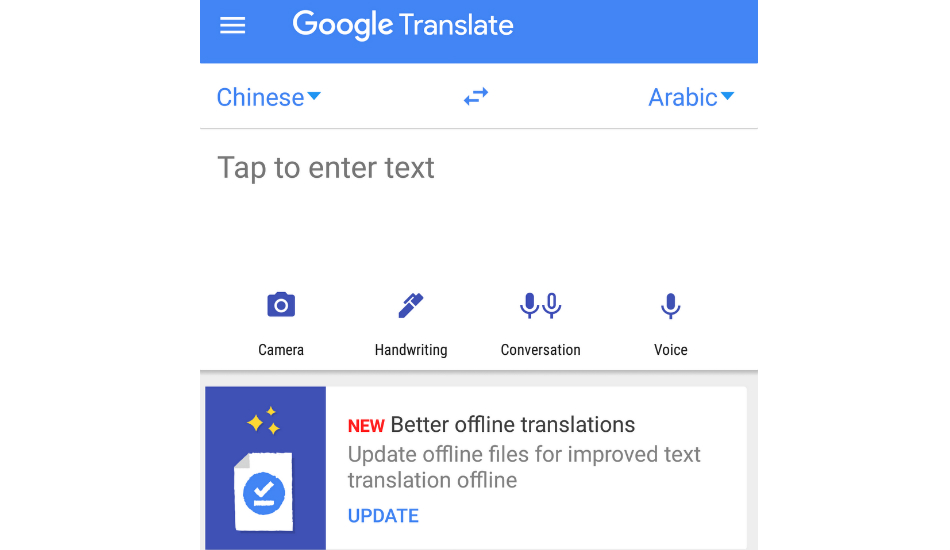 NMT offline translations are available across devices running on iOS and Android and Google is currently rolling out the update for 59 different languages. These include seven Indian languages – Hindi, Tamil, Telugu, Kannada, Gujarati, Bengali and Marathi.
Complementing the latest announcement, Google Translate Product Manager, Julie Cattiau said "Today, we're bringing NMT technology offline—on device. The neural system translates whole sentences at a time, rather than piece by piece. It uses broader context to help determine the most relevant translation, which it then rearranges and adjusts to sound more like a real person speaking with proper grammar. This makes translated paragraphs and articles a lot smoother and easier to read."