Google will be announcing new hardware during its October 9 event at Spring Studios in New York where it'll announce the next generation of Pixel smartphones to the world. With just a couple of weeks left for the unveiling, the Pixel 3 and Pixel 3 XL smartphones have been leaked in 'almost' official renders, confirming that the new Pixel lineup will come with a similar form factor as its predecessor.
The leak comes from WinFuture, which described the pictures as "really official press pics". This is the first time we come to see the Pixel phones feature the Gray-coloured "3" as its wallpaper. There's a mint-green coloured power button on the right side which makes its way to the White variants of both the Pixel 3 and Pixel 3 XL.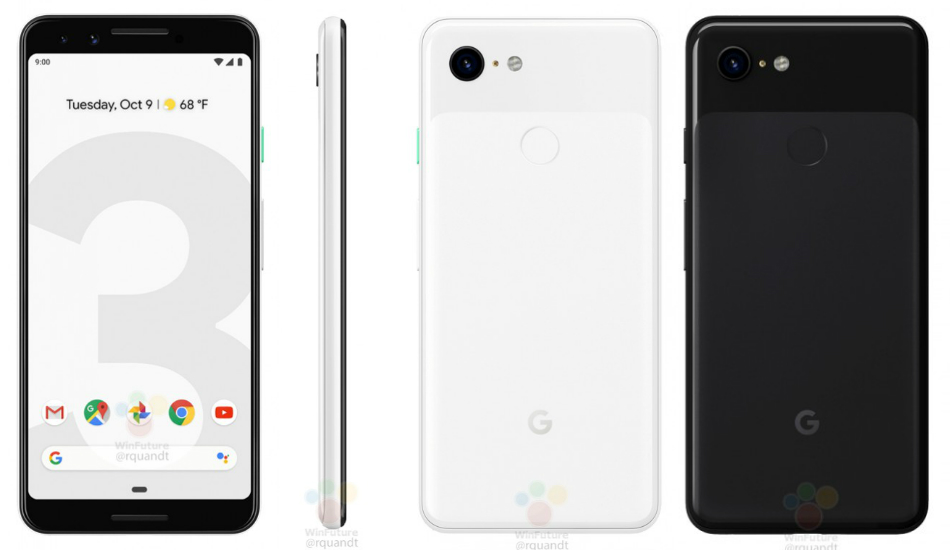 This is interesting since the Pixel 2 and Pixel 2 XL had slightly different colour combinations due to the fact that HTC and LG were the manufacturers of the two Pixel phones. On the front, the Pixel 3 looks identical to last year's Pixel 2 while the Pixel 3 XL now adorns a notch that's deeper than any notch on any smartphone.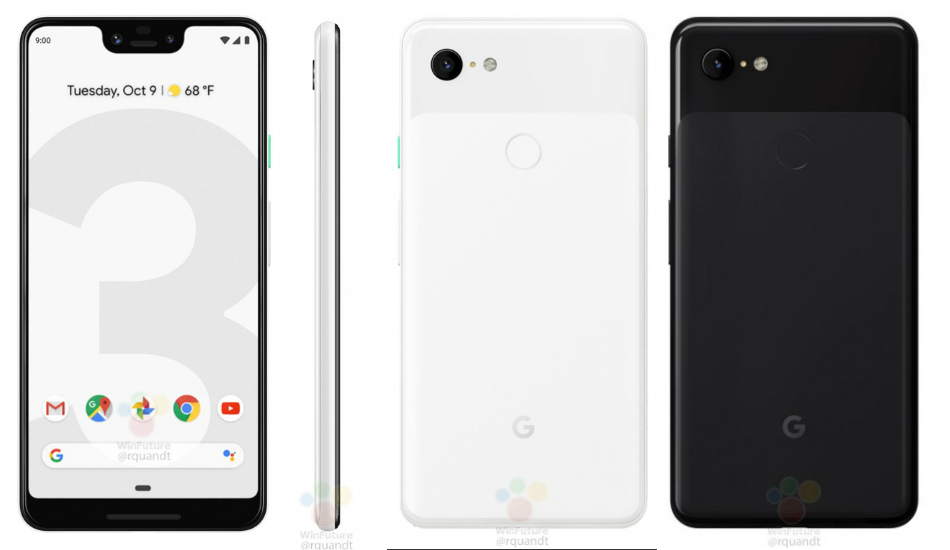 Also, the notch on the Pixel 3 XL will house two cameras while the Pixel 3 will come with a single camera. It's unsure whether Google plans to use the second camera as part of the facial recognition. The 3 XL boasts of a larger 6.2-inch display with a resolution of 2880 x 1440 pixels, which is expected to be the same number of pixels on the 5.5-inch screen of the Pixel 3. However, the standard Pixel will now have thicker lower and upper bezels.
Apart from that, the Pixel smartphones are tipped to be powered by a Snapdragon 845 SoC with 4GB RAM and 64GB storage. There have been rumours that suggest Google could also bring in an 8GB RAM variant with 128GB storage. The devices will run on Google's own Android 9 Pie interface straight out of the box with Quick Charge and wireless charging expected to be supported on both devices.