Google India has recently announced its year end Google Zeitgeist for 2009 which reveals what its users in India have been searching through the year. The report also provides a perspective on what clicked with people and the way they consumed information on the internet – both from the computer and mobile.
The top ten mobile queries in 2009 in India, according to the survey were Orkut, Katrina Kaif, Aishwarya Rai, Namitha, Gmail, Priyanka Chopra, Asin, Angelina Jolie, Cricket and Salman Khan.
"Considering our mobile search traffic for 2009 has quadrupled as compared to the last two years put together, this year we have put additional focus on users who access internet through their mobile phones," said Vinay Goel, head of products, Google India.
Google's survey suggests that the traffic has increased due to affordable data access on the mobile provided by operators. There are two ways with which one can access internet on mobile – one is through the web browser which is in-built in the phone and the second could be through applications.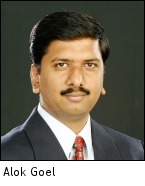 Speaking to Telecom Yatra , Alok Goel, product manager, Google India said, "Currently it is browsers which are accessed more because it is also available on the low cost handsets. Applications may have problems sometimes with respect to downloads. So, browsers are preferred."
Although, with the upcoming advent of 3G in India, access of mobile internet is touted to become faster than it is currently. Goel believes that today one out of every 10 Indians uses mobile internet.
Goel further states, "There are an estimated 25 million mobile internet users against 70 million users on the desktop." He explains that usually mobile internet traffic is at its peak in the early morning, which is the time before one leaves for office. In this time, news and emails are the most browsed items. During lunch time short codes such as cricket and stock quotes are popular as it is information on the go. And finally after evening hours, entertainment is searched most, he adds.
Google India reveals that Gmail, Orkut and Maps are most sought after mobile applications currently. Interestingly, according to Goel, the mobile internet traffic of Aircel in particular has increased after mid-2009. The rise probably comes after the operator introduced Pocket Internet cards for its subscribers. Pocket Internet was introduced by Aircel in April 2008. It is a topup card available at Rs 98 wherein it has unlimited surfing, uploading and downloading on GPRS-enabled handsets and laptops or computers.
Goel added that the traffic on Aircel has gone up by 20 times after the launch, though he did not share the figures. An Aircel spokesperson was unavailable to comment despite repeated attempts.