Samsung in India announced the launch of Galaxy Gear smart watch accessory for Samsung Galaxy Note 3. The Galaxy Gear has similar functionality to the Sony Smart watch launched last year, but with much advanced features including the ability to text, call and even capture videos and images right from the watch itself.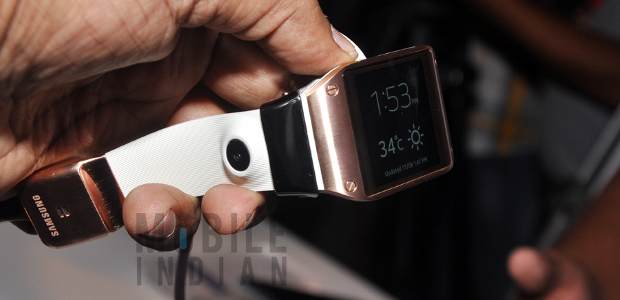 The device carries a mighty Rs 22,990 price tag, in which a buyer can get a decent mid range android smartphone, but the Galaxy Gear is for those who seek functionality and utility while not minding the price. Galaxy Gear was unveiled in India alongside the Galaxy Note 3 yesterday, and we got to have our first hand experience of the device.
###PAGE###
Design
The design of the Galaxy Gear is unique as Samsung has managed to stuff a budget Android smartphone in space as small as a wrist watch, using Galaxy Gear. The watch itself is no bigger than 36.8 x 56.6 mm, while it is 11.1 mm thick. Galaxy Gear comes in a variety of colors to match the style and options offered by Samsung Note III, and it comes with a range of smart covers as well.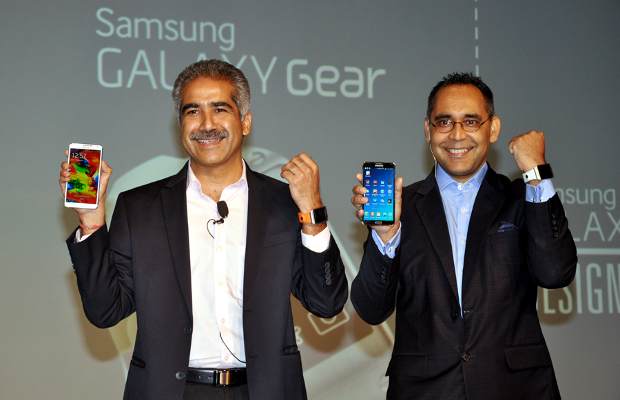 But users will have to be choosy about which color they want as they would have to put up with that for the entire life of the product since it does not feature replaceable bands. Unlike the Sony Smart watch the Samsung Galaxy Gear has electricals running all through the band so it has to be made irreplaceable. The Galaxy Gear will be available in two colors, white and black, with more options in the future.
###PAGE###
Hardware
Galaxy Gear is a complete solution in itself, offering a handsfree experience. It features a 1.63 inch Super Amoled display with 320 x 320 pixel resolution. The display is good for indoor use as well as for outdoor or bright light usage as well. The touchscreen is responsive and there is just one physical button on the device for power control as well as other functions including returning to the home screen. The Gear packs an 800 MHz processor coupled with 512 MB RAM and 4 GB internal memory. The memory is mainly used for images and videos captured with the camera and there is no need for any additional memory as most of the functions the gear performs are device dependent.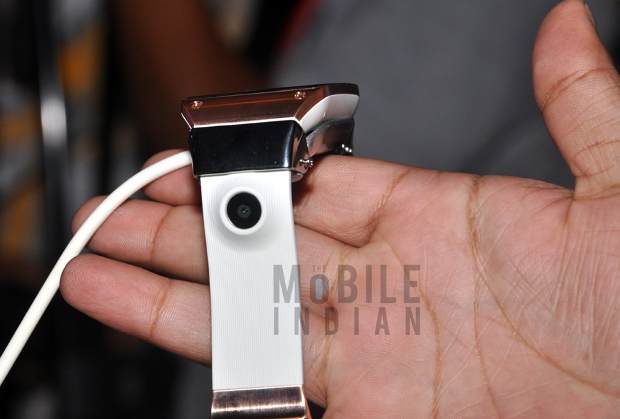 The Samsung Galaxy Gear features two microphones with noise cancellation and it has one speaker. The speaker has been placed so that it allows users to make and receive calls in the most natural way, rather than by shouting into the watch.
###PAGE###
Camera
Samsung has added a 1.9 megapixel camera with a BSI sensor and auto focus. It is capable of recording video as well and images, though the videos are limited to 720p HD resolution recording and users can only record a maximum of 10 seconds of video on the device. The images feature a macro mode as well, allowing users to capture pictures of close up objects.
User interface
The Galaxy Gear utilizes a custom built of Google Android operating system powering the device. The interface is simple and very easy to learn, and offers functionality based on gestures. For instance, swiping downwards brings up the camera app, and users can tap the screen to capture video or images. Applications can be scrolled with horizontal swipes, and a two finger tap on the screen brings up the status of the device including information such as connection and battery level.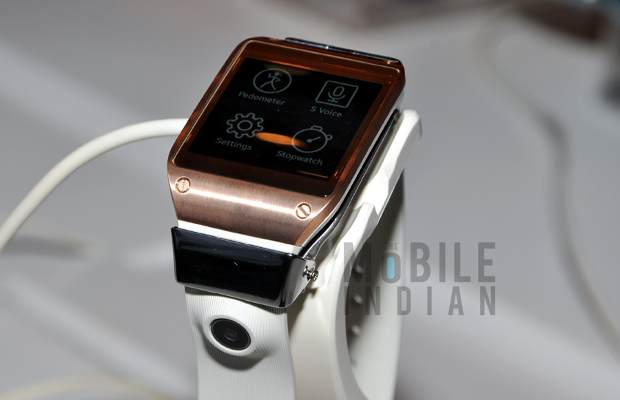 The Galaxy Gear is capable of giving notifications for messages, incoming calls, text messages, emails and alerts. It is also capable of replying to messages and accepting calls with the help of voice commands. The voice recognition engine is improved with better support for Indian accents, but yet again it is a network dependent feature so your device should be connected to a fast data network to fully utilize the benefits.
###PAGE###
Finally
Although Galaxy Gear is a beautiful little gadget its dependence on Samsung devices makes it a little less desirable. The Gear would only function with devices including the Galaxy Note 3 to begin with and support for other flagship devices such as Galaxy S4, and the Note 10.1 and Note 510 will be made available in the coming days. The Gear is not compatible with other non Samsung android devices, but that possibility is on the cards.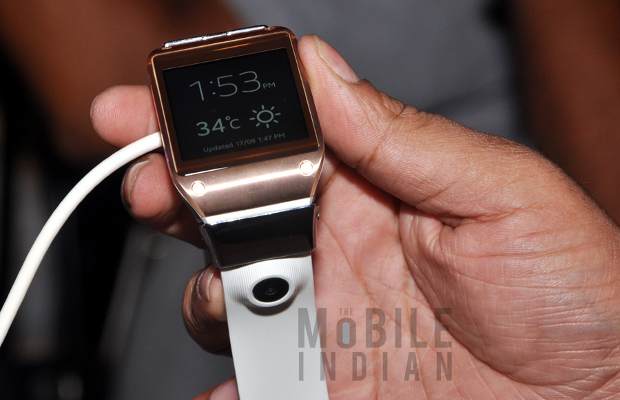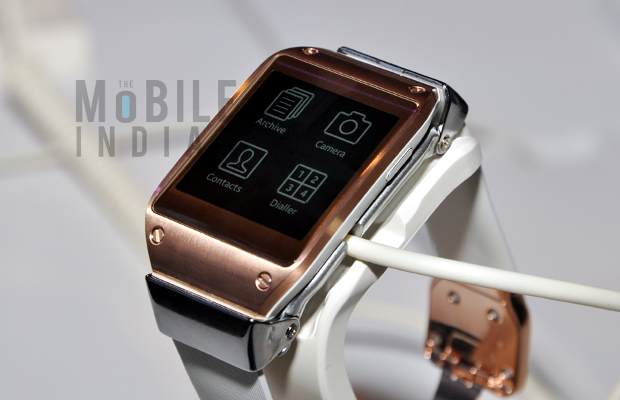 Priced at Rs 22,990 the Samsung Galaxy Gear is expensive and only supports a handful of devices at present. But in terms of functionality it offers calling, camera, as well as a plethora of other features that users would find useful. We are currently sourcing the product and will bring a detailed review of it soon.