Realme has three sub-brands called Narzo, DIZO, and TechLife. In April this year, the company announced an overhaul for its TechLife brand bringing all its AIoT products under the Narzo sub-brand. Realme announced DIZO way back in May 2021. Since its inception, the TechLife brand launched a host of audio devices and smartwatches. The future of the brand however, now seems a bit hazy.
DIZO CEO steps down, raising eyebrows about the brand's future
Realme's DIZO brand completed a two-year anniversary recently. Now DIZO's CEO Abhilash Panda has stepped down from his role. He joined the brand from Flipkart where he was the Director for Mobile Phones. The executive is moving on to explore other opportunities.
Also Read: Realme Narzo N53: Top 3 Alternatives
However, without providing any additional information, Panda's departure from DIZO has also raised eyebrows and fueled rumors about the future of the brand. His resignation was unexpected and the company has also not shared anything on its social media handles since March 31st. This has made DIZO customers believe that the company might have shut down. However, DIZO still continues to sell its products on its website, Amazon, and Flipkart.
DIZO users experiencing issues, adding more speculations about the brand's stability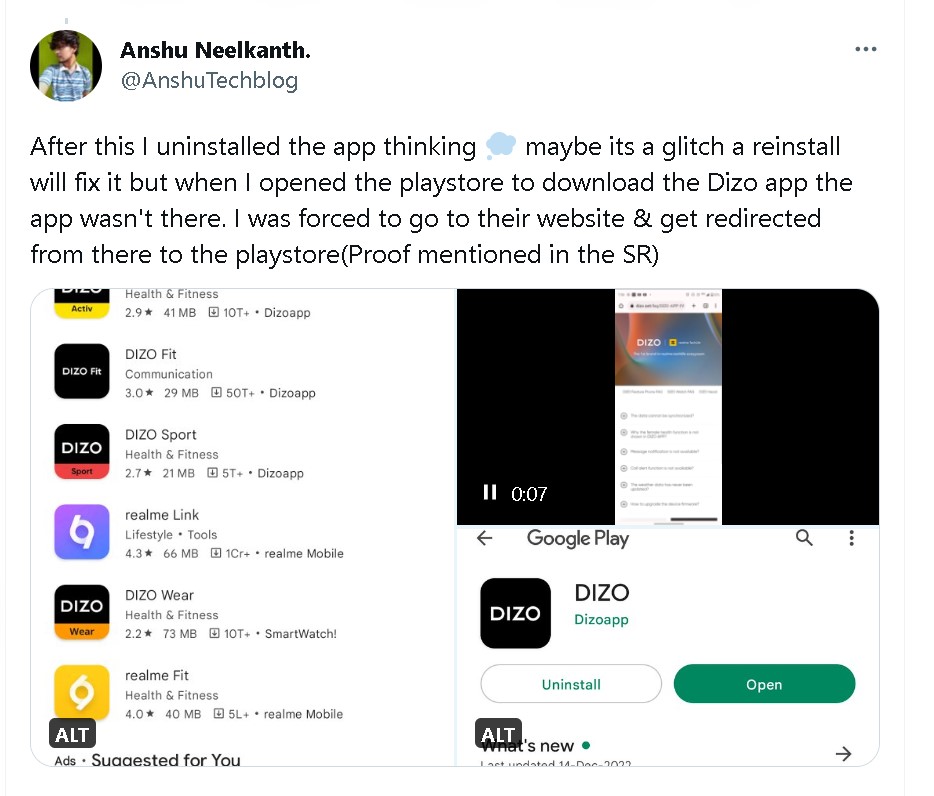 Adding to the uncertainty about DIZO's future, many users (check a detailed thread from one user here) of DIZO products took to Twitter to complain that the brand's companion App is not working on their devices. They are facing glitches and errors with the app now showing any information. Some users also reported that the DIZO app has been delisted from the Google Play Store. Additionally, DIZO's customer support is also non-existent. Customer queries and complaints have gone unanswered by the support team.
DIZO customers are also facing problems with their products including malfunctioning, poor build quality, and poor performance. All these issues have left customers feeling neglected and frustrated adding to the speculation that DIZO might shut down.
When Realme announced its plans to overhaul the TechLife brand, it directed all fans to follow Narzo and the company's own social handles for any future announcements. However, the company failed to give any clarification regarding the future of AIoT devices under the DIZO brand. Despite the uncertainty revolving around DIZO's future, the lack of clarity and responsiveness from both companies has made customers believe that DIZO's time may be up.