A week after introducing a Rs 2,499 broadband plan with 40GB daily data limit, BSNL has now revised all of its FTTH Broadband plans to offer daily data offerings instead of a monthly data limit. The latest development will be effective to all BSNL FTTH plans which amount to seven at the time of writing and offers as minimum as 18GB data per day for one month.
The six existing plans of BSNL FTTH broadband namely the BSNL Fibro Combo ULD 777, BSNL Fibro Combo ULD 1277, BSNL Fibro Combo ULD 3999, BSNL Fibro Combo ULD 5999, BSNL Fibro Combo ULD 9999 and BSNL Fibro Combo ULD 16999 have all been revised with daily data limits.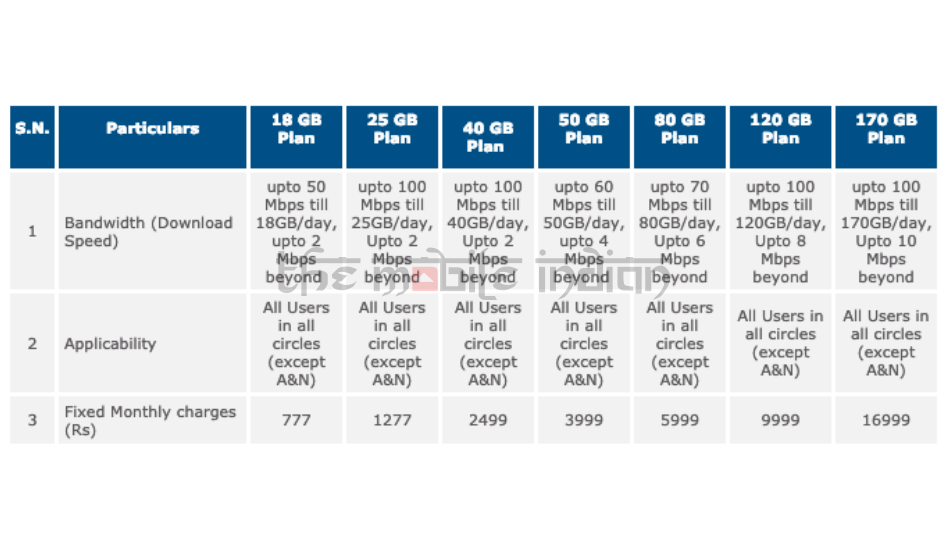 These daily data limits have been implemented in such a way that the net data offering hasn't been changed but has been distributed into daily limit so as to allow users to not fall back to lower speeds during the early part of the month. All the revised FTTH plans have been listed below under their new names.
BSNL 18GB Plan
The newest and the cheapest in the list is the 18GB plan which was previously named as the BSNL Fibro Combo ULD 777. The plan offers 18GB of daily data at speeds of up to 50Mbps which will be reduced to 2Mbps beige the 18GB limit. Prior to this, customers used to get 500GB of data at 50Mbps for a whole month beyond which the same FUP speed was applied.
BSNL 25GB Plan
Next up, BSNL has revised its Fibro Combo ULD 1277 plan to the '25GB Plan' offering broadband FTHH users with a daily limit of 25GB data at 100 Mbps speeds, past which the speeds will be reduced to 2Mbps. Previously, BSNL offered 750GB of monthly data at 100Mbps and post the FUP, speeds will be reduced to 2 Mbps.
BSNL 50GB Plan
BSNL has renamed the Fibro Combo ULD 3999 FTTH plan to the '50GB Plan', thus offering 50GB of high-speed data at 100 Mbps and 4Mbps once the FUP is reached. The plan previously offered users 750 GB at the same speeds of pre-FUP 100Mbps and post-FUP 4Mbps.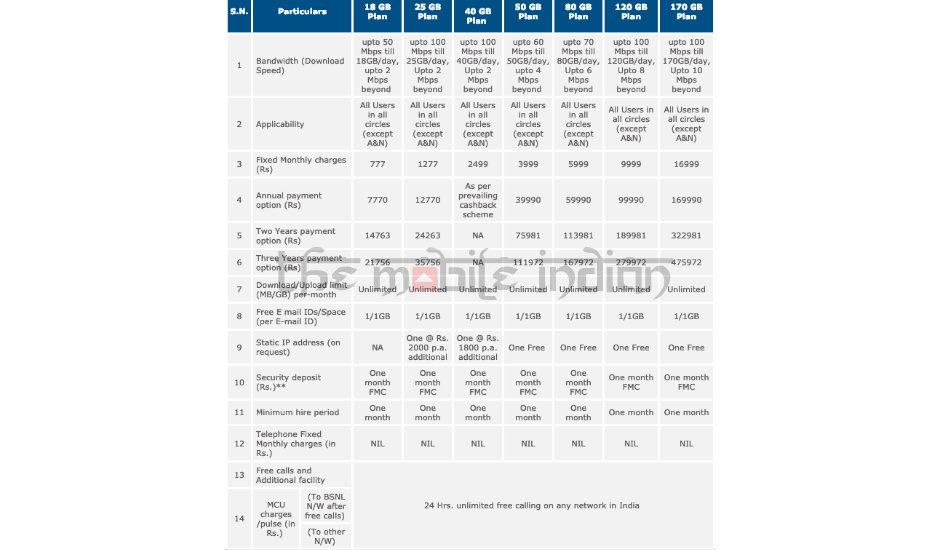 BSNL 80GB Plan
The Fibro Combo ULD 5999 has now been converted to BSNL 80GB FTTH plan, which now offers 80GB of daily data instead of 1250GB of monthly data at 100Mbps speeds. The post-FUP speeds limit remains fixed at 6Mbps but this time around it'll be applicable on a daily basis.
BSNL 120GB Plan
The state-run operator has also converted the Fibro Combo ULD 9999 from featuring 2200GB of monthly data to 120GB of daily data with the same speeds of 100Mbps. Once the FUP limit is reached, the speed will be lowered down to 8Mbps.
BSNL 170GB Plan
Lastly, BSNL has revised the Fibro Combo ULD 16999 to the '170GB Plan' to offer 170GB of daily data in place of 3500GB data that's provided for a month. The post-FUP speed of this plan remains the same at 10 Mbps.