We already know that Reliance Jio is planning to dive into the DTH industry and it might happen sooner than we think. But seems like hackers are on their way to extract some money before Jio officially announce its DTH service in India.
In a WhatsApp message which has been circulated a lot recently, Jio DTH registrations look to have already begun. Beware! As this is surely some kind of spam because there has been no official announcement by Reliance Jio on this matter. So the message will ask you to redirect to www.myjiodth.com after which the landing page claims that the advanced booking for Jio DTH service has already begun and the last date to apply is 31st May 2017.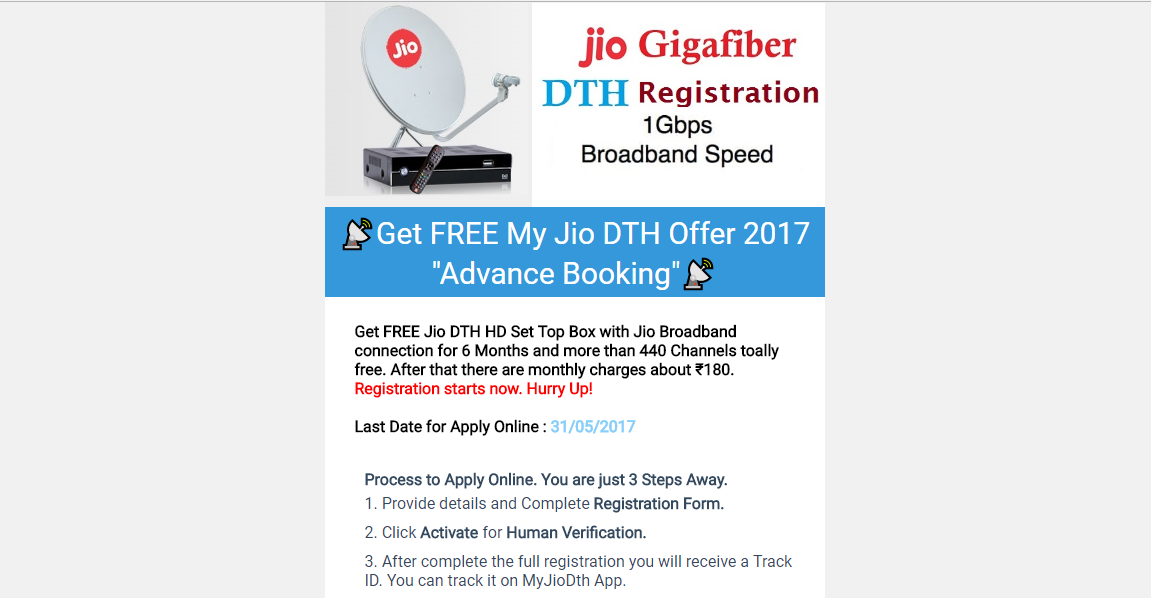 The webpage reads – 'Get FREE Jio DTH HD Set Top Box with Jio Broadband connection for 6 Months and more than 440 Channels totally free. After that, there are monthly charges about Rs 180."
However, we would request you to not go ahead and fill any form as this is, in fact, a spam website. Filling in the details to activate Jio DTH, we found that the website then requires you to share the page on 8 WhatsApp Groups for verification which apparently proves it to be a hoax.
Yesterday, another case of web phishing was spotted when users were receiving a suspicious Google Docs link, clicking which would allow hackers behind the doors access your data without any login or password required. In most cases, phishing tricks users to give away the vital information like password, username, and other details by disguising as a trusted entity. However, in this case, attackers used an already logged-in user to send this malicious link to all his/her contacts posing as a Docs file.