As of today, most handsets except the really basic ones that are available in the market today offer Bluetooth connectivity. Bluetooth that helps in wireless connectivity has become a crucial part and, for many, even a basic point of consideration when buying a phone. With gaining popularity amongst people from all age groups, Bluetooth accessories have almost become as a must have accessory with the mobile phone.
Bluetooth handsfree kits that are available today can be easily classified in to two main categories. One being the monaural audio channel based handsfree kits that only support voice communications and the second one being the stereo handsfree kits that offer music playback along with audio communication.
In the past, mobile users used to prefer mono Bluetooth handsfree kits as they were sleek and offered what the uses demanded for i.e. wireless communications and hand free comfort. But, today the scenario has changed completely with many users moving their attention towards stereo handsfree kits as they offer a simple but useful solution to easy music listening and voice based communication as well.
Most of the users that belong to the younger age groups prefer investing in a good quality stereo Bluetooth handsfree kits as music remain their main priority along with freedom. But slowly these handsfree kits are also being liked by people falling in various age groups.
So here we have short listed a couple of stereo Bluetooth handsfree kits for mobile phone users in India that offer all round performance which most of the buyers aim for.
Nokia BH 214 (Rs 3,000)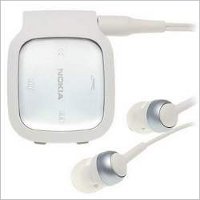 When it comes to the most reliable cellphone and accessory manufacturer, Nokia remains the undefeated king. Nokia in India offers a wide range of wired and wireless Bluetooth handsfree kits compatible with a wide range of devices of different manufacturers.
The BH 214 stereo Bluetooth handsfree kit from Nokia is one of the best because of its design. The handsfree kit is not bigger than an average MP3 player and comes with a clip on interface. The BH 214 features a 3.5 mm audio jack, allowing easy connectivity with other headphone/earplugs that the user might want on use.
The device offers up to 7 hours of music time between charges and also allows the user to control music playback with the dedicated media playback keys and support for Audio/Video Remote Control Profile (AVRCP).
Nokia BH 505 (Rs 3200)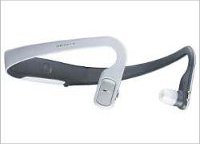 When it comes to comfortable all time wearability, nothing offers more comfort than the behind the neck type headsets. The BH 505 combines the benefits of both behind the neck design and in ear type earpieces for a comfortable fit and offers basic noise cancellation too.
The battery life offered by the BH 505 is good with a rated 6 hours of music playback time between charges. It is also splash resistant that makes it wearable outdoor during exercising or outdoor activities as well. The handsfree also incorporates near field communication technology that makes pairing as simple as tapping it on to the mobile phone
Sony Ericsson MW 600 (Rs 3,500)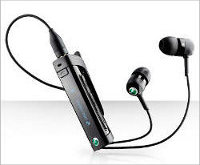 Clip-on design based Bluetooth handsfree kits offer both comfort and security as there is no way one can drop the clipped on hands free kit. The Sony Ericsson MW 600 is a classic Bluetooth handsfree kit that offers both functionality and style.
The MW 600 also features a 3.5 mm Audio Jack connectivity allowing easy connectivity with any other headphone/earplug that the user might want to use.
Besides, the MW 600 also features a small but bright OLED display that displays the caller's number or the name in case of an incoming call. Along with dedicated music playback keys, the MW600 also features an inbuilt FM radio that can be played even when the device is not even connected to a cell phone.
Plantronics Backbeat 906 (Rs 5,500)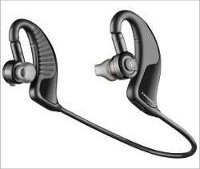 Plantronics has Bluetooth accessories for every mobile category. For the stereo category, they have got the Backbeat.
The name, Backbeat, was originally given to a headset that was earlier marketed under the name of Altek Lansing Backbeat 906. Later, it was rebranded as the Plantronics Backbeat 906 stereo Bluetooth headset. Nothing, except the parent name, changed in this headset.
Design of the headset is very sturdy and long lasting. The drivers are connected via a flexible rubber Band that encloses the cables too which goes behind the head but does not cause any discomfort to the wearer. This makes the Backbeat small enough to carry in the pocket.
In the package, it comes with a Bluetooth transmitter which can be connected to any audio device with a 3.5 mm jack for music playback on the Backbeat.
TBV S91 (Rs 2,500)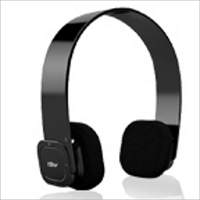 Trueblue Voice, one of the new entrants in the Bluetooth headset market in India, has a wide range of products, of which TBV S91 stereo Bluetooth headset is the latest.
S91 has a unique design that stands out in the crowded market of headsets. Its headband is black with a glossy finish, and it has squarish drivers for both ears. The right earpiece houses the keys, which can be used to call, and to control volume and song selection. Apart from the main call key, all the others are feather touch (capacitive) ones. A slight touch on the surface of the key results in action.
The TBV s91 gives more than 10 hours of music playback time between charges. Though it has a slightly plasticky feel and look, TBV S91 is sturdy enough to handle daily blows without getting damaged. It is foldable and can hence be carried easily when not in use. The hinges on which the folding mechanism works is made of stainless steel and will not go bad even after months of use, unlike other headsets with plastic hinges that tend not to last.