The Bureau of Energy Efficiency (BEE) is an Indian agency that issues star ratings for electrical appliances like air conditioners, refrigerators, washing machines, etc. These ratings indicate the energy efficiency of the appliances and help consumers make informed choices. Recently, BEE posted an Advertisement not only on its website but also newspaper, both of which suggest that three separate models of Air Conditioners from Hitachi haven't been able to achieve their claimed BEE star ratings. So what is exactly going on? Let's try to find out.
Johnson Controls-Hitachi Air Conditioning India Limited said in an email statement to The Mobile Indian, "Johnson Controls-Hitachi Air Conditioning India Limited is aware of the failure that has been reported by the Bureau of Energy Efficiency (BEE). As a part of the product life cycle assessment process, we had identified that few models were on the borderline of meeting energy efficiency criteria. In view of this identification and anticipation, we took necessary corrective actions, stopping the production of a few models, including of Window RAC RAW511HEDO w.e.f. April 2021 and of Fixed Speed Split RAC RSNG318HEDO w.e.f. May 2022, which has been reported as a failure by BEE today."
The statement further read, "Johnson Controls-Hitachi Air Conditioning India Limited committed towards manufacturing best quality products which are in alignment with all applicable global and local standards. We appreciate the efforts of BEE and we are actively participating in the acceleration of sustainable adoption of energy efficiency through our technology and innovation. We will continue to maintain the trust of our consumers by investing towards delivering nothing but the best."
What are BEE star ratings?
The BEE star ratings are based on the Indian Seasonal Energy Efficiency Ratio (ISEER), which is a measure of how much cooling an air conditioner can provide per unit of electricity consumed.
Who is Johnson Controls-Hitachi Air Conditioning India Limited?
Johnson Controls-Hitachi Air Conditioning India Limited is a joint venture company of Johnson Controls, US, and Hitachi Appliances, Japan. Through this joint venture, they have combined the technology of Hitachi with the global network of Johnson Controls. The partnership is aimed at addressing the cooling needs of the consumers.
Johnson Controls-Hitachi Air Conditioning Company has a global presence, with their India unit being called "Johnson Controls-Hitachi Air Conditioning India Limited". They manufacture a wide range of products under the Hitachi brand, including room air-conditioners (Split and window ACs), commercial air-conditioners like Chiller, Cassette Air conditioners, Ductable air-conditioners & VRF systems, and trade refrigerators.
Read More: TCL unveils TCL FreshIN+ Air Conditioning Technology for fresher breathing inside homes
Is Hitachi lying about BEE ratings for its Air Conditioners?
As mentioned, an advert from BEE on its website says that Hitachi's RAW518HEDO Window AC failed to meet the Energy Efficiency parameters set by BEE. A similar advertisement posted in claimed the same for two more models, including RAW511HEDO and RSNG318HEDO. This isn't happening for the first time, as a similar incident took place last year in September when BEE published an advertisement in the New Indian Express, which revealed that a Hitachi air conditioner model failed an energy performance test. The model in concern was RAG124HYD, where BEE claimed that its ISEER was 3.16, but BEE measured it to be 2.78.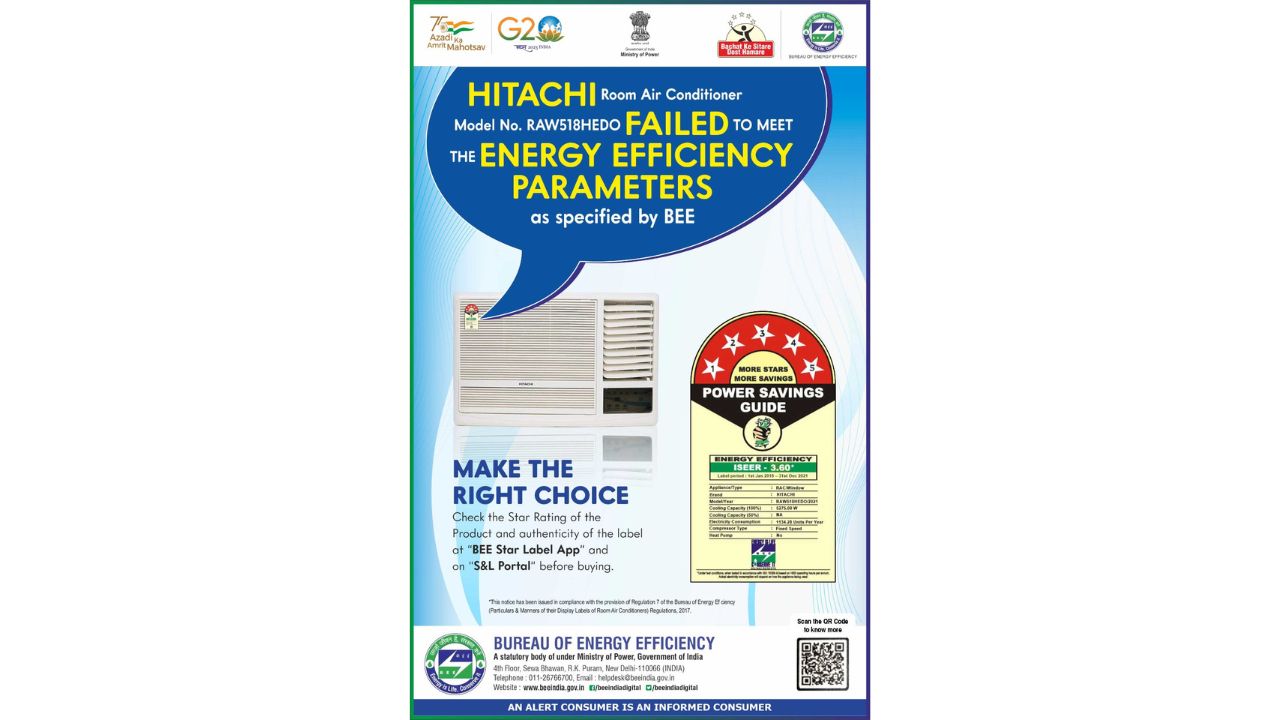 This meant that the model was not as energy efficient as it claimed to be and did not meet the minimum requirement for even a 1-star rating. Hitachi responded to this advertisement by issuing a statement that blamed one particular batch of the model that was affected and that it had stopped production of this particular model. It also said that it had a new model ready with a green refrigerant that would be launched soon. Further, the company said a very small volume of this model was sold in India and that it would continue to manufacture top-quality products with all applicable standards.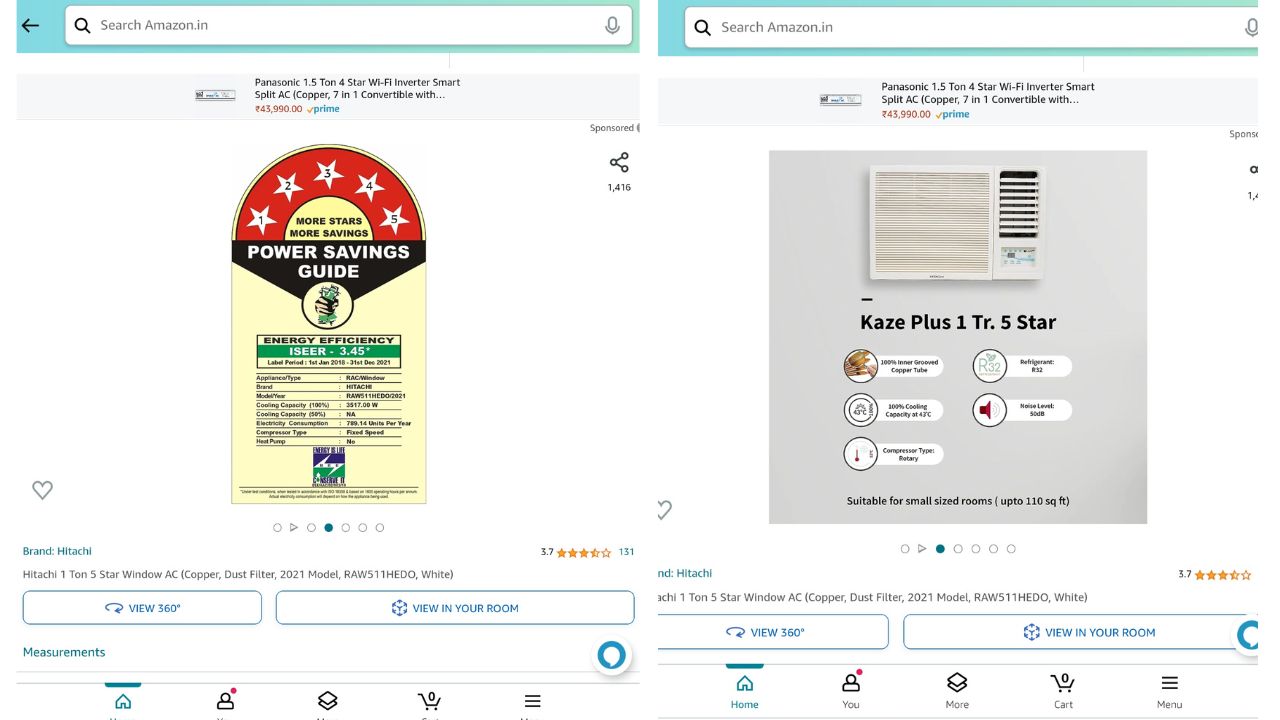 However, as a similar incident has happened again, it raises serious doubts about the brand's quality control and claims. As of now, the RAW511HEDO is being shown as 'Unavailable' on Amazon but in the product photos, the star rating is 5 stars, suggesting it is highly energy efficient.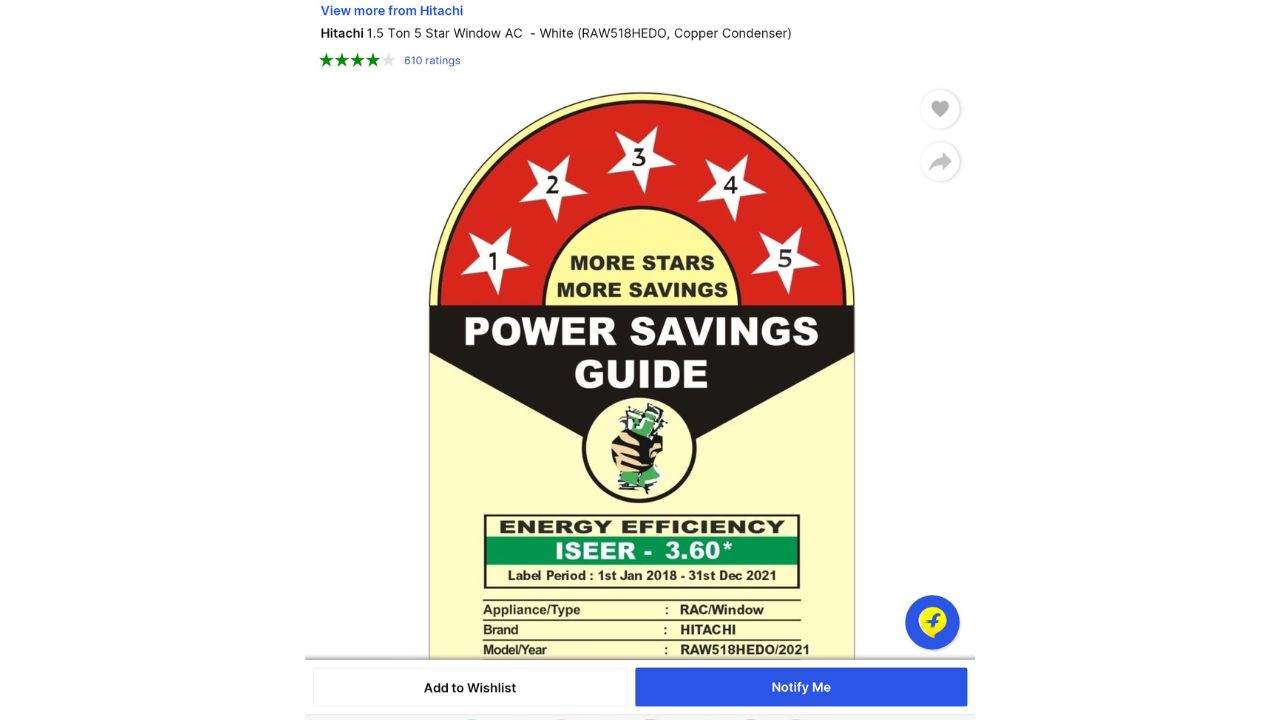 The RAW518HEDO is also unavailable for purchase on Flipkart, but again, the product's energy efficiency rating stands at 5 stars, according to the company. Interestingly, numerous reviews of the product on Amazon state that the AC doesn't function well, with frequent cut-offs, less cooling, and noisy operation, amongst other issues. A Flipkart note says that its rating would be one star less from July 2022 according to the Energy Labelling Plan, but even that doesn't match BEE's claims that the model failed to match the parameters of the energy efficiency program altogether.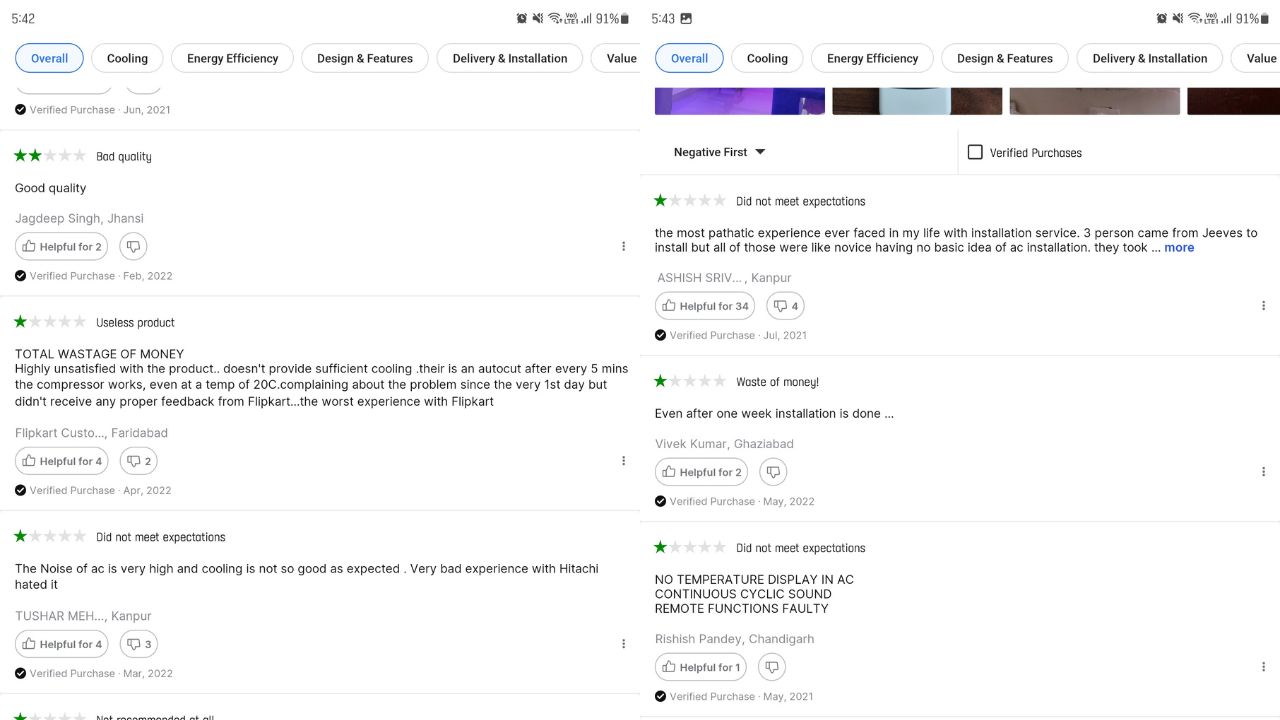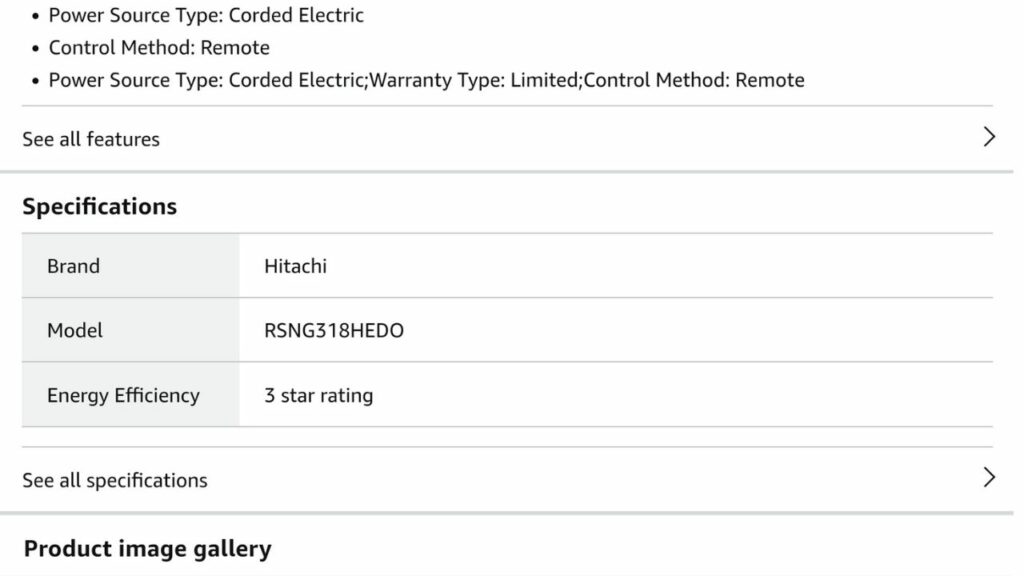 Coming to the third model, it is also unavailable for purchase with a claimed 3-star BEE rating on Amazon. Some of the reviews criticize the product's inability to cool effectively. All such evidence points towards the scam Hitachi has been hosting in India with its models.
Even though some of Hitachi branded AC models may genuinely be rated 5-star in terms of energy efficiency, such cases do shake up consumers' trust in the brand and also negatively affect the brand's reputation and image in India.