As promised, Asus has announced the 10-inch Eee Pad Transformer Prime tablet, which has a quad-core processor making it the fastest tablet till date.
The tablet will have Nvidia's quad-core Tegra 3 processor and Google's Android 3.2 OS, but will be upgraded to Android 4.0 'Ice Cream Sandwich' later. The 10 inch screen comes with 1280 x 800, Super IPS+ Gorilla Glass display with a 178-degree viewing angle and a max brightness of 600 nits.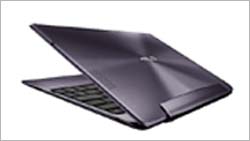 The pricing announced by Asus is very attractive with price varying between US$500 (Rs 25,000) to $600 (Rs 30,000) depending on configuration. Another good news is that the tablet is set for a worldwide launch in December, and India is not to be left behind. Expect the price to be in the vicinity of Rs 35,000 given the tax structure and other tablet's price in India.
Like the first Transformer tablet, this one too will get a keyboard dock which includes a touchpad, USB 2.0 port and full-sized SD slot. The tablet is also light weight at 585 grams.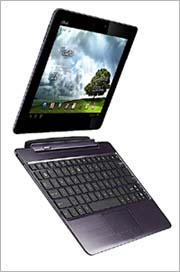 Given that all the leading manufacturers currently have only dual core based tablets, this Transformer tablet could very well be a leading choice as a converged device given that it will give a PC beating speed. It can be used for gaming and other graphics intensive jobs and can be picked by professionals as well.
The Tegra 3 chip, which runs at a clock speed of 1.3 GHz, is five times faster than its predecessor than the dual-core Tegra 2, according to Nvidia. The tablet also packs 1 GB of RAM, GPS, a gyroscope, SonicMaster audio and a 1.2 megapixel front-facing camera. Along with that comes an 8 MP camera at the back with an auto-focusing f/2.4 lens and a back-illuminated CMOS sensor that captures 1080p video.
ASUS is saying that the tablet will have 12 hours battery backup time and that the dock will add an additional six hours additional backup.