At its Worldwide Developers Conference in San Jose California, Apple introduced its next series of updates to the Mac platform – macOS Mojave. Not only did Apple move away from naming its newest Mac system after a mountain range, the company apparently seems to have ditched the 10.x version number as well.
macOS Mojave is named after a rain-shadow desert in California which happens to be the driest in the North American region. The latest macOS interface adds a slew of features including a dark mode, support for iOS apps, a newly designed Mac App Store and improvements to security and privacy. Here's what's new:
Dark Mode:
Probably the most user extensive and noticeable change to this year's macOS update will be the addition of a system-wide dark mode. The dark mode not only turns the menu bar and the dock to a darker shade like the update to macOS El Capitan but also a full redesigning that colours the tasks, chrome and some apps to a dark grey shade. Though there's no additional functionality associated with adding a dark mode, the UI now looks fancy and it's certainly one of most anticipated additions to the macOS interface.
iOS Apps on macOS: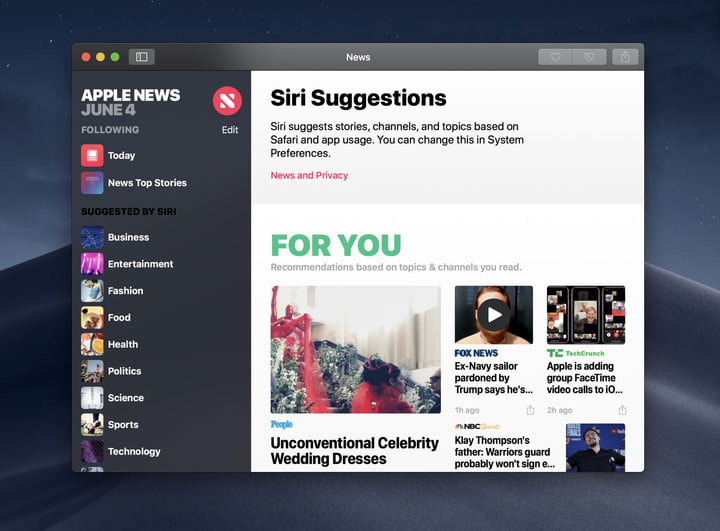 Taking inspiration from what Google did with its Chromebooks by adding support to Android apps through a Play Store, Apple is adding another set of iOS apps to the Mac. Apple has revealed that it's currently porting the UIKit foundation for iOS apps to the macOS Mojave and starting next year, developers will be able to port their iOS apps to the Mac platform with ease.
Apple has put an end to the row of rumours which suggested that it's ditching its oldest operating platform macOS in favour of iOS. The Cupertino giant has come out and made it clear that macOS is here to continue receiving updates and will get newer features, some of which will be inspired by the proceedings on iOS.
The latest set of apps ported from the iOS to macOS Mojave are Apple News, Voice Memos, Home, and Stocks.
A cleaner desktop with Stacks:
Apple seems to have hit the sweet spot in helping messy desktop users clean their homescreen through reimagined folders named Stacks. Stacks are basically folders which can be grouped on the basis of their file types, automatically created and made to collect files as they pop up on a desktop. So when a new file is created on a desktop it automatically gets sent to where it belongs, meaning you'll have stacks for documents, images, videos which upon clicking will pop open the files inside of each category.
New ways to interact inside Finder:
Finder now provides a new "gallery view" which allows users to scroll through tiny previews of their files while the selected file appears as a larger thumbnail at the top. There's a sidebar which offers to let you view the info of the file in question and allows you to do simple and quick actions like making multiple files into a PDF or rotating an image.
Redesigned Mac App Store: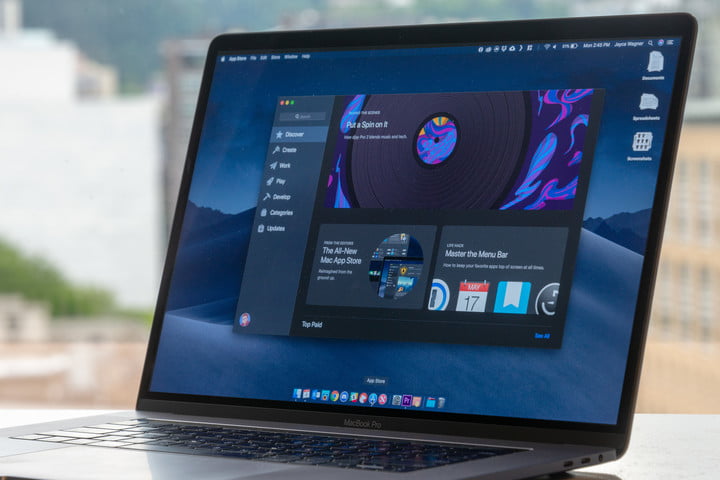 The Mac App Store is getting a long overdue revamping as it takes inspiration from iOS Store whose interface was updated around the same time last year. The billboards are enormous if they didn't occupy larger space already in the current macOS version but so are the editorial content that Apple promotes. Users can switch through different sections like browsing through Google's Play Store and from the looks of it, the sidebar appears to have taken inspiration from Google's Material design. The various sections are now aligned vertically unlike the horizontal layout on the previous versions of macOS.
Dynamic Desktop & Night Mode: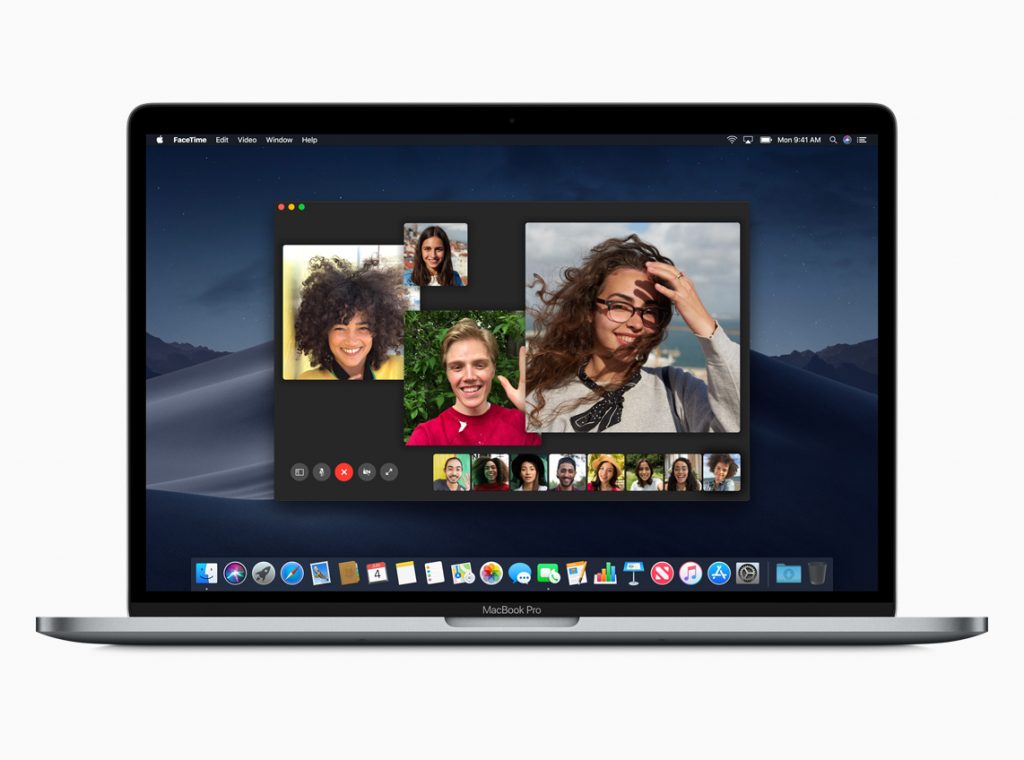 Not to be mistaken as live wallpapers, Apple's version of a dynamic desktop is to change its wallpaper according to the time of the day. Apple did explain that wallpapers will be changed accordingly throughout the day though there was only one example given to explain the same. In the example, the wallpapers changed from a bright background of the Mojave desert to a picture of the same at night. It's unclear whether Apple will restrict it to its own wallpapers or will allow you to add your own wallpapers to the same.
Apple has also added a Night mode to the system which was previously present but the latest update adds the night mode to several Apple apps as well.
Quick look for easier access: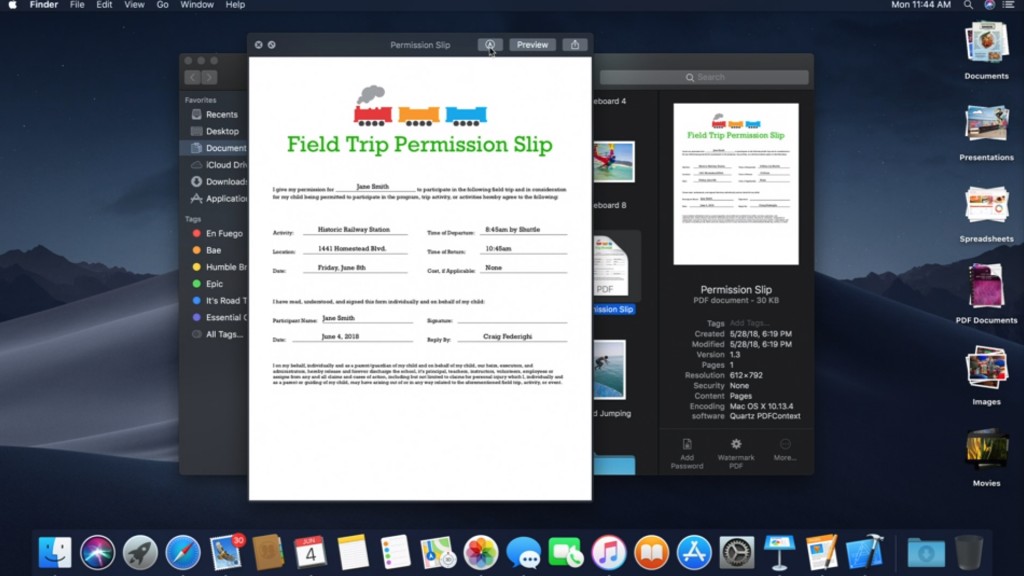 Users will soon be able to mark up documents and pictures with simple edits to make it quicker when dealing with files on a regular basis. The new update allows you to add your signature to a PDF, make quick edits to a screenshot, etc.
Privacy through Safari:
Apple started blocking sites from allowing to track you in the last major update to macOS. This time around, the company is giving you the ability to block social media sites like Facebook from tracking you across the web and isolating your Mac in such a way that companies don't get to track you with ease.
Security enhancements:
Like in iOS, macOS users will also get the additional functionality to control what type of access an app is given. You'll now get to choose which of your apps gets to have access to your pictures, contacts, mic and location across the macOS platform.
After a fairly dull series of updates for the Mac, Apple appears to be prioritizing on its oldest computing platform with the macOS Mojave. If we've come to anything about Apple and their update schedules, a developer preview of Mojave will be seeded today followed by a public beta next month. A fully stable and updated macOS Mojave can be expected during the fall as early as September before Apple gears up for its hardware event of the year.