Apple has announced the launch of its new operating system, the iOS 12, during its annual developer conference WWDC (2018). The new developer preview of iOS 12 is available for beta testers right away.
The latest operating system will be available this fall as a free software update for iPhone 5s and later, all iPad Air and iPad Pro models, iPad 5th generation, iPad 6th generation, iPad mini 2 and later and iPod touch 6th generation. The latest update brings a host of interesting features including AR experiences, Group FaceTime, Memoji, screen time, Siri Shortcuts and more.
Apple claims that the new iOS 12 is faster and more responsive as compared to previous versions. The brands say that Camera launches up to 70 per cent faster, the keyboard appears up to 50 per cent faster and typing is more responsive. The operating system also takes leverage of the ARKit 2, which will help developers too with tools to integrate shared experiences, persistent AR experiences tied to a specific location, object detection and image tracking, making AR apps even more dynamic.
Memoji and Siri Shortcuts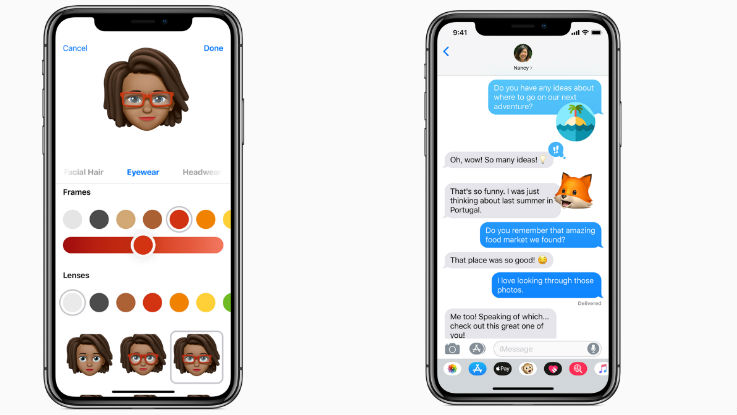 The brand has introduced has a personalised character that users can easily customise, known as Memoji. The new characters will be available in Messages. Further, Animoji also expands with ghost, koala, tiger and T.rex. Additionally, all Animoji and Memoji now understand winks and tongue detection to capture more expressions. Apple has also introduced new camera effects that brings Filters, Text and Stickers to Messages and FaceTime. Filters like comic book and watercolour add personality to photos and videos, new labels and shapes let users add captions and titles to highlight parts of an image, and stickers can be placed using iMessage sticker packs.
Coming to Siri Shortcuts, users can easily customise it by creating a simple voice command to start a task or one can simply download the new Shortcuts app to create a series of actions from different apps that can be carried out with a simple tap or customised voice commands.
Do Not Disturb, Notifications and Screen Time
Apple has introduced new modes in Do Not Disturb that automatically end based on a specified time, location or action. Do Not Disturb during Bedtime will dim the display and hiding all notifications on the lock screen until prompted in the morning. Further, Apple has made it easier to control the notifications. One can manage it to be delivered quietly or turned off completely and then there are grouped notifications, which Android is offering for a long time.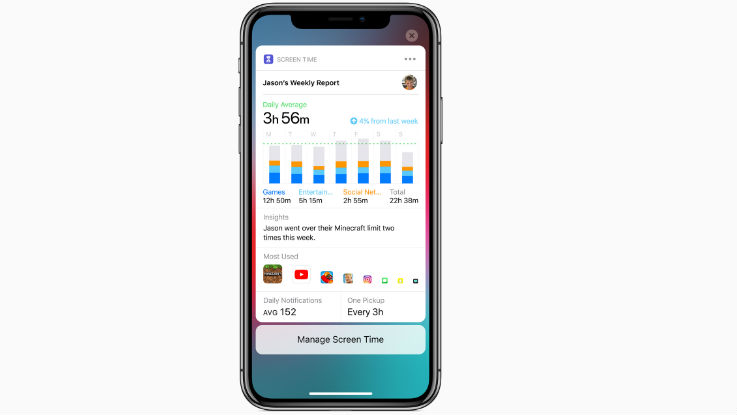 The most interesting thing about the iOS 12 is the Screen Time. This will allow users to understand and control the time they spend on apps and websites. The feature shows daily and weekly activity reports which consist of total time spent in individual apps, usage across categories of apps, how many notifications are received and how often iPhone or iPad are picked up. Screen Time also gives parents access to their child's Activity Report right from their own iOS devices using Family Sharing in iCloud, and allows them to schedule times to limit when a child's iOS device can be used, such as during bedtime.
Photos and Security
Apple has added a For You tab that features moments in one place, combining Memories and iCloud Shared Albums. A new sharing suggestions feature makes it easier to share photos with friends, and friends who receive photos are prompted to share back any photos and videos they have from the same trip or event. Search suggestions surface the most relevant Events, People, Places, Groups, Categories and recent searches, and new search functionality lets users combine multiple search terms to find just the right photos.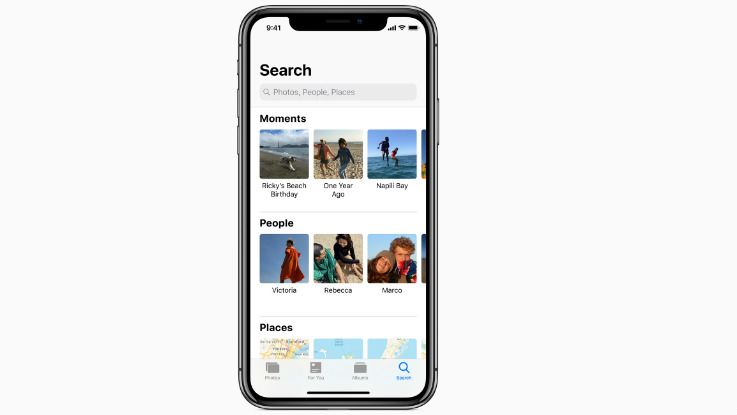 Coming to security and privacy, the iOS 12 comes with enhanced Intelligent Tracking Prevention tools that help block social media "Like" or "Share" buttons and comment widgets from tracking users without permission. Safari now also presents simplified system information when users browse the web, preventing them from being tracked based on their system configuration. Safari now also automatically creates, autofills and stores strong passwords when users create new online accounts and flags reused passwords so users can change them.