AMD has silently taken the wrappers off the Radeon Pro V340 graphics card at a press event in China. With a modest presentation hosted by Director of Market Development Professional Graphics at AMD, Nick Pandher, it appears that this is not the 7nm architecture chip which was demoed as the Radeon Vega Instinct during the company's Computex 2018 event in Taiwan.
The Radeon Pro V340 will be first few AMD cards to equip 32GB of HBM2 memory which is a combination of two Vega 10 units running in parallel. While a total of 32 users will be able to make use of the virtualization solution, cloud computing firms which offer gaming on-the-go and other services can utilize the Pro V340 for increased resources and more flexibility. The card will also find its usage in design, manufacturing and oil plants for accurate virtualization of a large-scale equipment or a functional unit.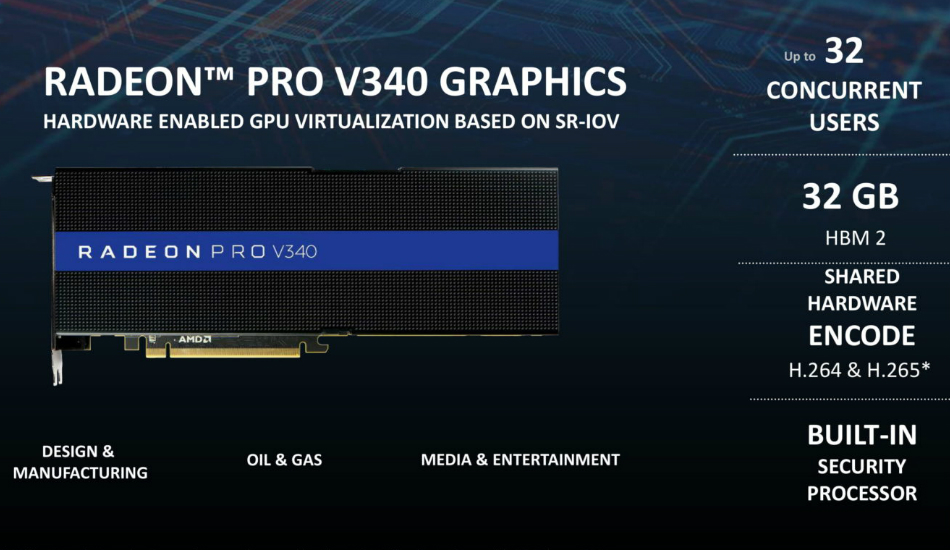 According to wccftech.com, the latest AMD graphics comes with support for H.265 / HEVC along with the standard H.264 codec for shared hardware encoding. There's a security-based processor which will work on isolating the virtual content provided by the cloud service to be inaccessible by the provider itself. This will certainly push the product into being data-secure as the cloud provider no longer has the right to gain access to a user-generated content.
The Radeon SSG family will now be seeded with native support for Adobe CC which if AMD wants to expand will be based on NVIDIA's ecosystem which depends on CUDA tools. An integrated support means AMD is looking to close in on an ecosystem for itself to deliver quality products to professional creators and editors and test them before being put to further development.