AMD is having quite a year and it shows. Just hours after Intel pulled the wrappers off the 5GHz 28-core processor, AMD has unveiled the second generation Ryzen Threadripper at the Computex 2018 in Taiwan. The latest Ryzen processor will include a massive 32-core to rival Intel's 28-core CPU with an inclusion of twice as many threads.
The new Threadripper is built on a 12nm AMD Zen+ architecture which is the same that's found on the latest Ryzen desktop CPUs. The heavy performer will be able to handle 64 processing threads at once, thus doubling the core count and the capabilities of the original Ryzen Threadripper 1950X which featured 32 threads and 16 cores. With further details still needing to be made official, the 2nd generation Ryzen Threadripper will be launched as early as Q3 2018, around the same time AMD will be mass producing its newest GPU.
Radeon Instinct:
At the Computex event, AMD also teased what could be the future of graphics for its Radeon lineup. The chipset manufacturer showed off its next-generation Radeon Instinct chip made on a 7nm architecture for machine learning purposes. Whilst providing 35 percent more performance on a smaller package, the Radeon Instinct will be able to support up to 32GB of HBM2 video RAM.
AMD says that the Radeon Instinct GPUs will be able to offer twice as much power efficiency as on the GloFo's 14nm process, meaning the 7nm architecture will be able to do the same amount of work with half the wattage consumed. Currently, in its sampling stage, the 7nm Radeon Instinct is expected to launch anytime during the second half of 2018.
Radeon RX Vega 56: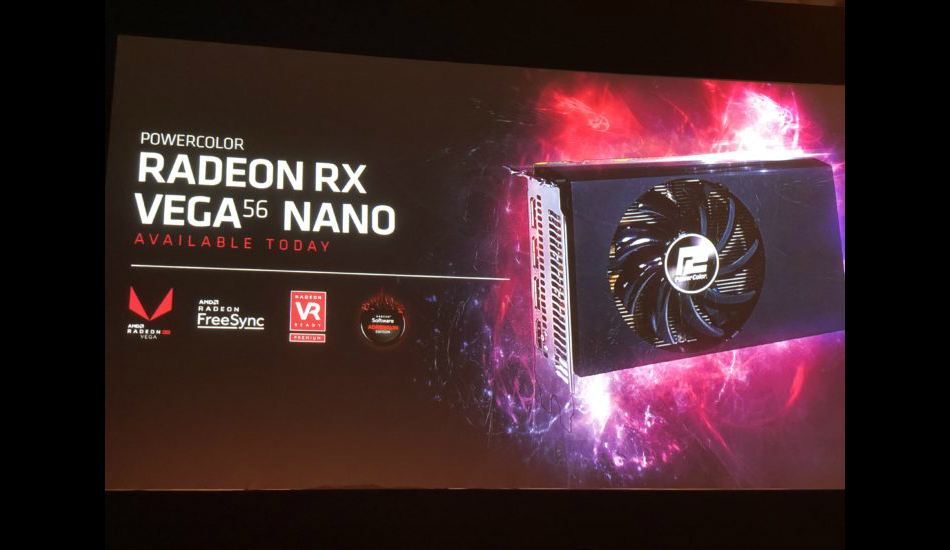 Also to make a name for itself is the Radeon RX Vega 56 which was unveiled by AMD in collaboration with PowerColor. Designed with an aluminium fin-stack and a single fan, the RX Vega 56 is made on a 14nm FinFET process with 56 computing units. The graphics unit will be able to offer a maximum of 21 TeraFLOPs on FP16 with support for a maximum 8GB HBM2 video RAM. With a bandwidth of 410 GB/s, the RX Vega 56 that was shown as reference was actually a PowerColor designed variant, meaning actual details will only roll out in the coming weeks.