American chip manufacturer Advanced Micro Devices has announced its latest series of processors for lower-end desktops and thus target the budget range of Intel CPUs in the process. The new chips are based on the Zen architecture with Vega Graphics and include the Athlon 200GE, Athlon Pro 200GE and second generation Ryzen Pro series.
Starting off with the newest Athlon 200GE processor, the chip is an accelerated processing unit which includes processing and graphics in the same chipset. The Athlon-branded chip equips Radeon Vega 3 graphics and is aimed at regular PC users at the budget range.
The $55 (approx. Rs 3,950) has two cores, four threads and 3 graphics compute units and will operate on the 35-watt power unit. AMD has promised HD gaming, Netflix and smooth Web rendering through Vega's FreeSync technology. The new chip will offer 67 percent more graphics performance and u to 2 times more power efficiency.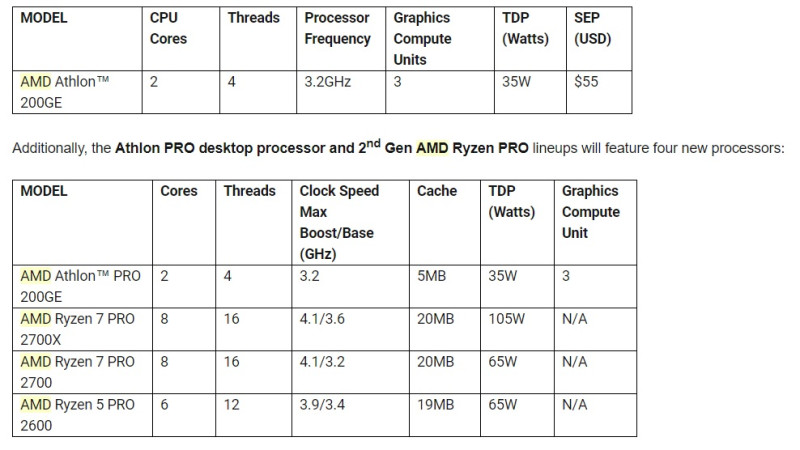 AMD has also lined up the Athlon Pro 200GE as an enhanced version of the Athlon 200GE, targeted for commercial offices and workshops. There are also three new Ryzen Pro-branded chips namely the Ryzen Pro 2700X, AMD Ryzen 7 Pro 2700 and Ryzen 5 Pro 2600. The new Ryzen Pro processors offer up to 3.6GHz of Base speed and 4.1Ghz of Turbo boost and might take up as much as 105-watt power to run a machine and will come to the market through OEMs like HP, Dell and Lenovo before this year.