In a move to extend its presence in India, Amazon has introduced a Hindi version of its mobile website as well as an for users on Android smartphones in the country. The news comes with an aim to break the e-tailer community deadlock which hasn't risen significantly in a long time and will thus help Amazon gain a lot of users to match it up with Flipkart's user base.
In addition to stepping up against the Walmart-backed Flipkart, Amazon will also offer millions of users a means to enjoy a glimpse of online retailing. This is because only 10 percent of the Indian population know English and with Hindi included, e-commerce services like Amazon can gain a hearty number of followers with the vast extent of the language.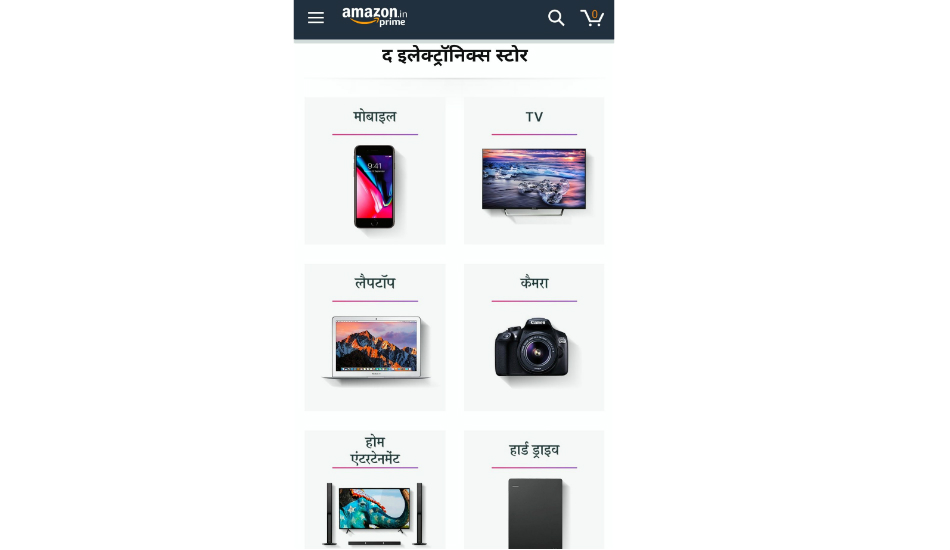 Amazon's expansion toward Hindi is the first time the e-tailer is working on an Indian language. Amazon says that once the Hindi version of the app and sites are successful, it'll soon incorporate other Indian languages like Tamil, Kannada, Bengali and Telugu which are extensively used at regions where Hindi is not.
The latest announcement comes ahead of the festive season in the Indian retail market which is considered peak in both offline and online platforms. Prior to this, there have been apps with a focus on Hindi form companies like Google, Snapdeal, Flipkart and Paytm but such an effort still yet to get a green flag from the Indian crowd and it remains to be seen how differently Amazon will approach this initiative.
Meanwhile, Amazon recently announced that users can now pay utility bills using Amazon Pay balance. As per the company, users can pay electricity, landline, broadband, gas and postpaid bills for more than 100 billers present in the country including BSES, Tata Power, BESCOM, BSNL, Airtel, Vodafone, Reliance Jio, and ACT. Further, users can also use Amazon Pay to make payments for mobile and DTH recharges. Additionally, users can also pay for credit/debit card bills, book movie tickets and more.