Amazon launched its Echo Input device this past week bringing Alexa support for traditional speakers in India for an asking price of Rs 2,999. When connected to Echo Input, a speaker will be able to execute all the smart functionalities that an actual Echo speaker would do and much more. We're here to discuss those 'much more' and whether the Amazon Echo Input is worth burning a hole in your pockets for.
Putting the 'smart' to the 'old'
The concept is pretty simple. An Echo Input converts your boring old audio unit, be it a really good but old hi-fi system or a simple Bluetooth speaker, into a smart speaker. What it basically does is add audio streaming capabilities and Alexa to your ancient sound system that's been lying unused in a corner of your house.
While this was made a reality with the previous generation of Echo speakers, it was not reasonable to go buy a smart speaker that you'd further want to connect to a speaker with.
What we like about the Echo Input
The Echo Input takes the speaker out of the equation and thus brings a 'smart' brain to the table that speaks fluent Alexa. And to look at the bright side, taking the speaker away means the Echo Input is available at Rs 2,999 versus the Rs 4,499 you'd have to pay for the Echo Dot, which in itself isn't that decent a speaker.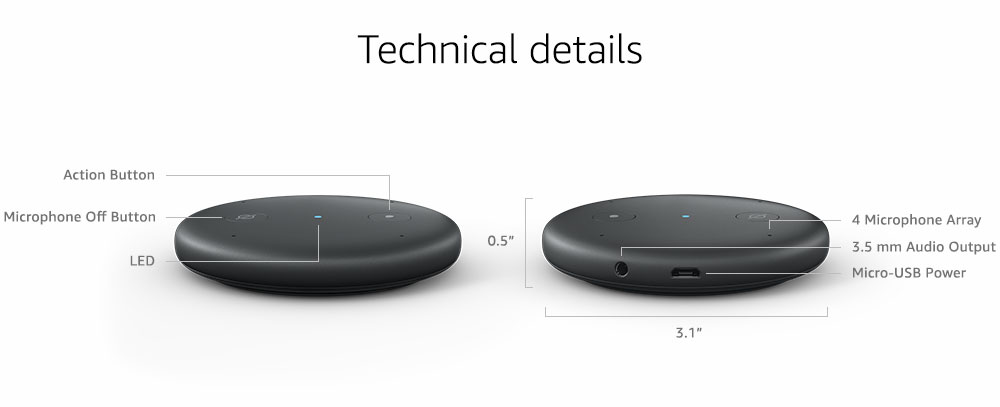 What is also beneficial is the fact that the Echo Input can be placed anywhere, at the least empty space possible since it only measures at 12.5mm thickness and is 80mm in diameter. And it packs in four microphones to listen to your voice input, even when music is playing the background. Also to speak praises of is the fact that it can be connected to both Bluetooth speaker and old audio systems through an AUX cable.
It's also quite easy to set up as well. All you need is a working WiFi connection and an old external speaker since the presence of the latter is what you're buying an Echo Input for. Logging in to your Alexa app will get you started up in minutes and there you go, your old audio system is now smart.

You can play songs, ask for the weather, set a reminder or ask for the news with your current speaker setup and you can do all of that when your speaker is playing a song in the background too. In addition to that, the Echo Input also brings in every other smart functionality that the Echo Dot and other Echo speakers are capable of. The Echo Input will also thus be able to control your connected appliances, turn on the heater, lights and perform several IFTTT tasks that are added to Alexa.
What we don't like about the Echo Input
But there are some downsides to buying the Echo Input too. First up is portability. Now, let me remind you, none of the Echo smart speakers yet have been portable devices and the Echo Input is no different. If the Echo dot wanted it to be plugged in at all times, the Echo Input is a nightmare when it comes to portability. Not only do you have to carry a charging cable to keep the Input working, but it also needs a speaker to be paired with to execute anything.
There are also some reports that the Input takes longer than usual to get connected to a speaker through Bluetooth. Pairing the device to a wireless HiFi system will also need the user to switch off power saving on their speaker to avoid the sudden shutdown of the Echo Input.
And then comes connectivity. The Echo Input comes with Bluetooth and a 3.5mm output. While that's standard and widely used, Amazon could still have made room for an RCA or optical output which is what's available on some older audio system. Users with such systems will additionally need to buy an adapter that converts the connectivity to a 3.5mm jack to make the Echo Input work.
Verdict
While there are a few things to whine about it, the Amazon Echo Input is a quality addition to Amazon's Echo lineup and is certainly something Indians would love to get their hands on. It doesn't render your old music system useless but instead makes it smarter for the modern age of connected devices. The Input is also an answer to those potential customers who wanted to buy an Echo Dot but were worried about its low-quality speakers and the steep price. The Amazon Input costs a tad bit lesser while adding value to your perfectly sounding and reliable sound system. Simply put, the Amazon Echo Input is the bridge that connects the old audio to the future of streaming and voice control.