Amazon has announced a number of new hardware devices including Echo Show 8, Echo Frames Smart Glasses, Echo Hub and more. The more interesting development was that Amazon has become the latest company to join the generative AI bandwagon, and it has found the perfect candidate for it, Alexa.
Amazon said that Alexa will be smarter, and more conversational, thanks to being powered by generative AI. "It's based on a new large language model that's been custom-built and specifically optimised for voice interactions", said Amazon. Amazon is bringing a preview of the new generative AI powered Alexa in the U.S., which users will be able to access by saying, "Alexa, let's chat" on Echo devices they already own.
In this preview, speaking to Alexa will feel more natural and conversational than before, and Alexa's ability to reason, infer customer intent, and understand complex requests will remarkably improve. We have already been seeing what generative AI is capable of, thanks to Bard and ChatGPT, and with Alexa joining in, it would be interesting to witness the rise in use of this technology.
Other new features coming to Alexa include an Eye Gaze Mode, where instead of using voice or touch, customers with speech or mobility disabilities can gaze at their tablet to perform pre-set Alexa actions like playing music and shows, control their home environment, and even call loved ones without using their hands or voice. It will be available at no additional cost later this year on Fire Max 11 Tablets in the U.S., UK, Germany, and Japan.
Then users will also get Call Translations, Alexa Emergency Assist, Game Start Routines, Ability to pin top favourite contacts on Echo Show, Profile-level Voice Customization for Alexa, allow Alexa to manage your family calendar, and finally, the ability to create AI-generated artwork on your Fire TV device with just your voice and imagination.
New Alexa skills will also be introduced soon, including Character.ai, an early pioneer of generative AI, that will let you have human-like voice conversations with more than 25 unique Characters. Another skill called Splash will be available. It is an AI service for music creation where you can create original music instantly, simply by using your voice to describe the type of music you want to create.
There's also a new feature called Map View. It allows customers to use compatible iOS devices to scan and create a digital map of their home's floor plan and pin their connected devices to it. This eliminates the need to scroll through any device lists, remember device names, or open multiple apps. You can also use Map View to easily control your devices, like turning all the lights downstairs on and off in a single tap, or to check if your doors are locked after leaving home in a hurry. It will be available in the Alexa App later this year, and come to Echo Hub early next year.
Echo Frames Smart Glasses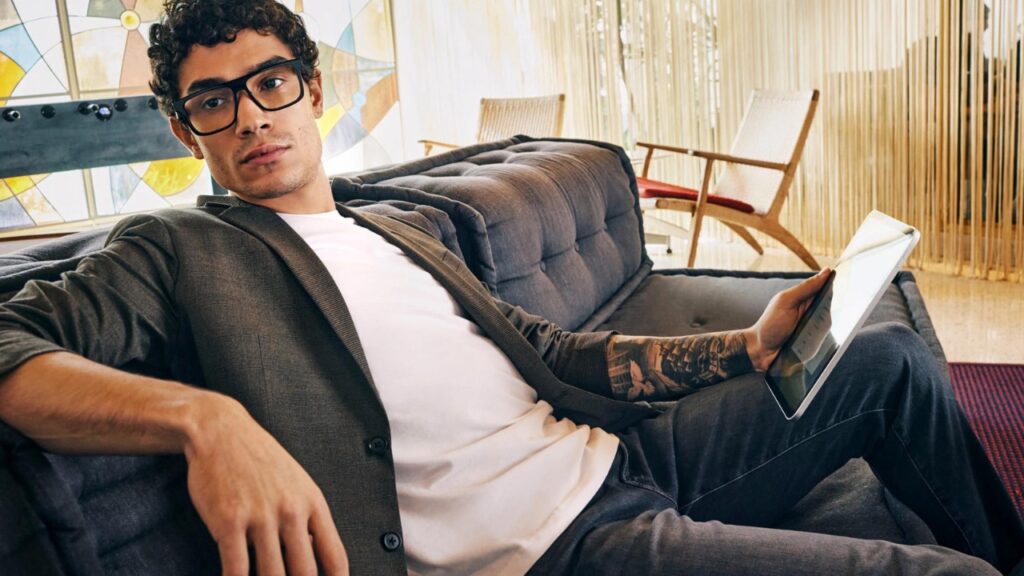 The Echo Frames and Carrera Smart Glasses collection allows you to call on Alexa for all kinds of everyday activities. For instance, you can play music with just a tap or ask Alexa to easily help you locate your lost glasses. The glasses will be available in seven stylish options paired with multiple lens options, including sunglass lenses with UV400 protection, prescription-ready, or blue light lenses.
They're also IPX4 splash and scratch resistant. Users will get up to six hours of continuous media playback or talk time, or up to 14 hours of moderate usage on a full battery charge—up to 40% more audio playback and 80% more Talk time than the previous generation. These glasses can be charged wirelessly through an all-new charging stand. The price for the glasses starts at $269.99 (approx Rs 22,400).
Read More: Amazon Prime Gaming reveals 8 free games to download in August 2023
Echo Show 8
Same as every year, a new Echo Show device has been announced, which is dubbed as the Echo Show 8 this year. The new Echo Show features custom-built special audio processing technology, a new centered camera, background noise minimisation, and a built-in smart home hub.
The most interesting new feature coming with Echo Show 8 is adaptive content, enabled via computer vision. With this, the home screen on the device will change based on your proximity to Echo Show 8. "When you're further away, the screen will show essentials like a simplified news headline or a large clock—information you can read from across the room. But as you approach the device, the screen will transition to more detailed and touch-friendly UI, along with personalised content", said Amazon.
Another feature called Photo Sharing has also been launched. It will be available later this fall, where you can share photos with family and friends across any Fire TV or Echo Show device, including the new Echo Show 8.
Echo Hub
Echo Hub is the latest device to join the smart home Echo lineup from Amazon. It is a wall-mountable smart home control panel powered by Alexa, with an eight-inch touch screen and customizable dashboard for all your smart home devices. With it, you can enable the security system, start a Routine, turn on the fan, or change the volume on your Echo. You can also view multiple live camera feeds at the same time.
eero Max 7
eero Max 7 is Amazon's latest Mesh Wi-Fi networking system. The new device pairs the company's patented TrueMesh networking technology with the latest Wi-Fi 7 standard to considerably increase speeds, avoid interference from neighbouring networks, and improve mesh latency.
Fire TV Stick 4K Max (2nd Gen)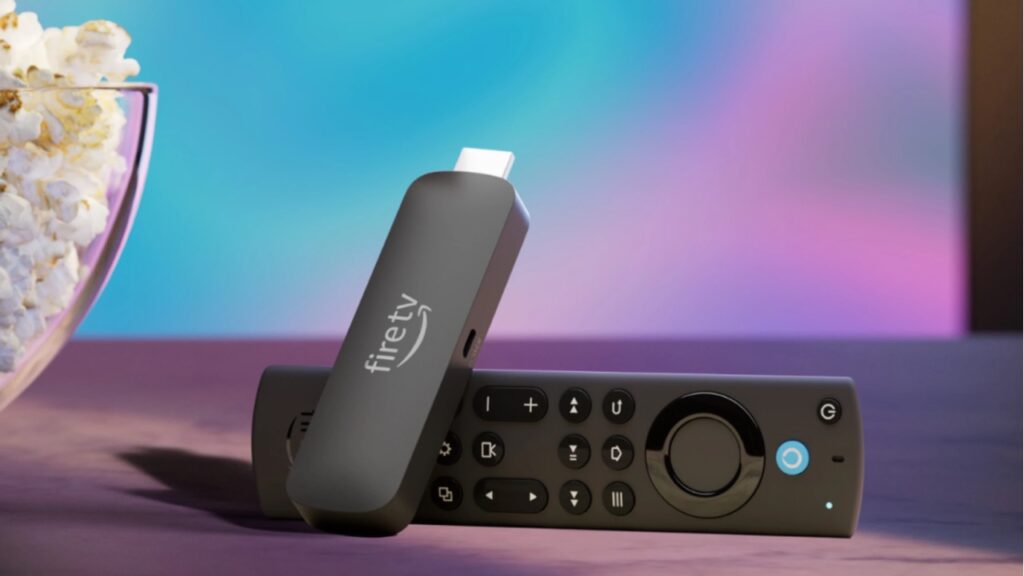 The new Fire TV Stick 4K Max offers enhanced visuals thanks to support for Dolby Vision, HDR, and HDR10+, and immersive Dolby Atmos audio. It now also gets an even faster Wi-Fi 6E for reduced Latency and better download speeds. Previously only available on the Fire TV Omni QLED Series, the 4K Max supports the Fire TV Ambient Experience.
It transforms the TV into an always-smart display by replacing blank screens with helpful information like your family calendar, local weather forecast, and reminders on your screen when you're not streaming. You can pre-order the new Fire TV Stick for $59.99 (approx Rs 5,000).
Aside from this, new software features are also being added. The new Fire TV search and "Continue Watching" row will be available later this year in the U.S. through an over-the-air update.
Fire TV Soundbar
There's also the new Fire TV Soundbar which is a 24-inch soundbar that comes with support for DTS Virtual:X and Dolby Audio. To use it, you have to plug it in, connect it to your TV, and enjoy the new and improved home theatre. It's compatible with all Fire TV streaming media players and TVs.
New devices for home security
Amazon has also introduced the Blink Outdoor 4 Floodlight. This wire-free smart security floodlight is claimed to deliver powerful motion-triggered LED lighting and up to two years of battery life, based on default settings. With the new Blink Sync Module Pro, users get extended range capabilities. With this module, you can install Outdoor 4 anywhere, such as a fence post in the furthest corner of your property without the worry of Wi-Fi range.
Aside from this, a new battery pack for the Outdoor 4 has also been launched. While the Outdoor 4 already has a battery life of up to two years (based on default settings), the all-new Battery Extension Pack can be configured to extend battery life up to four years (based on default settings).
New devices for Kids
Lastly, Amazon introduced new devices for kids, including the Echo Pop Kids Speaker with two themes inspired by Marvels' Avengers and Disney Princess. They retail for $49.99 (approx Rs 4,100) in the US while they'll ship from next month.
The new Fire HD 10 Kids tablet is made for 3- to 7-year-olds, while the Fire HD Kids Pro is designed for 6- to 12-year-olds. These 10.1-inch tablets are lighter and 25% faster than the previous generation tablets, with 1080 full HD displays, 3GB of RAM, and up to 13 hours of battery life. They'll retail for $189.99 (approx Rs 15,700).
Then, there are new Morning Routines that will be available before the holidays. Using these, families can enable pre-built routines that have character alarms, daily affirmations, weather, stories, and more. Another new addition to all Amazon Fire Kids tablets is 10 more Play Together games. Other new experiences include Music Maker, where kids can become composers, and Quests, that reward kids for exploring and learning about new topics like space exploration or dinosaurs across books, videos, apps, and more.
Explore with Alexa is another exclusive addition to Amazon Kids+ which is coming soon. It makes it fun for kids to ask Alexa questions about animals and nature, according to the company.