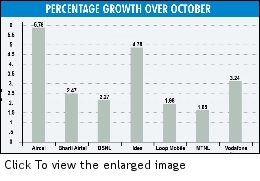 Two of India's leading operators, Bharti Airtel and Vodafone, have lost a significant number of subscribers in Jammu and Kashmir (J&K) in the month of November. According to the recently released GSM cell subscriber figures for November by the Cellular Operators Association of India (COAI), Bharti Airtel has lost about 69,000 subscribers while Vodafone has lost 22,500 subscribers in November in J&K. The total number of J&K subscribers in November stand at 1.8 million and 170,000 for Airtel and Vodafone respectively.
However, the trend is different for other operators. Aircel has gained about 5,000 subscribers in the state while BSNL and Idea Cellular have added 28,800 and 2,600 subscribers respectively. The total number of GSM subscribers in J&K has fallen by 1.3 per cent to 4.1 million.
The fall in subscribers is probably a result of the ban imposed on prepaid connections in J&K last month by the Ministry of Home Affairs. The Ministry had announced a ban on the use of prepaid SIM cards in the state quoting security reasons. It had decided that no prepaid mobile connections should be issued and existing pre paid SIM cards should not be renewed starting November.
The COAI figures also throw light on the fact that Aircel has registered the maximum percentage growth in subscribers in the month of November. It has added 1.6 million subscribers nationwide, a rise of 5.79 per cent from 27 million in October. However, its market share has shown a marginal improvement only, from 7.8 per cent in October to 8 per cent in November.
Idea Cellular, following Aircel, has registered a subscriber growth of 4.78 per cent from its 53 million figure of the previous month. Other operators have not seen a significant percentage growth, with Bharti Airtel at 2.47 per cent, BSNL at 2.27 per cent and Vodafone at 3.24 per cent. The Reliance subscriber figures are not available in COAI data.
The total number of GSM subscribers in the country stands at 366 million, a rise of about 3.12 per cent from 355 million in the previous month.