In a bid to help customers with devices that have known issues in downloading automatic GPRS settings, Airtel has issued guidelines for manual settings for some devices (which are mentioned in the picture). These settings are also made available on Airtel India Facebook page for reference.
Do note that if you have bought the phone in India, then it is most likely to come enabled with GPRS. However, if still the GPRS does not work, follow the below mentioned process.
For BlackBerry handsets, go to main menu>options>advance options.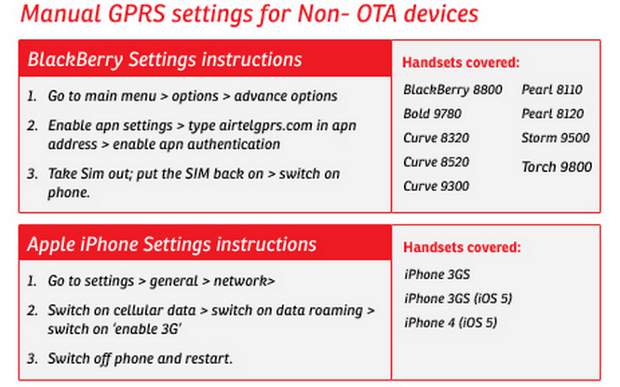 After that enable apn settings, type airtelgprs.com in apn address and then enable APN (access point name) authentication. Take the SIM out and then put the SIM back on and switch on phone.
This is applicable for BlackBerry 8800, Bold 9780, Curve 8320, Curve 8520, Curve 9300, Torch 9800, Pearl 8110, Pearl 8120 and Storm 9500.
For Apple iPhone devices go to settings>general>network. Then switch on cellular data, then click data roaming and then switch on 'enable 3G' option. Switch off phone and restart to complete the GPRS setting.
This is applicable for iPhone 3GS, iPhone 4 devices.
Airtel has also issued GPRS manual setting instructions for HTC's devices including HTC Desire, HTC Vivid, HTC Sensation, HTC Magic, HTC Chacha and HTC Amaze.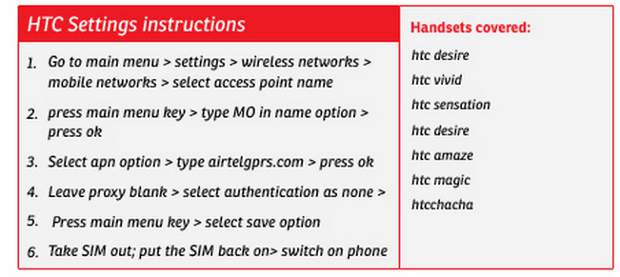 To enable GPRS in these HTC devices, go to main menu and then select settings> wireless networks> mobile networks>select APN.
Press main menu key and type MO in name option and then press ok. Select APN option and type airtelgprs.com and again press ok. Leave proxy blank and select authentication as none.
Press main menu key and select save option. After that take SIM out and put the SIM back on again and switch on phone to enable GPRS.
Users of Samsung devices including Galaxy Y Pro, Galaxy Captivate, Galaxy Nexus etc, follow the below mention steps.
In these Samsung devices go to main menu>settings > Wireless & networks (or Wireless Controls or Cellular) > Mobile networks > APN.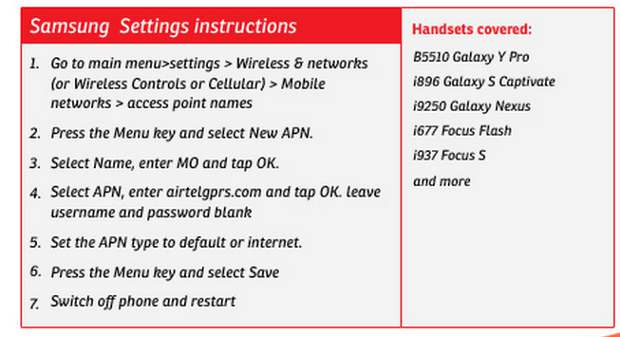 Then press the menu key and select New APN. Select Name, enter MO and tap OK. After that select APN, enter airtelgprs.com and tap OK. Leave username and password blank.
Set the APN type to default or internet. Press the Menu key and select Save. Switch off phone and restart to enable GPRS.