Telecom operators provide multiple services such as DTH services, home fiber services, mobile network services and more. Therefore, consumers require an App that can manage everything about these services in a single place. The two major telecom operators in India, Airtel and Jio, have their own apps called the Airtel Thanks app and My Jio app. But, which one is better in terms of user interface, features, and ease of use? Let's take a closer look.
Airtel Thanks App vs Jio App: Benefits
| | | |
| --- | --- | --- |
| Feature | Airtel Thanks App | Jio App |
| Account Management | Manage Airtel accounts for mobile, broadband, DTH, and more in one place. Check account balance, usage, and bill payments. | Conveniently manage Jio services, including mobile plans, Jio Fiber, and more. Access account information and bill payments. |
| Recharge and Bill Payments | Easily recharge prepaid mobile numbers and pay postpaid, broadband, and DTH bills securely. | Effortlessly recharge prepaid numbers and pay postpaid bills, including Jio Fiber. |
| Exclusive Offers | Access exclusive Airtel offers, discounts, and cashback deals. Special recharge offers and discounts on movies, travel, shopping, and more. | Enjoy Jio's special offers, including data packs, cashback deals, and discounts on various services. |
| Personalized Offers | Get personalized offers and recommendations based on usage patterns and preferences. Maximize savings on Airtel services. | Receive customized Jio offers tailored to your usage habits and requirements. |
| Music Streaming | Access Wynk Music for a vast library of songs, playlists, and podcasts. Some Airtel plans include free Wynk Music subscriptions. | Enjoy JioSaavn, Jio's music streaming app, with a wide range of songs and playlists. Some Jio plans offer complimentary JioSaavn subscriptions. |
| Live TV and Entertainment | Watch TV shows, movies, and live TV channels through Airtel Xstream. | Stream live TV, movies, and a diverse range of content via JioTV and JioCinema. |
| Security Features | Airtel Secure offers antivirus protection for mobile devices and cloud backup for important data. | Jio offers a secure Messaging app called JioChat, but its security features may not be as comprehensive as Airtel Secure. |
| Customer Support | Access customer support and assistance through the app. Resolve issues, check network coverage, and troubleshoot services. | Get customer support and assistance directly within the app. Access help and support resources. |
| Payments Bank | Manage your Airtel Payments Bank account, including savings, money transfers, and digital payments. | Jio may offer rewards or loyalty programs, which may vary based on specific plans and promotions. |
| Easy Upgrades | Airtel often offers easy upgrades to higher-value plans and services based on your usage and needs. | Jio may provide upgrade options but may not emphasize them as prominently as Airtel. |
| Digital Services | Jio offers a wide range of digital services, including JioMart for online shopping and JioMeet for video conferencing. | Jio provides digital payment options but does not have a dedicated payment bank integrated into the app. |
| Rewards | Accumulate rewards points as an Airtel Thanks customer and redeem them for benefits, including discounts on recharges and shopping vouchers. | Jio may offer rewards or loyalty programs, but they may vary based on specific plans and promotions. |
User Interface
Airtel app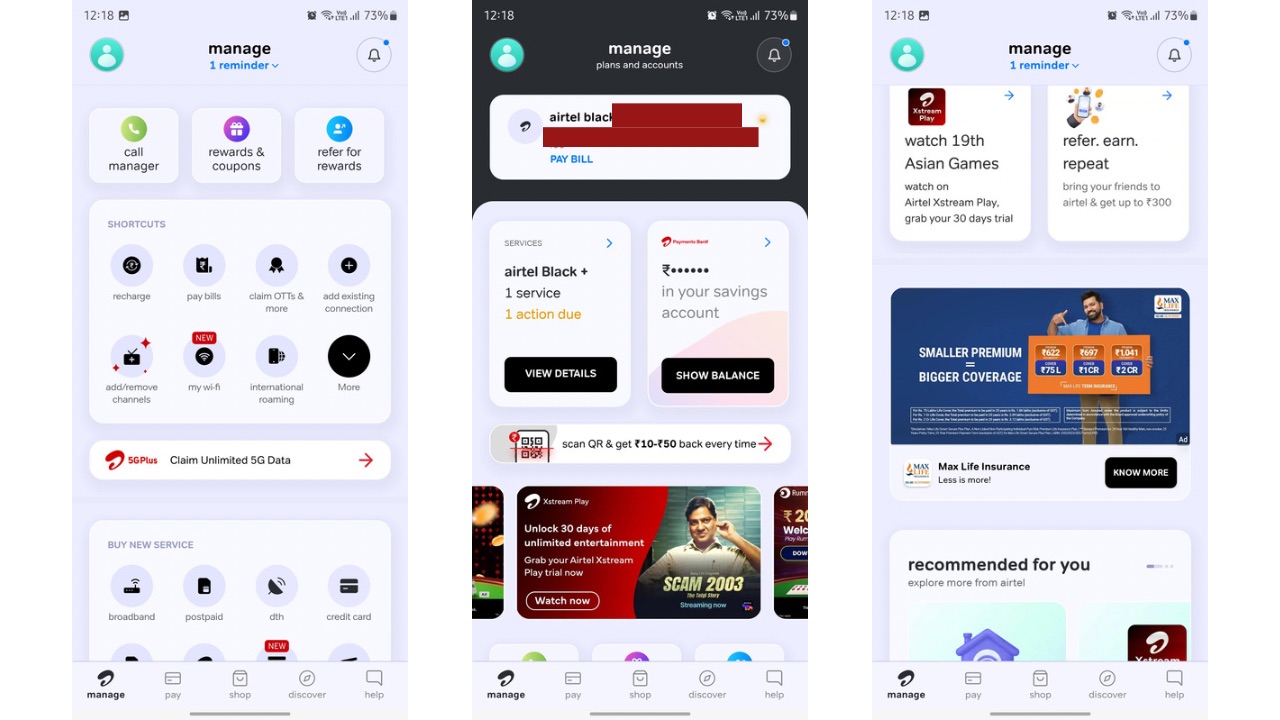 Starting with the Airtel Thanks app, your services and savings bank account with Airtel Payments Bank (if you have any) take the front seat and are shown to you as soon as you open the app. If there's an upcoming payment for any of your services, it is shown at the top as a reminder with the due date and the due amount.
Swiping down shows you the currently running offers from Airtel below, where there are three buttons including Call Manager, Rewards & coupons, and refer for friends. Then, there are various shortcuts for managing your services or for applying for new ones. As you keep scrolling down, you are recommended services and offers that are curated for you.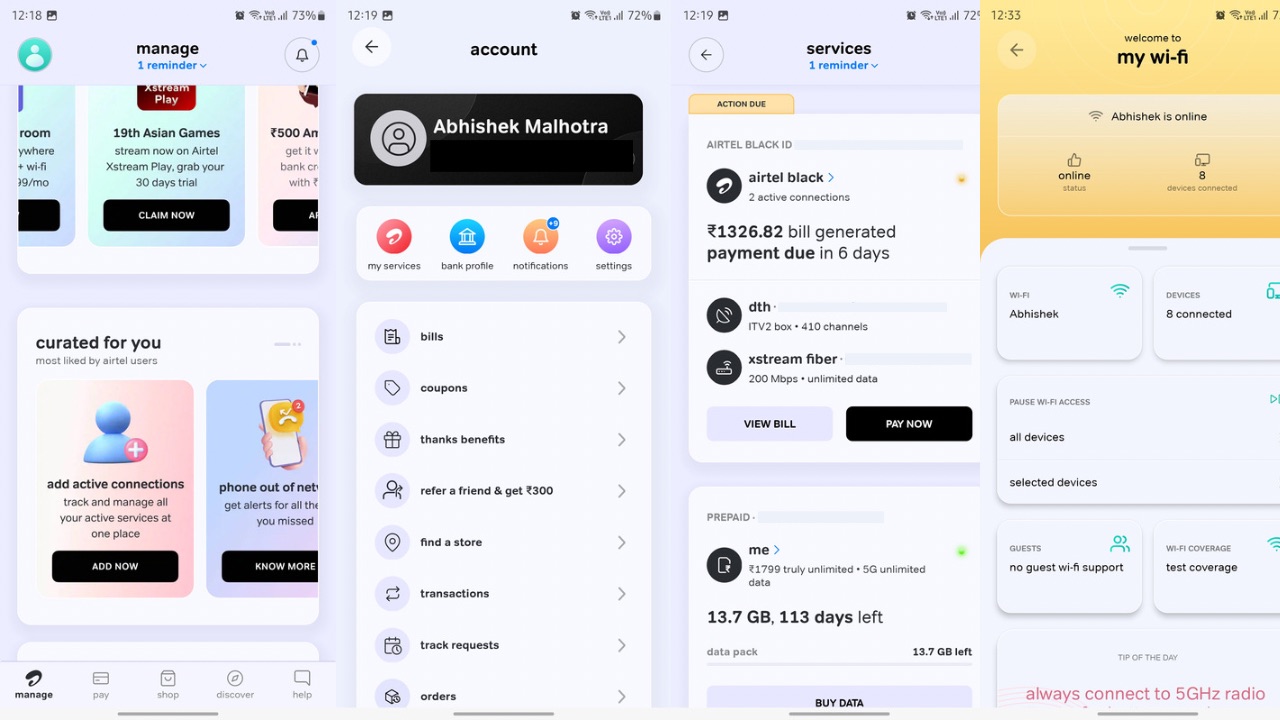 Then, there are five tabs at the bottom where you can go to the 'Pay' tab to use Airtel's UPI or your Airtel Payments Bank account. Once again, some offers are shown as you scroll down, while at the bottom, you get your Payment settings and transaction history, which, according to me, should have been at the top. Next, there's the Shop tab for buying Airtel's products and services, such as a DTH connection, a new SIM, a security camera and much more.
The Discover tab plays music for you and can redirect you to the Wynk music app, which is Airtel's music streaming service. Lastly, there's the 'Help' tab, so you can raise a complaint or ask queries through this section. It is placed at the right location and is also easy to access.
Lastly, at the top left, you can tap the Profile icon to check your profile settings, bank profile, notifications, and app settings. You can also manage your banking settings via this page, track your orders, manage your subscriptions, and do more.
Read More: Cricket World Cup 2023: Airtel's offerings to watch matches free
My Jio app
On the other hand, My Jio app does have some similarities compared to the Airtel app, such as the offer banners on the main screen. However, it provides you with all the services right when you open the app through shortcuts. Once you log in, you can manage your Mobile Data plan or recharge with another plan, check Jio fibre settings, use the UPI feature for making payments, play music or games, or go to the Jio Store to get new products and do much more.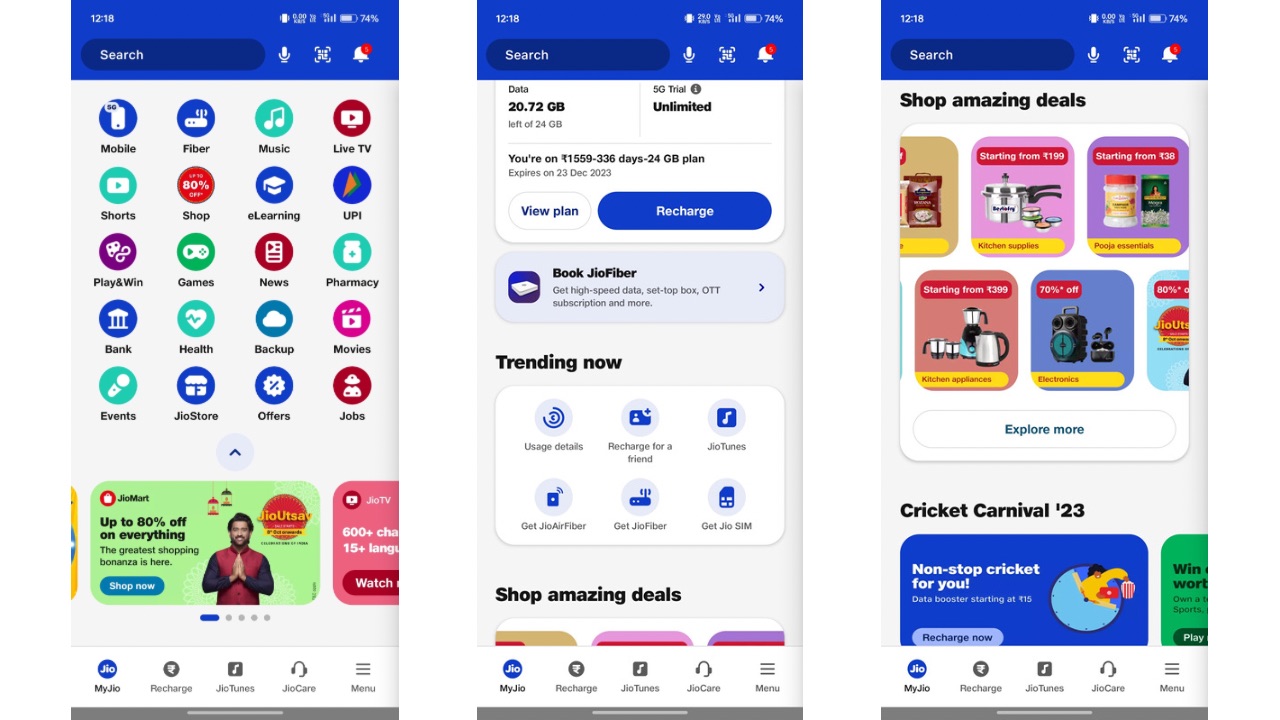 Going to the UPI menu shows you your passbook with your transaction history or allows you to make various payments to a person or bill payments.
Scrolling down below will show you your current plan details. A 'Trending Now' section shows you options to recharge for a friend or maybe buy a new Jio service. Then, there are deals on products that redirect you to the Jio Mart app. Scrolling further below will show you various offers on Jio products, daily news, trending shorts, and some health-related content.
Again, it also has five tabs at the bottom where the Recharge tab does what it says. It allows you to recharge your Jio account or the Fiber account. Then there's Jio Tunes, which redirects to the JioSaavn app, similar to what Airtel does with Wynk music. Next is the JioCare tab, identical to what the Help tab in the Airtel app does.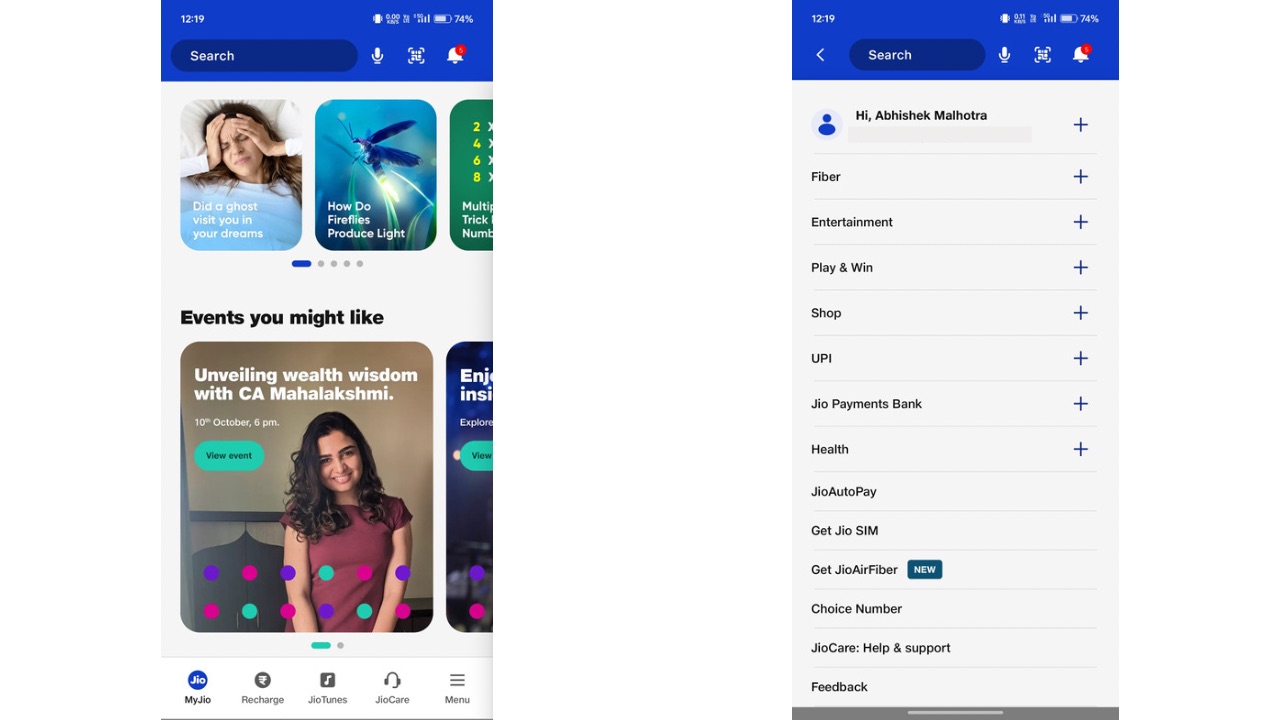 And lastly, there's a Menu section that shows you options similar to what the Airtel app shows when you tap on the profile icon. It includes options like Jio Payments Bank, Vouchers, Fiber plan management, your plans, Get JioAirFiber or Get Jio SIM or do more.
Overall, we feel the Airtel App has a much more modern user interface in comparison to the My Jio app. It looks more colourful paired with modern UI elements, while Jio's app is more simple in terms of user interface. It does give the users a lot of options right when the app is opened, but the overall UI could have been managed in a better manner.
Features
Both apps have a huge number of features, from managing the basic plan to managing the Wi-Fi router. In both Jio and Airtel apps, one can manage WiFi networks such as changing the network name and password, at your fingertips. They are easy to do, and users can also manage other router settings, such as the ability to check the number of devices connected to the network.
The apps have a similar set of features, but the way they are positioned in the app is different. Users can view all the plan details inside the app without any issues and check how much data is left and the validity. However, one feature I found missing in the Jio app is the Call Manager, which is available on Airtel's. It allows you to track the missed calls while you are away and also lets you know when the other person who previously couldn't attend your call is available to take the call.
One of the features missing in the Airtel app is the Pharmacy section that allows you to order medicines online. This service is available via the My Jio app, and for those who regularly order medicines, it can be quite useful for them.
Verdict
While the feature list remains quite similar, the User Interface is the deciding factor for us. According to our observations, the Airtel app is more easier to use, while the My Jio app can be a little too overwhelming for new users at first glance. It shows a lot of features in one go, while the Airtel app takes it slow and in a more modern manner. Both of them have certain useful features, such as the Help & Support section in a place where it is easily accessible. However, the Airtel app seems to be handling everything in a superior manner.