In a surprising turn of things, Amazon has decided to drop the practice of using human reviews of voice recordings through Alexa which was previously quoted to help train Alexa better in speech and language. The news follows similar moves from Apple and Google, who terminated the practice of grading Siri and Google Assistant (respectively) voice recordings through human contractors yesterday.
As of now, Amazon is offering a clearer set of tools to evade your voice recordings from being monitored by its human employees. The e-commerce company has hosted a new portal where users can review their privacy settings when using Alexa with different checkboxes for different things.
Users can either log in to their Amazon account and head over to the Alexa Privacy Settings on a browser or download the Amazon Alexa app and navigate to Settings > Alexa Privacy. From there, a new option will be visible inside the "Manage How Your Data Improves Alexa" section and that is labelled as "Help Improve Amazon services and Develop new features". If you toggle this feature off, Amazon will no longer let your voice recordings from Alexa be reviewed by humans.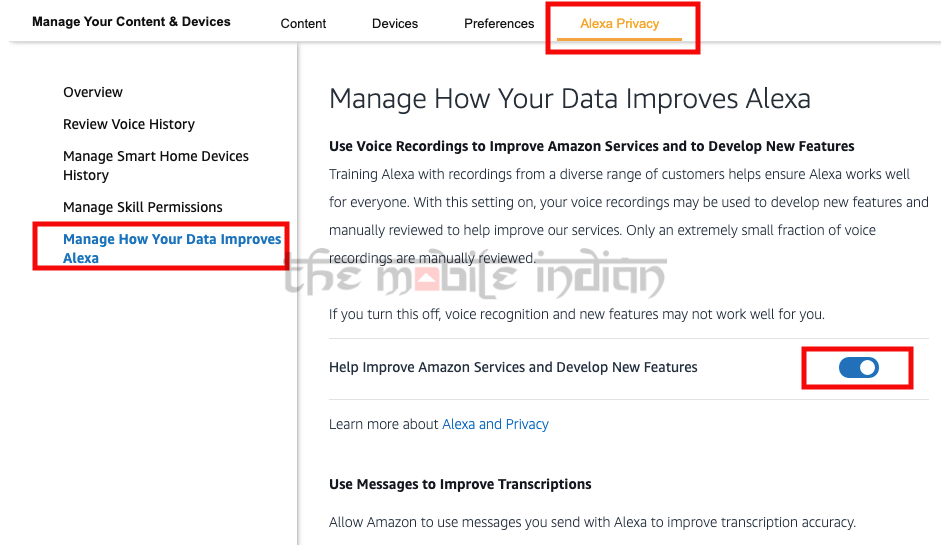 While the page had existed previously, Amazon has changed the language of the toggles in question. The description under the 'Manage How Your Data Improves Alexa' section now reads "your voice recordings may be used to develop new features and manually reviewed to help improve our services".
In a statement to Bloomberg, Amazon said "We take customer privacy seriously and continuously review our practices and procedures. For Alexa, we already offer customers the ability to opt-out of having their voice recordings used to help develop new Alexa features. We'll also be updating information we provide to customers to make our practices more clear".
Besides opting out of manual reviews, Amazon also started offering a way to delete voice recordings from Alexa recently.
In contrast to Amazon's move, Google has only temporarily suspended the practise of listening in to your conversations in Europe. Apple, meanwhile, said it is currently conducting a 'thorough' review on the matter but has suspended Siri grading globally.