A couple of months after partnering with SonyLIV to offer a subscription of the streaming application for its users, ACT Fibernet has now tied up with Amazon. The latest partnership will offer ACT Fibernet a free Amazon Fire TV Stick with select broadband plans available across different cities.
The ACT Fibernet – Amazon FireTV Stick offer is available with select broadband plans from ACT Fibernet in different cities across India. Users opting for these plans will get an Amazon Fire TV Stick device for no additional cost. The Amazon Fire TV Stick will allow users to make their standard HD TVs into Smart TVs offering them access to Prime Video, Hotstar, Netflix, Sony LIV and YouTube. The device will also offer users ability to view live feeds check sports scores, order food, book a cab and stream songs, all of which can also be accessed through voice commands through the all-new Alexa Voice Remote.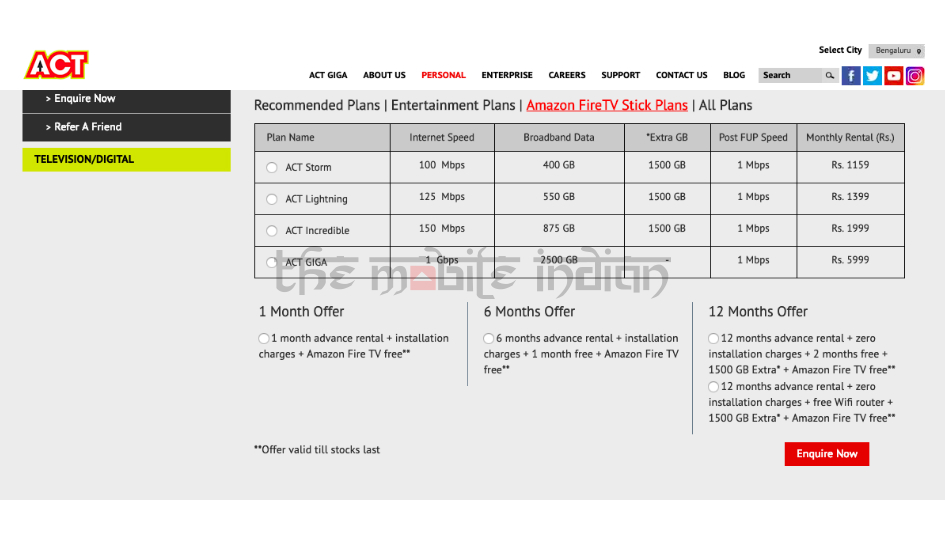 ACT is providing the free Amazon FireTV Stick offer on different plans across different cities in India. Users in Bengaluru will be able to avail the offer if they switch to the ACT Storm, ACT GIGA, ACT Lightning and ACT Incredible plans. For users in Chennai, the same offer will be available when choosing any one of the following six packs – ACT Blast Promo, ACT Thunder, ACT Storm, ACT Incredible, ACT Lightning and ACT GIGA.
In Delhi, the ACT Fibernet – Amazon FireTV Stick offer is only applicable across the ACT Platinum Promo and ACT Diamond plans. Meanwhile, users in Hyderabad will have to opt for A-Max 1299, ACT GIGA, A-Max 1050 and Incredible 1999 Fibernet broadband plans.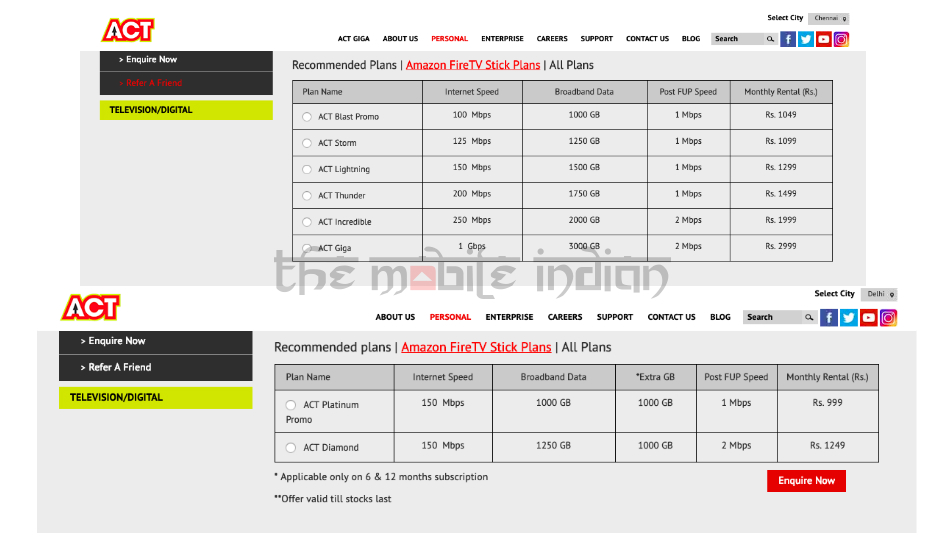 A free Amazon FireTV Stick can only be availed for users with long term broadband plans which will vary between 1, 6, 12 or 24 months of subscription to ACT Fibernet. The offer will be applicable to new as well as existing users of ACT's fibre broadband service.
Additionally, ACT is also providing users with up to 50 percent discount on monthly tariffs provided that a user refers to a friend of theirs to the network. The discount will be applicable in Delhi, Coimbatore, Bengaluru, Tirupati and Nellore.