In 2009 Tata launched the world's cheapest car at Rs 1 lakh. It was dubbed the car for the masses and now DataWind, in association with IIT Rajasthan, has launched world's cheapest 7 inch tablet, Aakash at Rs 2,250. The device aims to bring India's masses onto the information highway.
India pioneers in innovations aimed at making the lives of common people easier at an affordable price and Aakash is the step in that direction.
Aakash world's cheapest internet device was conceived under the Human Resources and Development Ministry's National Mission on Education through Information and Communication Technology (NME-ICT) to provide students a device that could be used as an Ebook reader, to access online streaming course material and web based research.
Under NME-ICT, the government intends to deliver 10 million tablets to post-secondary students across India. The target price of the 10 million units is Rs 1,750 per unit.
Not limited to students, Aakash offers anybody that wants to access web, social networking, instant messaging, multimedia, games and hundreds of thousands of applications, through a durable and affordable mobile device.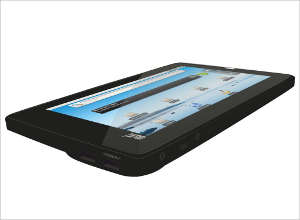 First impression: Aakash
When I took Aakash in my hand for the first time, I was impressed by how it felt. The 7 inch tablet gets a big thumbs up for its design, and for weighing just 350 gm.
The tablet surprisingly has very decent specifications as well. It has Android 2.2 Froyo operating system, which most low cost smartphones run on. While it has a very small 366 MHz processor, to improve performance there is an HD video co-processor and graphic accelerator, and 256 MB of RAM. But watching regular HD movies on the device could be difficult.
While surfing the tablet I didn't see the icon for Android Marketplace in the menu, but a DataWind executive said the model for sale will have it though he didn't clarify why it's been left out in the model meant for college students.
The touchscreen is a 7 inch unit and uses resistive technology, which is not as good as capacitive, but is okay considering the price. Connectivity options include built in WiFi support and the ability to connect a data card for 3G and GPRS connectivity. There are two USB ports, and Aakash has 2 GB of built in memory. It comes with a 2 GB microSD slot and supports external memory up to 32 GB. The USB port can also be used to attach an external camera.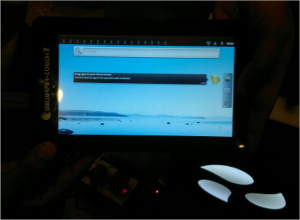 The browser used in the tablet is called UBI Surfer, which has been developed by DataWind and is said to be ten times faster than any mobile browser. I was not able to check its surfing capabilities because there was no WiFi network.
Aakash supports popular file formats like .doc, .docx, .pdf, .pptx and has a 3.5 mm standard stereo headphone jack. It has a 2,100 mAh battery which can last for about 3 hours depending upon usage.
The tablet comes with a leather case which not only protects the device but also doubles up as a keyboard case so that tablet can be used as a netbook as well. For that though the user has to connect the cover with a USB port.
The tablet has two buttons one at the side panel which is a power on button and the other on the front panel which is the home button.
What can consumers expect?
DataWind, a Canadian company that is manufacturing Aakash, will begin selling the tablet through retail stores by the end of November at Rs 2,999.
Suneet Singh Tuli, chief executive officer of DataWind said, "Commercially we will be selling Aakash under the brand name of UbiSlate with a one year warranty."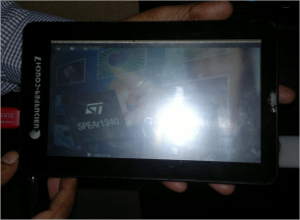 He added that the tablet in the open market will have a SIM slot and will link to Android Market. Tuli further said, "We are in talks with two mobile service providers in India to offer an internet plan at Rs 99 per month bundled with the tablet when it is commercially available because we want people to have an affordable tablet along with an affordable data plan."
Tuli said, "Apart from Android market we are also working on incorporating some value added service (VAS) for addressing the entertainment needs of Indian consumers."
About the processor he said, "The next stock on the tablets will have a 600 MHz processor and we are also working on a 1.2 GHz processor for the next version of the tablet."
In the pipeline
DataWind has many products under it sleeves for the Indian masses and the company has no plans to compete with the likes of Apple or Samsung.
Tuli said to The Mobile Indian, "Products from Samsung and Apple are for the elite class and we cannot match them at the price we are offering our products. We are making good quality products in India for Indians at an affordable price."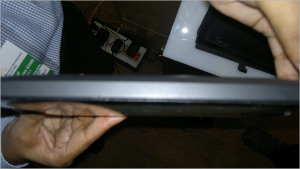 Regarding the next product DataWind is going to launch, Tuli said, "By the end of the year we will have a 5 inch Android 2.2 smartphone at a price which will not put any burden on the pocket of consumers who currently buy low end feature phones to meet their communication needs."
On the future course of action, he said, "We have not set a time frame for future launches but we are working on 9 inch and 10 inch Android tablets. They will have capacitive touchscreens and we will try to keep them under Rs 5,000."
While the tablet looks quite attractive as far as price and form factor are concerned, the public's response is yet to be seen when it is available in the retail market. But we are sure that it will not disappoint users who have been using low cost handsets for a long time and now plan to experience a tablet at an affordable price.