As we are reaching the last few days of the year 2012, the Indian telecom operators must be breathing easy not as the doomsday is over but hoping for a good year ahead.
The year 2012 brought turmoil and uncertainty for the Indian telecom sector which saw, for the first time in its history, rise in tariffs along with loss in subscriber base. The Supreme Court canceled the licenses of operators who got the spectrum in 2008 leading to lesser competition. Security measures were also tightened, which made it tough for one to get a new connection. Even the existing operators faced tough time as government introduced several tough measures.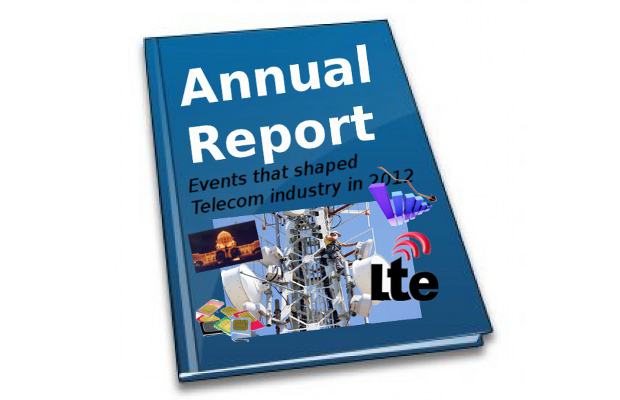 However the New Telecom Policy, which is expected to be implemented in 2013, is expected to bring in some cheer to the subscribers with free roaming, national (inter circle) mobile number portability and liberalisation of spectrum and licenses that will bring in new competition in the wireless as well as wired telephony and data services.
Here is a look at incidents that shaped telecom market in 2012.
Cancellation of licenses
This is undoubtedly the most notable thing happened in the year that not only shook the ground beneath the telecom operators but also that of many political parties. As it happened, the Supreme Court in early 2012 canceled 122 licenses of new operators including few of old operators like Tata Teleservices and Idea Cellular.
Though fresh auction of spectrum to restore these licenses were also ordered, most new operators instead choose to call it quits. This led to the exit of Stel, Loop Telecom, Etisalat DB while reduction in the spread of Uninor to only six circles and Videocon to only seven.
With reduced competition, incumbent operators increased tariffs too. High cost of spectrum also forced operators to keep prices on the higher side.
Hike in tariff
Mobile voice tariff saw a jump of as much as 40 per cent. And though the hike was not direct, in most cases 1 paisa per seconds calls become history with 1.2 paisa local and 1.5 paisa STD becoming a new norm. Most of the hike was indirect as freebies and offers dried up.
Even the new operators like Uninor joined the league with tariff hikes.
However, 3G rates went down by as much 70 per cent. Pay-as-you-use tariff also been reduced from an average 10 paisa per 10 KB to 2-3 paisa per 10 KB. Even the data packs become cheaper. For example, the 1 GB plans are now available between Rs 200 to Rs 250 from across all operators.
However, many operators made their 2G data packs costlier by reducing the data bundled in a pack. For example, Rs 99 which earlier offered 2 GB data now offers only 1 GB data. However pay as you go rates remained unchanged at 10 paisa per 10 KB.
Annulment of 3G roaming agreement
During the 3G auction in 2010, none of the operator could secure PAN India spectrum due to high bid price. However operators tried to increase their 3G footprint by getting into roaming agreement with each other allowing them to sell 3G services in circles where they didn't manage to buy it during auction.
However, government opposed this move right from the beginning, but defiant operators continued with the agreement, and matter even reached courts and tribunals. However government seems to have gotten its say finally and has ordered them to stop or face action.
While Tata Teleservices, Aircel and Reliance Communication complied right at the beginning, Idea, Vodafone and Airtel continue the service but are likely to stop it soon.
Launch of LTE network
While 4G auction were concluded in 2010 itself, the services started only this year, with Airtel launching TD-LTE based service in Kolkata followed by Bangalore and now recently in Pune.
However other operators like Aircel, Tikona and Reliance Industries are yet to launch the service which is likely to happen only by mid-next year.
The major bottleneck is the availability of the 4G enabled devices. Airtel currently offers only dongles and routers for its LTE network which are very expensive compared to 3G dongles and are priced in over Rs 4500.
Also, while current LTE tariff is comparable to 3G prices, it is likely to bring very cheap broadband services to the country with Tikona and Reliance promising tariffs as low as 10 paisa per MB.
Another development which will have an impact next year is the request by Reliance and Airtel to test voice services in LTE network, which will make LTE service a complete mobile network instead of just broadband tech.
Qualcomm LTE venture bought by Airtel
Qualcomm, which has 4G spectrum in four circles of Delhi, Mumbai, Haryana and Kerala, sold 49 per cent stake in its wireless venture to Airtel (with a clause to sell more stake in future).
AS a result, Airtel now has 4G spectrum in eight circles (Punjab, Maharashtra, Karnataka, and Kolkata apart from Qualcomm's circles). It is expected that Airtel will launch LTE in Mumbai and Delhi sooner than other cities, with roll-out expected within next three to four month.
Loss of subscribers
In 2012, telecom industry for the first time has officially recorded a negative growth in subscriber base to the tune of around 50 million subscribers. While initially it was all about clearing the books of inactive subscribers, off late it has been about actual reduction in user base.
Also, saturation in certain telecom circles and price hike contributed towards the negative growth in subscriber base.
Toughened norms for new connection
Government toughened verification norms for issue of new connection; now it takes at least three to four days to get a new connection active. Many people are finding it difficult to change connections as frequently as they did earlier.
People also no longer buy a connection just to get the best discount on the first recharge. Hence, there are few users who throw away a SIM every now and then, leading to a more stable subscriber base.
Radiation and tower norms
Industry is facing a tough time dealing with multiple agencies that they need to take permission from before setting up a new tower. Government also lowered the radiation norms for mobile towers and now stands 1/10th of what it has been earlier.
As per the new norms, towers cannot be set up near schools, hospitals and other such institutions. And while the industry already claims that they are fully compliant with new norms, reports of illegal tower keeps coming from time to time.
Government also lowered the radiation norms for handsets, but more on that in some other story.
SMS flip flop
SMS or Short Messaging Service, which turned 20 in 2012, saw lots of restrictions in India.
First it was TRAI, which in order to curb unsolicited calls, imposed 100 SMS per day per SIM restriction (at lower rates), post which one has to pay regular charges of Rs 1 or more. Later the limit was increased to 200 after protest and intervention of the court.
During the aftermath of Assam riots, government also imposed restriction of 15 SMS a day throughout the nation which was later increased to 20 to curtail the spread of rumors.
Regulation for Broadband
This year also saw the government asking the telecom operators to ensure minimum standard in their broadband services. As per the directives, operators now has to ensure atleast 75 per cent speed they have promised. So, if the operator promises 7.2 Mbps download speed then they have to ensure atleast 5.4 Mbps or above. Data drop rate also has to be below 5 per cent. Also, minimum speed of each plan has to be measured and reported to TRAI.
To improve transparency, all the operators have been asked to publish, on their websites, the details of all data services offered, along with their tariff, clearly indicating the cities and towns where such data services and tariff plans are applicable.
The new regulations also bars operators from offering new data services or modify the existing data services or tariff without prior publication on their websites.