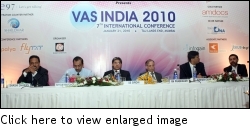 At the seventh VAS India 2010 held in Mumbai on Thursday, the inaugural session was on 'The Road Ahead For MVAS Landscape In India'.
Subhash Dhar, member executive council and group head, sales and marketing, Infosys said in his keynote speech that till now internet was considered a radical phenomenon but now mobile is all set to create a similar revolution. Considering that voice call charges have dropped drastically, value added services are pegged to create alternative revenue generating streams for operators and thus will create huge buzz.
Dhar added, "The future of businesses will be driven by broader digital engagement with their consumers and will act as a catalyst in the future economy". He further added that all ecosystem players will have to join hands to bring mobile VAS to the masses.
Uday Sodhi, chief executive officer, Balaji Telefilms said, "The current revenue from VAS hovers around 8-9 per cent of total telcos' revenues. However, by the end of this year it will rise to about 12-14 per cent of revenues, amounting to nearly Rs 11,000 crore."
With over more than 500 million mobile phone users in the country, penetration to various areas with multilingual diversities and providing vast content such as games, applications, astrology, mobile banking etc and related services is a challenge which has to be accomplished. The emphasis at the event was on the 3G and 4G aspect and providing faster access such as Broadband availability to take VAS further.
Shyam Mardikar, senior vice-president, networks, Bharti Airtel said, "Telecom is a mature business and the consumer is choosy. Therefore, the quality of services needs to be refined, optimised and manifestation of existing services has to be done".
India has sent at least 2 billion SMSes on New Year day, informs Mardikar. He urged that quality will be the main focus going further and understanding the customer will be must. "VAS is not one man game; it is an effort of the entire ecosystem of VAS."
SS Sirohi, principal general manager and head, VAS, Bharat Sanchar Nigam Limited said, "Nearly 750,000 customers are using 3G BSNL, currently available in 300 cities and the target is to spread it to 700 cities by July 2010."
VAS will bring about a change in lifestyle of the common man, said Lloyd Mathias, president and chief marketing officer, Tata Teleservices Limited. He elaborated his point by giving an example of a fisherman from Kerala who has to sell his fish to the dealer at the rate at which the dealer pays him. However, with the introduction of VAS, he will be able to get the best deal available.
From the regulator point of view RN Prabhakar, member, TRAI, had a similar opinion and focused on how VAS has become so important and innovative for the telecom operators with the intense competition bringing down the ARPU and the tariff. In his concluding speech, Prabhakar said "MVAS will bring about a huge change and improve the living standards for all the classes and the market is just ripe for bringing about and to be a part of the change".
To sum up, VAS is set to see a sea change and will go beyond music and entertainment. Initiatives such as e-governance, rural healthcare, education are upcoming opportunities for operators and VAS providers.