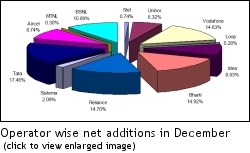 The Indian telecom industry registered 19 million additional mobile phone subscribers in the month of December. According to the Telecom Regulatory Authority of India, the wireless or mobile subscriber base increased from 506 million in November 2009 to 525 million in December 2009, at a monthly growth rate of 3.78 per cent. The mobile teledensity stands at 44.73 per hundred as of December 2009.
Circle A registered 6.2 million new mobile subscribers in December, Circle B added 7.5 million new subscribers, Circle C had 3.2 million and metros added the least number of subscribers at 2.2 million.
TRAI also said that wireline subscription declined by 90,000 to reach 37.06 million in December 2009 from 37.16 million in the previous month. The two state-owned operators, BSNL and MTNL, hold 85.22 per cent of the wireline market share, but they lost 120,000 subscribers. Overall wireline teledensity stands at 3.16 as of December 2009.
Category wise, Circle A lost 51,375 wireline subscribers, while Circle B and Circle C lost 45,822 and 7,944 subscribers respectively. However, metros added 13,696 wireline subscribers in December 2009.
Circle A consists of Gujarat, Andhra Pradesh, Karnataka, Tamil Nadu, Maharashtra and Goa. Circle B comprises Punjab, Rajasthan, Madhya Pradesh, Chhatisgarh, Kerala, Haryana, Uttar Pradesh (East), Uttar Pradesh (West), West Bengal, Sikkim and Lakshwadeep. Circle C comprises Bihar, Jharkhand, Orissa, Assam, North East, Jammu & Kashmir and Himachal Pradesh. The metros are Delhi, Mumbai, Kolkata and Chennai, according to TRAI.