Since its release in November last year, ChatGPT has become viral as it can instantly generate information. OpenAI has continuously introduced new features like third-party plugins and web browsing ability. Most people are now familiar with the AI chatbot but unaware that it records the user's history and stores them. This means that the stakes can be high for users who deal with confidential information. It makes data privacy and protection of utmost importance, so it's necessary to clear ChatGPT history and how to do it. Read on to learn more below. 
Also Read: OpenAI Launches iOS App for ChatGPT, Announces Android Version in the Pipeline
ChatGPT history: why it's worth deleting
It's worth noting that last month OpenAI added a new feature that can stop the chatbot from saving the chat history to train its LLM model. With this, ChatGPT restricts itself from saving new conversations. However, there's a drawback here. It's likely that any previous chat history before the arrival of the feature is likely stored in the history sidebar. 
There are several reasons for deleting any previous ChatGPT history, with the prominent reason being data privacy. As mentioned earlier, the chatbot records conversations and stores them, and even if it doesn't share the data with third parties, there's a chance that someone with access to your account could view it. Additionally, it's worth deleting the history if the conversation includes confidential information or if the data is no longer required. Users should also consider clearing the history if they are planning to delete their ChatGPT account. 
How to delete ChatGPT history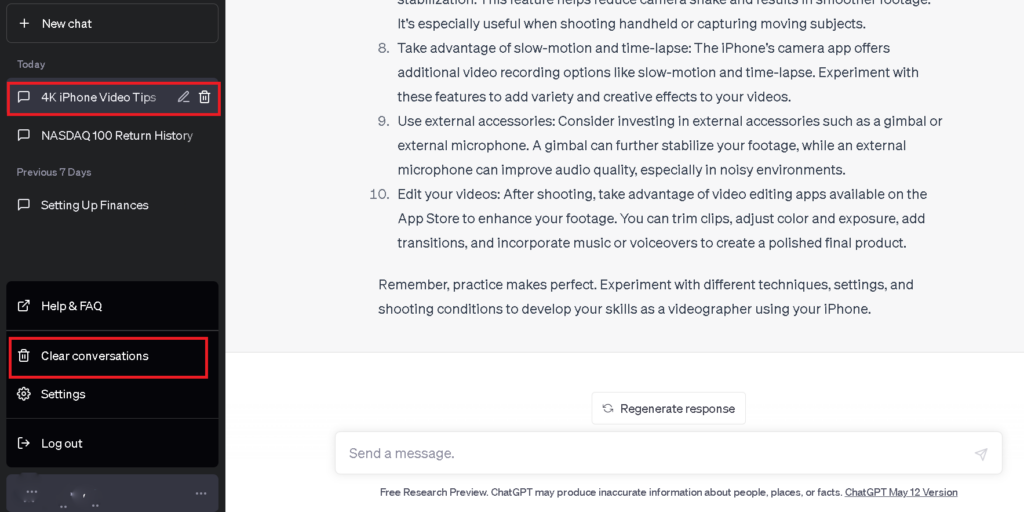 The process of deleting ChatGPT history is quite easy. Follow the steps below:
Visit https://chat.openai.com/
Login with your credentials if you are not signed in
Click on the ellipsis icon next to your account name located at the bottom left side
Select 'Clear conversations' from the menu and confirm by clicking 'Confirm clear conversations'
Additionally, users can also delete a particular conversation from the history sidebar. To do this, click on the topic you don't want to store > then select the delete icon > choose the confirm tick mark.