Applications are probably the second best feature on Android OS after the customisation. In fact, Apps actually help take the customisation level to new heights altogether. But there are some apps which always sit on your Android smartphone but you rarely notice it. While apps under the segment Games, Entertainment, Social Media usually takes all the limelight, Utility apps are those which makes your daily tasks easy. A lot of these apps come preloaded on most of the Android smartphones but the ones available on the Play Store offer much better functionality. We have the top five of these apps (Utility) today which will surely help your job done.
Google Keep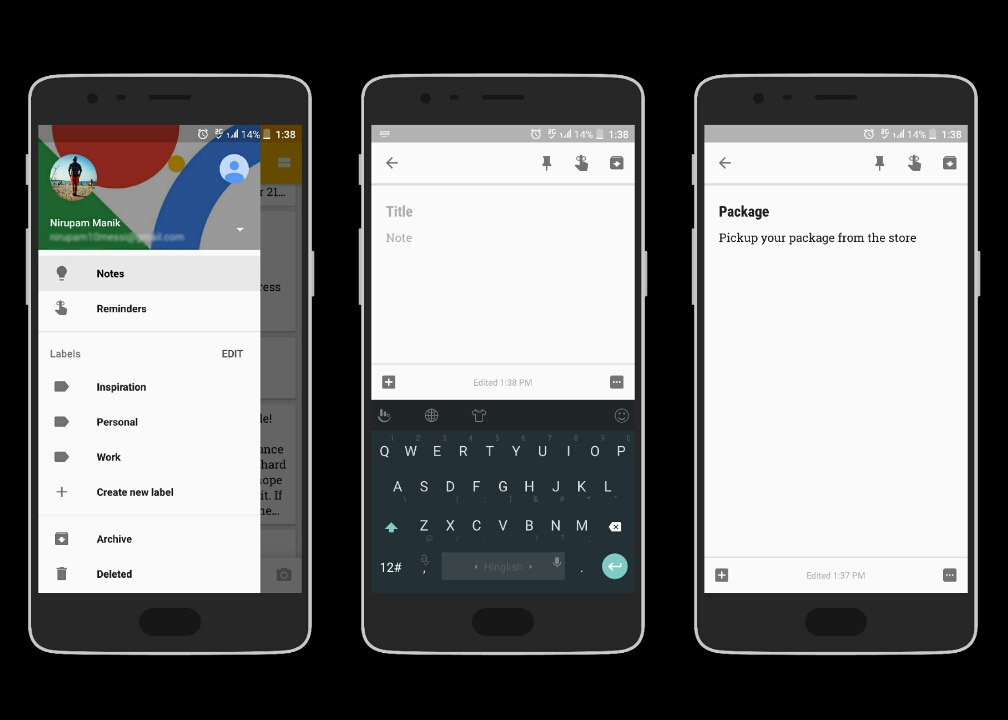 This one is probably the most common of the lot. Google Keep is the official note taking app from Google which follows the famous rule of – Keep it Simple. The UI on Google Keep is easy to use and taking down notes on this one is a breeze. Just tap on 'Take a note…' to starting notes. You also get an option to create a 'To Do List', Draw, record the note with your voice and add a picture. Swiping from the left, you will find a preset label 'Reminders' under which you can add all your upcoming meetings, trips, plans etc. Further, you can add another label if you feel like. However, to use Google Keep, you must be signed in with your Google Account which in-turn helps all your notes and reminders go to a cloud so that you can retrieve all of them once you open 'Keep' on any other device. We also get a useful widget for the app which brings all your notes onto your home screen. All in all, we don't get anything extraordinary here but Google Keep does the job what it's meant to and quite effectively.
Screenshot Utility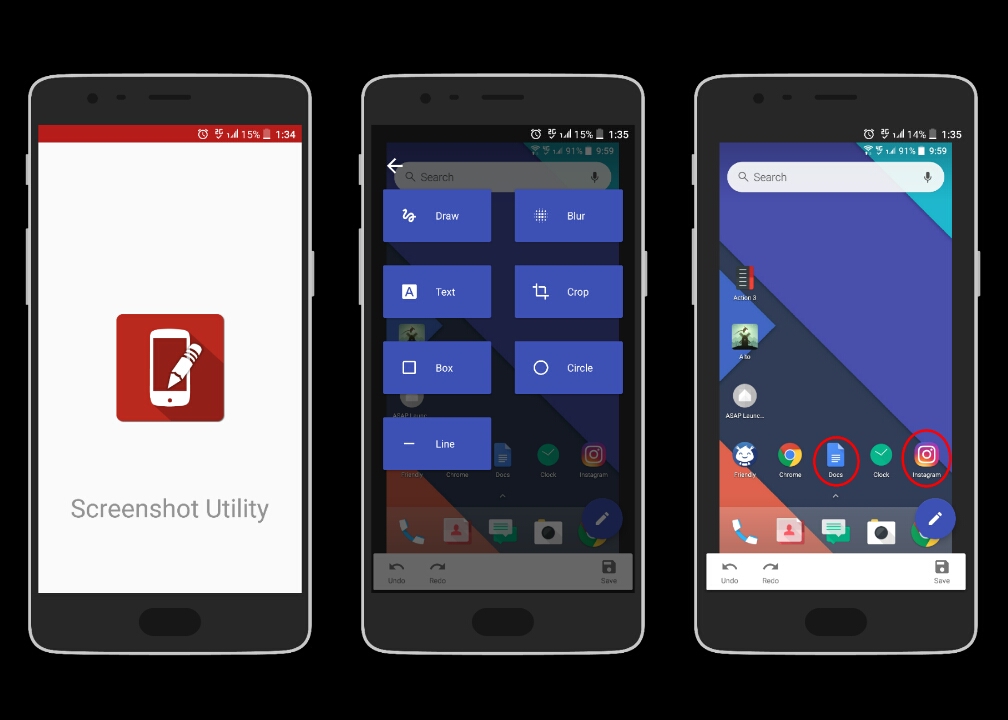 If you are in a habit of taking a lot of screenshots on your android smartphone and find it hard to edit it thereafter, Screenshot Utility can be a lifesaver. The app is by far the best screenshot editing app and is a fairly simple to use as well. Opening up the app, you will find all your recently clicked screenshots or you can just select any other image from your device by hitting the 'Add' icon on the bottom right. Choosing a screenshot will give you an option to edit the screenshot (Blue Icon at the bottom). Under the editing options, you get options to Draw, add Text, add a quick Box, add a quick Circle, add a quick Line, Crop or Add a Blur out a part of your screenshot. Apart from this, you can change the colour and size of the pen you draw with on the screenshot. You can also change the colour of the box, circle and line. You can 'Undo' and 'Redo' the changes made after you have saved the changes. We also get 'History' tab where you can find all your previous edits. The app is fairly light and is available for free on the Google Play Store.
Night Screen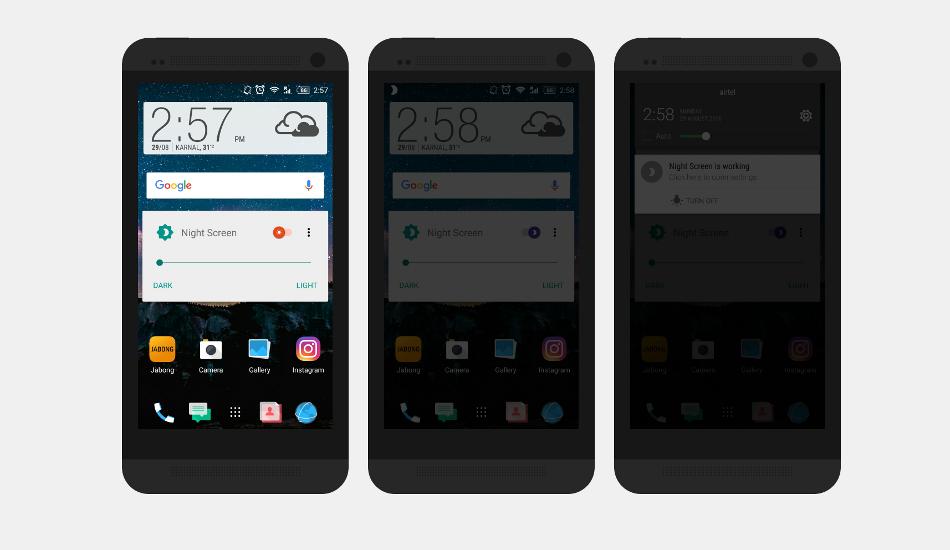 No matter how much dim your phone's display can get, sometimes it is still bright enough for those late chatting sessions especially when there is no room light. Casual browsing or chatting has become a prerequisite for good sleep these days and when it's dark the phone display's really irritated especially when browsing over something which is totally white. Now, most of the handset manufacturers are giving in a built-in blue light filter, however, if you want to still enjoy the natural colours from your display, Night Screen is a must-have option here. However, note that, while reducing your device's brightness entirely depends on the hardware, Night Screen creates a black tint over your screen. Not only this, you can also filter the blue-light by choosing the Eyes Care Mode in the Settings. To make the Statusbar and Navigation bar dim as well, you can try 'Overlay System Mode' but it might behave unstable in some apps. It also comes with an option of dark theme and also enables an option to overlay status bar. Overall the app is pretty light and does the job pretty well. Further, it is available for free on Google Play Store.
Walnut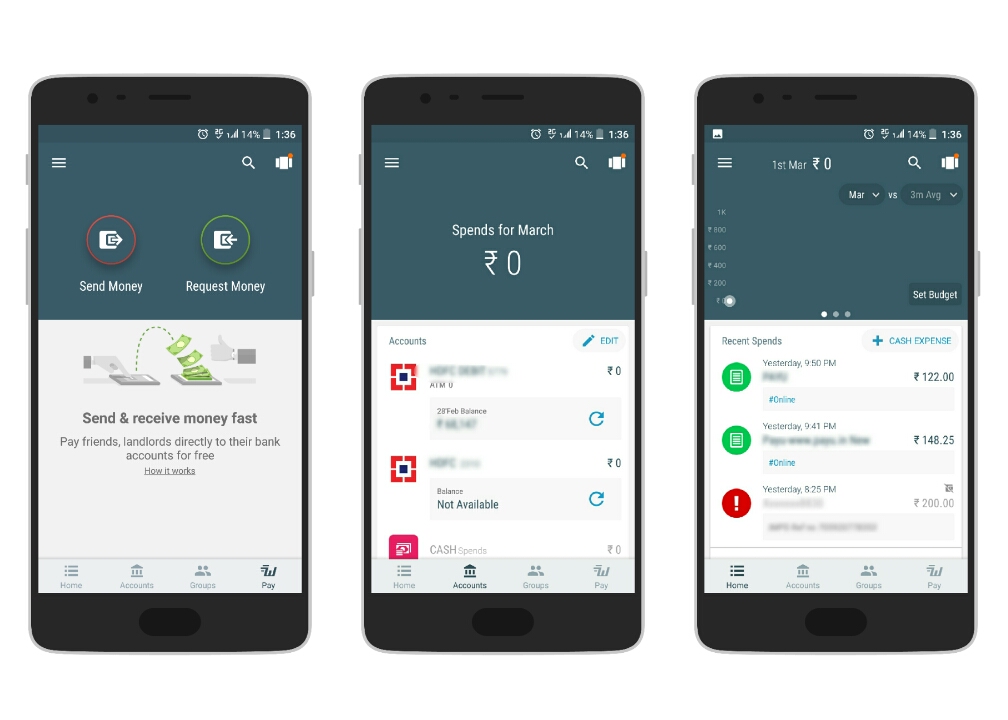 Do you find it hard to manage your pocket money or salary? If that is the case with you, Walnut solves it pretty impressively. Apart from the ability to Send and Receive money, Walnut instantly links your mobile number (entered at the time of registration) to your bank account and display all the necessary information related to it. You can set a monthly budget and the app will remind when you are closing in or have exceeded the set budget. Tapping on Home will display all your recent transactions from your account while the Accounts tab reveals the available balance of your linked accounts. Not only this, you can also add your Cash Spends. Another very useful feature in this app is 'Groups'. Creating a group extends the art of money management with your friends as well. Apart from this, Walnut can show 'Active ATM Around', filter Biz messages and also gives you an option to set Reminder. Keeping in mind the security, you can hide the bank balance or lock the app via your device's pattern or fingerprint. The app is free on Google Play Store and also packs a host of other features which can be explored further once you download it.
File Expert (File Manager)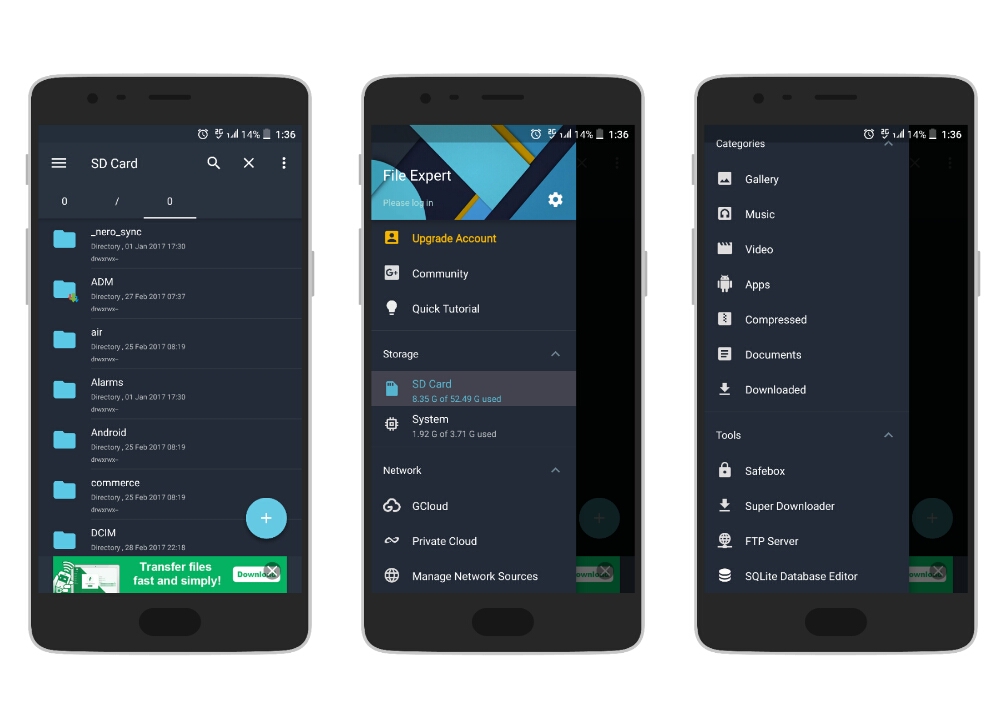 When we talk utility in terms of apps, File Manager has to be one of the prominent ones in the list. If you don't know, a File Manager basically gives you access to your device's root folder which you normally get when you connect your device to your PC. Not only this, some File Managers also comes with Root Explorer which gives you complete access to device's system partition. Coming back to File Expert, the app comes with a material design and is easy to use throughout the user interface. Apart from a regular file manager functionality, File Expert gives you an option to upload your files on its own GCloud service or to a Private Cloud. You can also add a Recycle Bin (Paid feature) to recover your accidentally deleted files. The left Swipe menu brings a host of features such as direct access to Gallery, Music, Video, Apps, Documents, Downloads etc. Adding to this, File Expert also comes with its own Super Downloader (Download Manager), SQL Database Editor and FTP Server. The app is free on Google Play Store and is a must try if you are looking for a decent File Manager for your device.