Summer is just around the corner and most of us start worrying about the hot and humid weather we are about to face. But all thanks to the air conditioners, we can have that cold breeze in the hot weather to calm us down.
No doubt, air conditioners, especially split ACs, are one of the hottest selling electronics during this time, but when it comes to choosing the right one, we all get overwhelmed with an ocean of options available in the market. But don't worry, we will help you choose. So without further ado, here is the list of top 5 split air conditioners available in the market right now.
O General ASGA24FTTA Split AC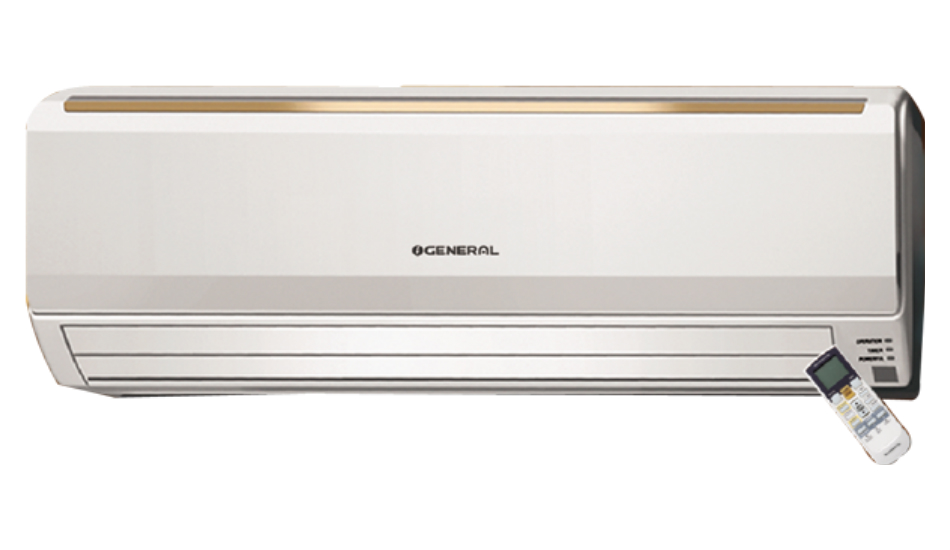 O General is considered as one of the pioneers when it comes to air conditioners market. The company has a rich history of delivering some top-of-the-line products and same can be said for this one. To start with, the split AC comes with a 15m long reach of airflow, which can cover larger rooms quite easily. The AC comes with 2.0 tonnage capacity and is equipped with R401A cooling gas, which is considered to be more eco-friendly and provides faster cooling.
The device comes with Blue Fin condenser, which is basically a hydrophilic coating on the heat exchanger which ensures rust resistance for prolonged life. Other than this there is a Coanda airflow technology, wide angle louvres, power airflow mode, quiet operation, mildew resistant filter, 5-speed control, dry function, and more. The device has a 5-star rating and 3.51 EER rating, which makes it energy efficient as well. Overall, with a price tag of approx. Rs 68,000, the split air conditioner is one of the best option available in the market.
Daikin FTKP50SRV16 Split AC
Daikin is a well-known name in the air conditioner segment, especially in split ACs category. And the FTKP series probably one of the most series from the company. The model we are talking about follows the legacy. To start with AC comes with 1.5TR capacity and comes with an R32 refrigerant type, which is better than the R22 type present in most of the ACs available in the market.
The air conditioner also comes loaded with Coanda airflow, which the louvres of the air conditioners open upwards, thus the draft instead of falling directly on the head blows upwards that gives a pleasant air-conditioning in the room. It also comes equipped with PM 2.5 filter, which makes the air in the room cleaner and fresher. The power chill operation quickly maximises the cooling effect in any operation mode. Other than this it has a 4-star rating and can be bought for Rs 50,200 from both online and retail stores.
LG LSA5WT5D 1.5 ton Split AC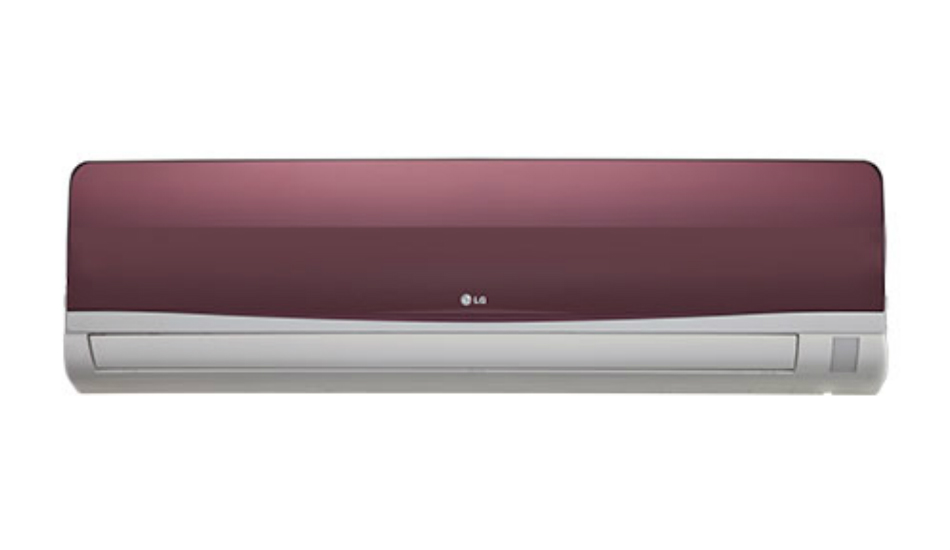 LG is one of the largest manufacturers when it comes to the home appliance. The company has delivered some good products in the air conditioners market and same can be said for this one. The device comes with some interesting features which include a Mosquito Away technology. Basically, through this feature ultrasonic waves are emitted at a frequency that cannot be detected by the human ear but helps in driving mosquitoes away.
The air conditioner comes with a 4-way swing which horizontal and vertical swing action ensures better airflow. The split AC also features Himalaya Cool Technology, which ensures faster cooling coupled with Monsoon comfort which gives right cooling during high humidity and monsoon season. The device features a micro-dust protection filter, which removes bacteria and micro-dust particles present in the air. Other features include, on/off timer, sweet dreamz mode which turns off the display on the indoor unit, sleep mode and stabiliser free operation. Talking about some key specifications, the device comes with R-22 cooling gas, 5 star rating and 3.60 EER rating, and comes with a price tag of Rs 46,490 which makes it one of the best choice if you are looking for split AC.
###PAGE###
Samsung AR18KC5JDMCNNA Max Retail Split AC
Samsung has been also known for making some good innovation in air conditioner category and it is reflected in this one as well. Samsung Max Retail Split AC is basically a 1.5TR AC, which is enough for a normal room size. The device comes with some good features. To start with the outdoor unit of the split AC comes with a Durafin technology enhances the heat exchanger's performance and has more corrosion resistance. The device also comes with a triple protector plus which protects your outdoor unit and indoor unit when there is a voltage surges/drops beyond range.
Taking about the indoor unit of the split AC, it comes with what company calls a Full HD filter (no it is not some kind of display). Full HD filter stands for Full High-Density filter, offers improved filtration by removing even the smallest microscopic dust particles and transforming polluted air into clean energised air. There is also an auto clean mode through which automatically runs the fan even after it is turned off, keeping everything dry and odor-free while preventing germs from spreading. Price at Rs 43,900, the AC includes other features as dehumidification mode, turbo cooling mode, anti-bacteria coating, has an EER of 3.61 and R22 refrigerant type, making it a good option if you are looking for an AC.
Micromax Aura 1.2 Ton Split Air Conditioner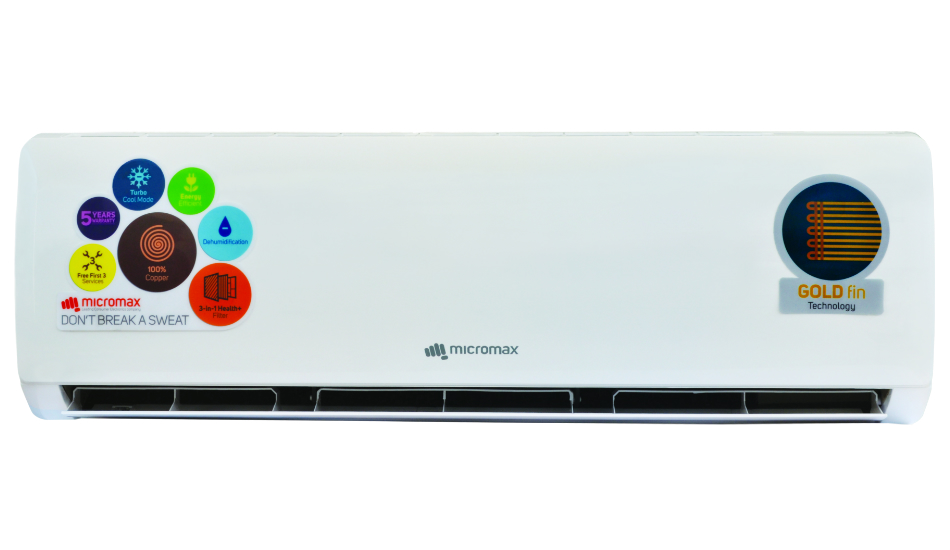 The latest split air conditioner from Micromax is equipped with some interesting features. To start with, air conditioner comes with 1.2 tonnage capacity and is equipped with GoldFin technology, which is basically a hydrophobic coating on the evaporator found in the split AC indoor unit and condenser, which prevents corrosion.
There is a two-way drainage system in the split ACs, a rare feature to found these days, which allow users to install an AC from both sides without much hassle. What makes it stand out of the crowd is the fact that it is equipped with 3 in 1 Health + Filter which include anti VOOC (volatile organic compounds) filter, which clears the odour from the room; Vitamin C filter, which helps softens one's skin and reduces stress; and Catechin Air filter which prevents the spread of bacteria and harmful viruses in the room.
The split AC features a 4-way swing, which gives a uniform cooling throughout the room. Other than this both the series features Turbo Cooling mode for a faster cooling, dehumidification that maintain humidity level automatically, auto cleaning, 24-hour timer, auto restart, quiet operation, self-diagnosis and sleep mode and R22 cooling gas. The air conditioner is available for a price tag of Rs 21,990, which makes it one of the most affordable split ACs available in the market right now.