Earlier this month, we did a top 5 refrigerators under Rs 20,000 and while most of the features remain same for a little more price the capacity, however, gets a bump which might be crucial for most of you buyers. The budget being an important factor here, refrigerators are a long term investment and if you have a budget of around Rs 30,000 and are looking to buy a new refrigerator for your home, here are our top 5 options currently available in India. Note that, this is list is in no order of preference.
Godrej RT EON 343 SG 2.4 – Rs 29,999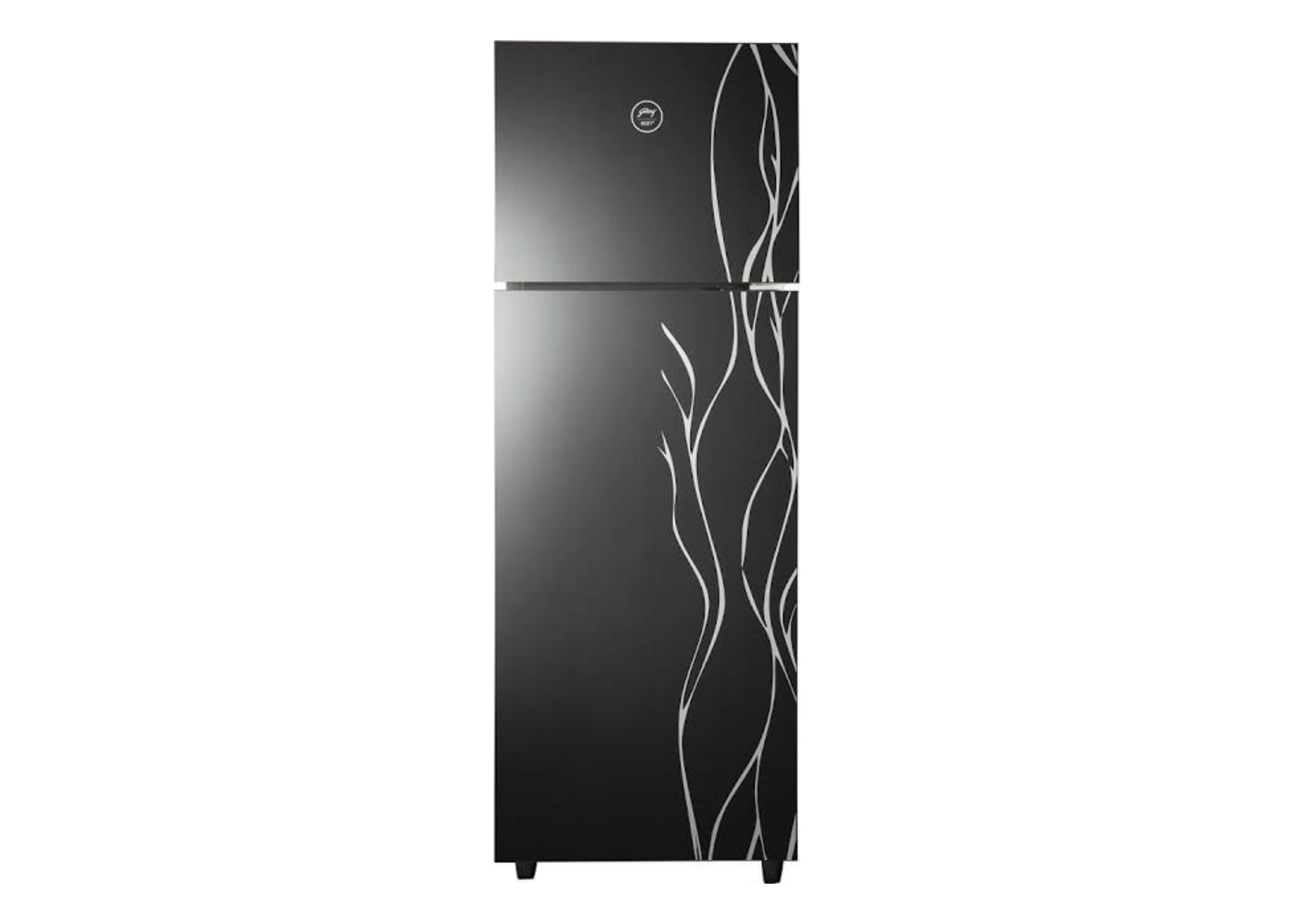 Starting off today's list with a refrigerator that will give you maximum capacity at this price range. Godrej's RT EON 343 Litre refrigerator is currently available for a price of Rs 29,999 and sustains all the features from the lower capacity 240 L model that we featured in our previous episode. This model is more aesthetically pleasing combined with a tonne of storage options. We get 3 toughened glass shelves in the main compartment along with 2 moisture controlled trays at the bottom to keep your vegetables fresh. On the main compartment door, we get various bottle compartments along with a dedicated egg tray. Inside the freezer, we have two shelves coupled with a twist and serve ice cube tray. Godrej has also included a Cool Shower Technology which technically ensures superior all-round cooling with the help of built-in air vents.
Fluctuating voltages is not an issue as it can easily handle fluctuations ranging from 140 to 260 volts. Rated as 2 star for energy levels, it should also not harm your electricity bills. The refrigerator measures at 1760 mm x 740 mm x 630 mm and weighs at 72 kg. The machine comes with a 1-year warranty while the compressor boasts a 10-year warranty protection.
Samsung RT34M3053S8/HL 321 L – Rs 28,640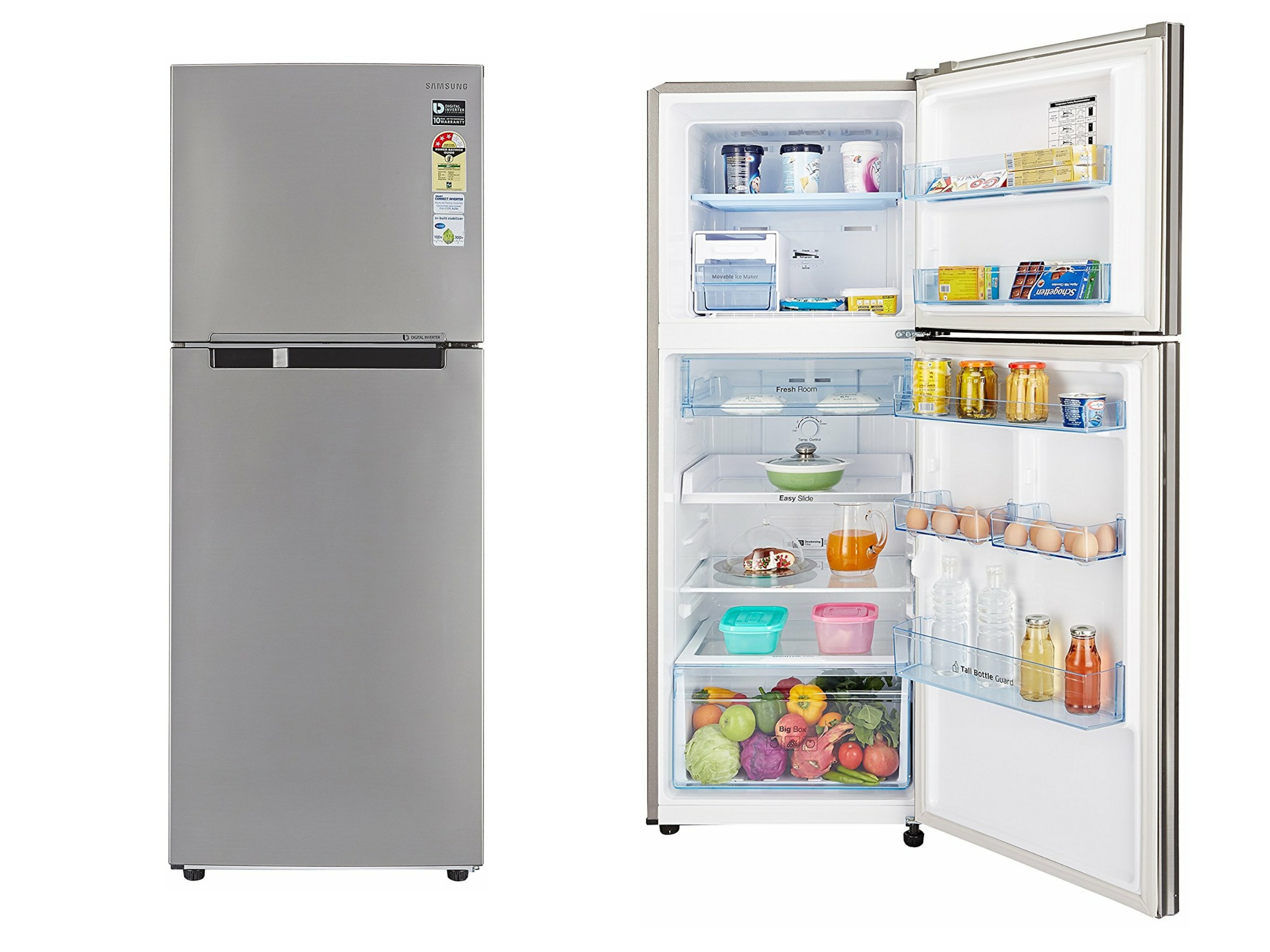 Samsung has had a tough competition from the likes of Whirlpool, Godrej etc. in the home appliance segment, yet, the South Korean giant has been holding strong. For a price of Rs 28,640, Samsung's RT34M3053S8/HL is an ideal choice if you are looking for 300+ Litre capacity refrigerator. For the storage, we get two toughened glass shelves (one easy slide shelf), a fresh zone compartment for milk products and a big box at the bottom for your vegetables and fruits. At the side door, the refrigerator boasts a tall bottle guard, two separate shelves for other small items. In the freezer compartment, Samsung has also included an ice maker through which dispensing ice is as simple as a twist of a toggle.
To add points aesthetically, this refrigerator comes with recessed handles and hidden hinges. In the power consumption department, this model should perform just fine as it comes with a 3-star energy rating which is decent for this price range.
Besides, this refrigerator comes with Digital Inverter Technology which will help it keep running during power cuts. In order to be sure about the space it will take up, this refrigerator is 1635 mm tall, 672 mm in length and 600 mm in width and weighs 59 kg. You also get a 1-year warranty for the whole machine while the compressor carries a 10-year warranty.
Whirlpool FP 263D Triple Door – Rs 26,999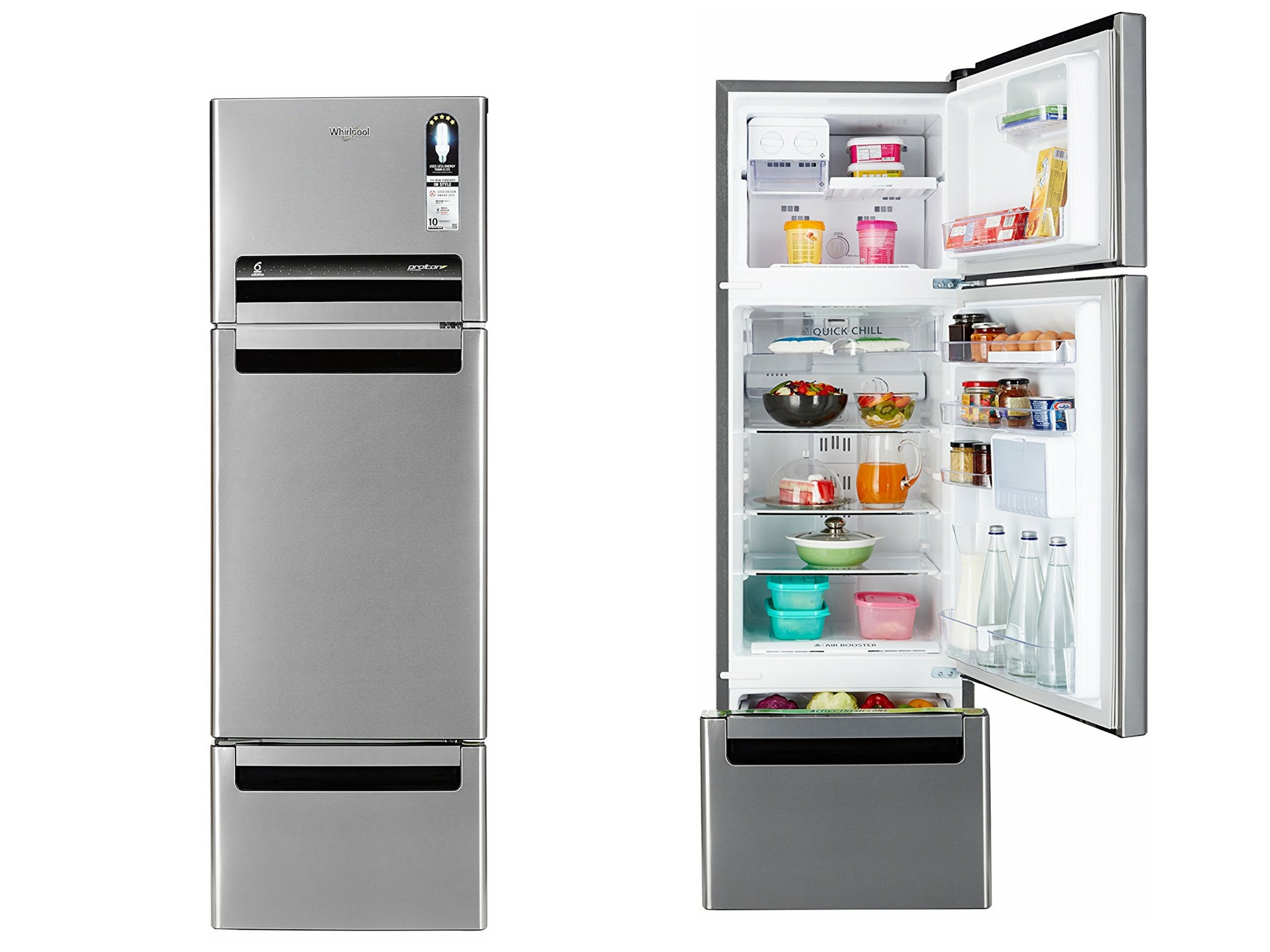 Whirlpool, which is one of the oldest manufacturers in this industry has an interesting triple door refrigerator offering under Rs 30,000. It's FP 263D Triple Door refrigerator range offers three separate compartments for better efficiency and performance. The 260 Litre model is priced at Rs 26,999 and offers a separate freezer compartment, the main refrigerator compartment and a separate vegetable basket compartment.
There are three toughened glass shelves in the main compartment coupled with a quick chill bottle zone and air booster technology which as per Godrej, controls the circulation of cold air inside the refrigerator such that each compartment receives the optimum amount of cooling. The refrigerator also boasts 6th Sense Technology to keep the items inside fresh for a longer period of time. There is also an easy Ice Twister in the freezer compartment along with small bottle guard on the door.
The refrigerator is an absolute marvel in aesthetics as well with all the door handles blended into the body. Apart from this, all the compartments are made of micro-blocks which protect your food from contamination by eliminating up to 99.9% of bacteria.
For the dimensions, this refrigerator measures at 1773 x 687 x 559 mm weighing around 60 kgs. As the case with most of the refrigerators, it comes with 1-year warranty for the whole machine and 10-year warranty for the compressor.
Haier HRB-3404BS-R/E – Rs 26,499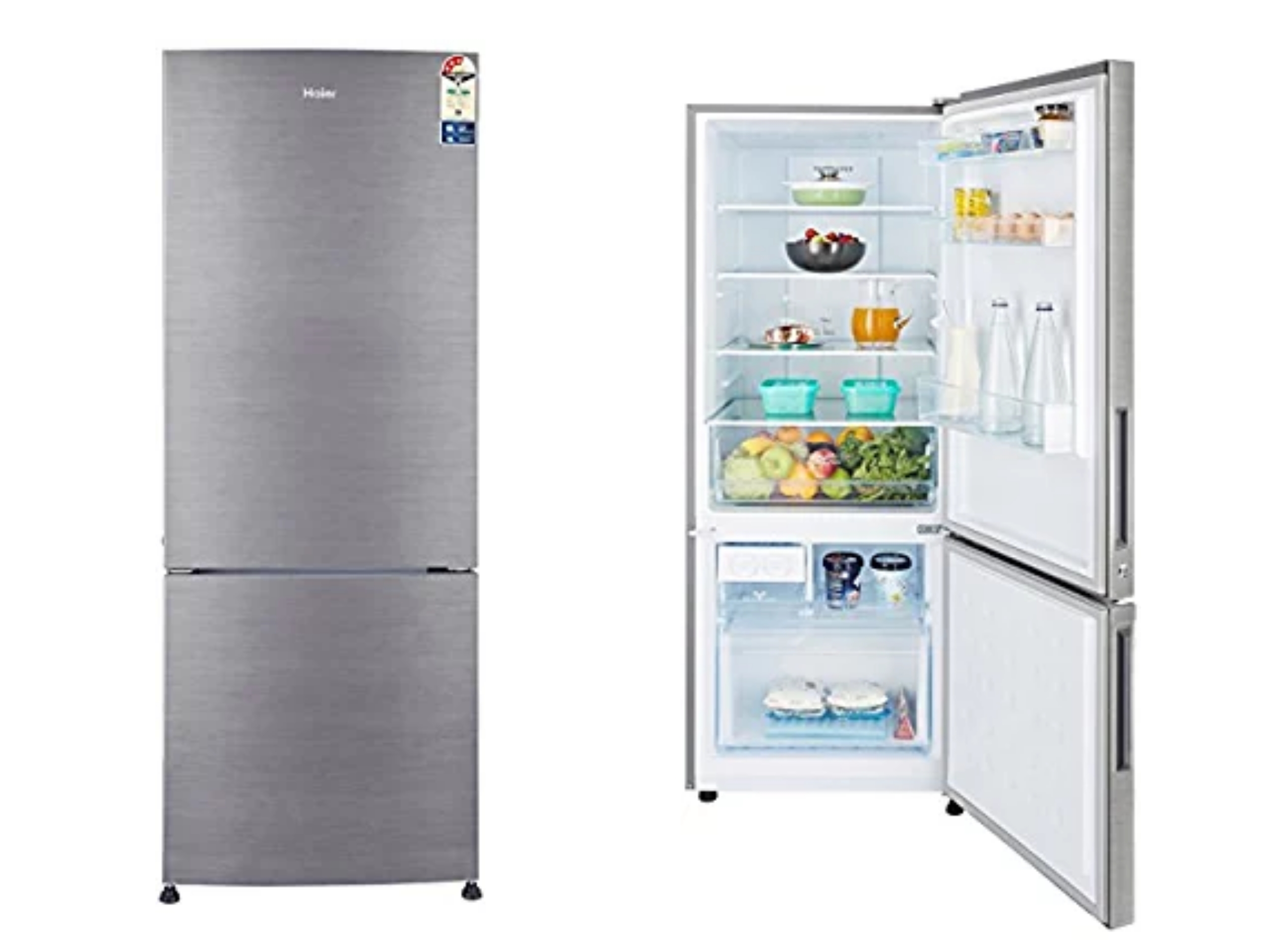 If Haier has been your favourite brand, the HRB -3404BSE-R will be a decent choice for the price. The refrigerator is priced at Rs 26,499 and comes with some unique features which are generally restricted to Haier refrigerators. This one is a 320 Litre capacity model with Haier's famous 1 hour Icing Technology which essentially brings down the freezer temperature to -5 degrees in 60 minutes. Evident by the pictures, the freezer compartment is at the bottom and there is also a coolpad installed which comes in handy in severe power cuts situation. The reciprocator compressor further helps to deal with power cuts.
For the storage, the main compartment has 4 toughened glass shelves along with 3 door bins and 1 egg tray to keep your bottles and other small items. Other features include a deodorizer, a white LED inside and a leather finish cabinet.
The refrigerator measures 1600 x 642 x 595 mm and weighs 69 kg to get a fair idea about how much space this machine will take up. Haier is giving 1-year warranty for the machine and 9-year warranty on the compressor.
LG 260L I292RPZL – Rs 25,500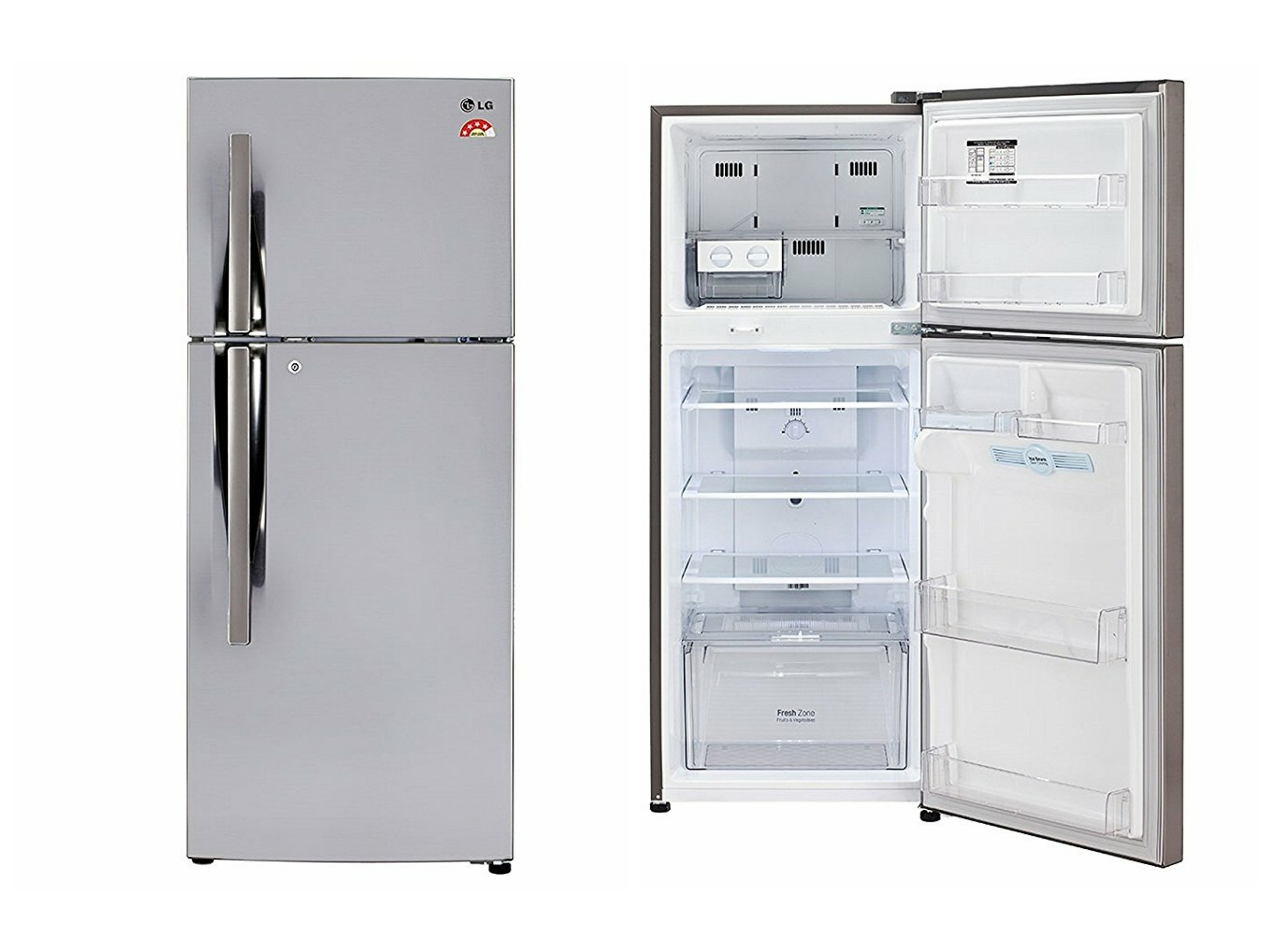 Well, this one might raise some eyebrows as it has the lowest capacity in our list today, however, the refrigerator is rated 4 star on energy rating, hence making it to our top 5 list. LG's I292RPZL is a decent bank for the buck option considering it will save loads on electricity once running. It comes with 260 Litre capacity with two compartments. The main refrigerator compartment has 3 toughened glass shelves, a vegetable basket at the bottom and two tall bottle baskets on the door along with a dedicated egg tray. In the freezer department, we get an ice maker along with two baskets on the side door as well.
Apart from 4-star energy rating, the refrigerator also comes with smart inverter compressor which saves the day in power cuts situation.
The refrigerator is the smallest measuring at 1470 x 671 x 585 mm and weighing 42 Kgs. As usual, we get 1-year warranty on the whole machine and 10-year warranty on the smart inverter compressor.