Printers play an important role in our lives. Whether be it printing assignments for your children or the last minute print out of your flight tickets, printers have, indeed, made our lives easier. Gone are those days when you need to rush to your near photocopy shop or internet cafe to take out prints of your important documents as with the advancement in technology, we have seen the printers becoming more compact and more budget friendly as well. But when it comes to choosing the best out of the rest, it becomes a confusing job. So, in order to make it easier for you, we present you the top 5 printers, which you can consider buying right now.
Epson L655
Epson is a well-known name when it comes to printer industry. The brand has a good reputation of bringing rolling out some quality products and this one is no different. The all-in-one printer comes with ADF, WiFi, networking, fax and duplex functionalities as well as a suite of connectivity features, aimed at achieving cost effective speed and quality.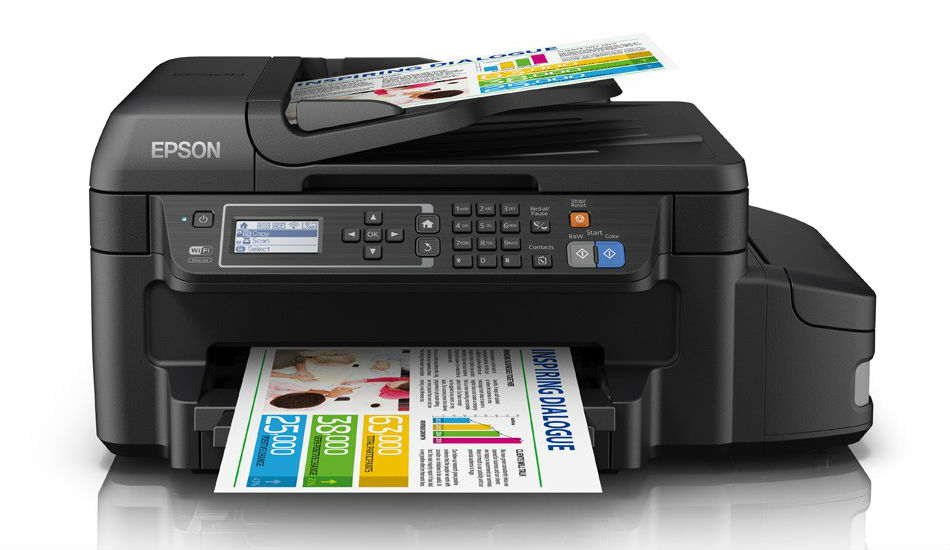 Duplex printing is a feature of some computer printers that allows the printing of a sheet of paper on both sides. The Epson L655 can print colour documents with razor-sharp text and images, and black prints that are water and smudge-resistant as well. It offers a reliable quality of 4800 dpi high-resolution output. The Epson L655 has Wi-Fi Direct connectivity and it allows users to connect up to 4 devices to the printer without a router. The L655 also comes enabled with Ethernet.
Users can enjoy print speeds of up to 13.7ipm for standard print, along with draft print speeds of up to 33ppm with Epson's PrecisionCore printhead. The L655 also supports automatic duplex printing up to 6.5ipm, therefore reducing paper wastages. The printer is equipped with a 30-sheets ADF unit for convenient scanning and copying of multipage documents. The L655 Broadcast Fax and PC-fax functions allow users to send a fax digitally with their computer. It has 100-page fax storage memory that ensures incoming faxes even if the printer is out of paper or ink. Overall, priced at Rs 26,199, it is surely one of the best printers available in the market.
Canon ImageClass MF249dw all-in-one printer
Canon ImageClass MF249dw is a compact monochrome all-in-one laser printer that is best suited for home office, micro office or for personal use. The printers come loaded with a host of interesting features including duplex printing, which basically print on both sides. It comes with standard PCL language, which makes it compatible with wide range of business applications.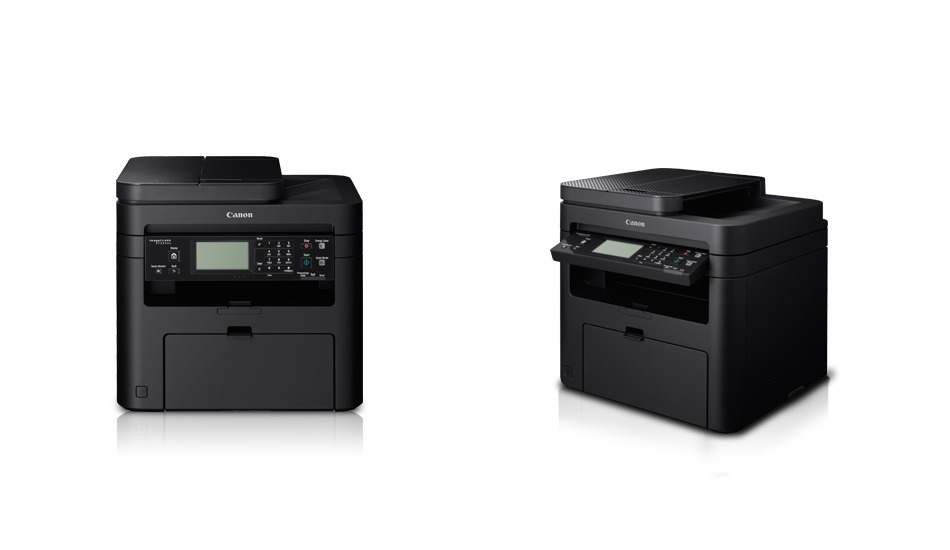 There are task-dedicated buttons on the display panel, which makes it easier to perform frequent tasks and the panel is tiltable, which provides some flexibility. The imageCLASS MF249dw has wireless connectivity, allowing you to connect the printer wirelessly to your network and do away with unsightly cables.
Talking about key specifications, the printer uses monochrome laser beam printing technology and has a print speed of 27 papers per minute. It has first print out time of approx. 6 seconds and can print up to 600 x 600 dpi. On the connectivity front, it supports Ethernet, WiFi, WiFi direct and also support mobile printing. It has toner cartridge, which the boast can print up to 2400 pages. Overall, with a price tag of Rs 28,499, it is a good option if you are looking for a monochrome printer.
Ricoh SP3600SF
Ricoh is another brand which is known for some good printers. The Ricoh SP3600SF model is yet another example of a fine printer. It a large LCD panels and single pass duplex scanner, which enable it to scan both sides of an original colour document in a single pass for double-sided black-and-white copying. The documents can be scanned in colour and send to e-mail, folder, USB, FTP, SMB, or URL. The advanced Ricoh Controllers are compatible with various devices and document management solutions.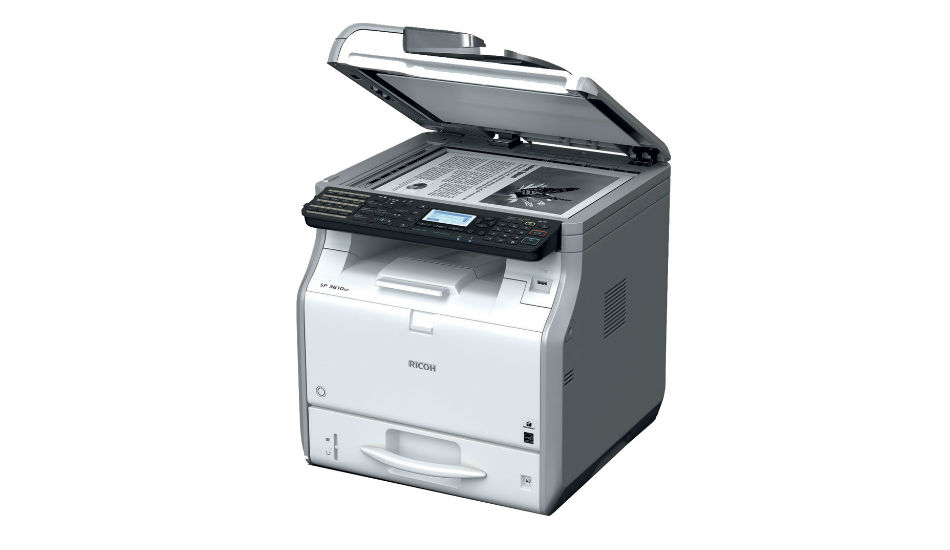 The toner consumption can be limited by using the toner saver feature and one can also bring down the running costs, all thanks to the separate PCDU and toner. Talking about some key features, it uses Laser beam scanning and electrophotographic printing technology.
The device has a duty cycle of 50,000 prints per month and printing speed 30 pages per minute. The printer can scan up to 600 dpi and also support fax. The device further supports paper size ranging from A4, B5, A5, B6, A6, LG to Letter, HLT, Executive, F, Foolscap, Folio and 16K. Overall, at Rs 40,000, it is one-stop for all your printing needs.
###PAGE###
HP DeskJet Ink Advantage 3775 All-in-One Printer
If you are looking for a compact printer and does not want to spend much then this is the perfect choice for you. HP DeskJet Ink Advantage 3775 All-in-One Printer is one of the smallest printers available in the market and was named one of the "50 Most Influential Gadgets of All Time".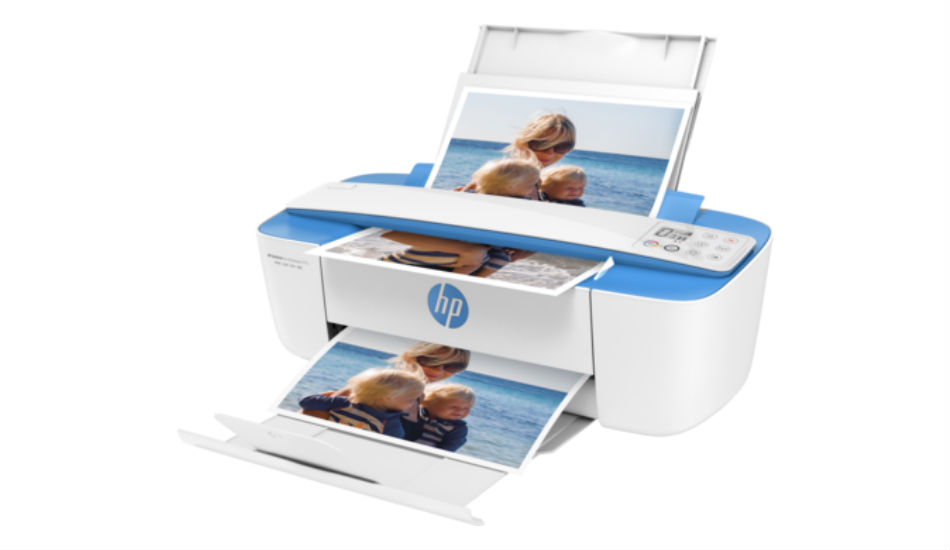 The HP Deskjet Ink Advantage 3700, has both scan and print capabilities. It also features copy capabilities which make it easy for users to print content from social networking websites such as Facebook, Instagram etc.
The HP all-in-one Remote application helps set up the printers and sync it with different platforms. The HP Remote app comes with features like wirelessly printing, scanning and copying from almost all the smartphones as the app is available for all Apple devices, Android devices and Windows devices. This app uses Wi-Fi direct to perform the above-mentioned functions.
As mentioned before, the famous HP Social Media Snapshots app is also supported by the printer through which a user can print content from most of the social media platforms or even from the camera roll itself. Talking about some key specifications, it has a print speed of up to 19ppm for black and white prints and 15ppm for colour prints. The printer support paper sizes including A4, B5, A5, A6 and DL envelope. The device measures 403 x 177 x 141 mm, weighs only 2.33 kg and comes with a price tag of Rs 7,342.
Epson L485 Ink Tank Printer
Epson L485 Ink Tank printer comes loaded with some interesting features. The printer claims to have high page yields of 7,500 pages in colour or 4,500 pages in black with each set of inks, which roughly translate to 7 paise for black and 18 paise for colour prints in the market. The L485 InkTank printer boast printing speeds of 10ipm for black and white, and 5.0ipm in colour and it also come with scanners, which scans at 1200 x 2400dpi.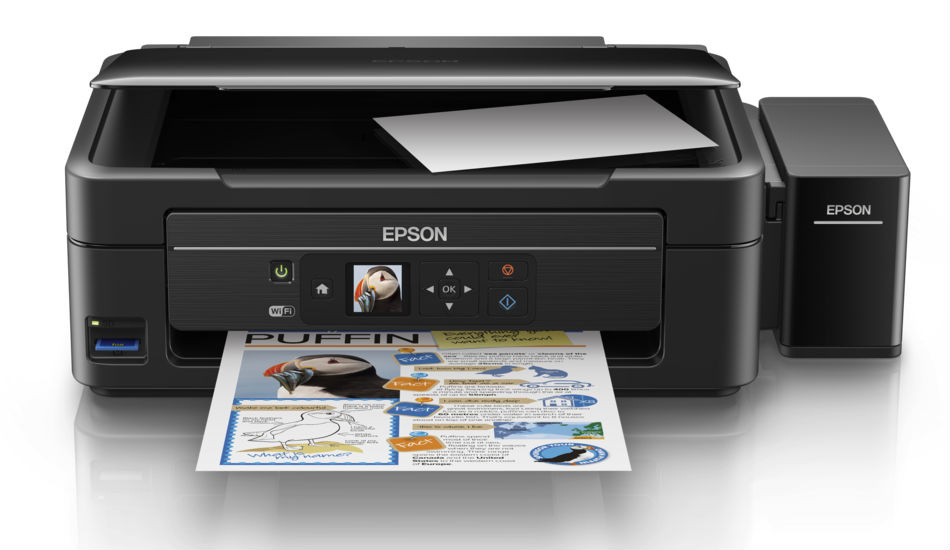 The printer is equipped with Epson's suite of connectivity features enabling scanning and printing directly to the user's smart device or from online cloud storage services. Further, the printer comes with wireless connectivity as well. The L485 supports Wi-Fi Direct and enables connection with up to 4 devices without a router. The printer offers a warranty of one year or 30,000 prints.
The device support different paper sizes including Legal, Letter, A4, B5, A5, A6, 5×7", 4×6"; Envelopes: #10, DL, C6, C4. It has a scan speed of 11 second (black) and 28 seconds (colour). Lastly, the printer comes with Refillable Tanks (black, magenta, cyan and yellow) and it is priced at Rs 26,199.