There was a time when tablets were tipped to replace our traditional laptops for more portability. However, the latter won the battle and we saw the market for tablets dropped down rapidly so much so that we hardly see any new tablets these days. But, laptops are still there and are there to be for a long time. While the price range can be as low as Rs 15,000 ranging up to Rs 2-3 lakhs, if you are looking to buy a laptop for your undergrad university or are not willing to go beyond Rs 30,000, we have picked some of the best options available in the market. Most of the specifications will be pretty much same across the list, but it's the brand and after sales service which will probably help you pick the best one for you.
HP 15-BE016TU 15.6-inch – Rs 27,490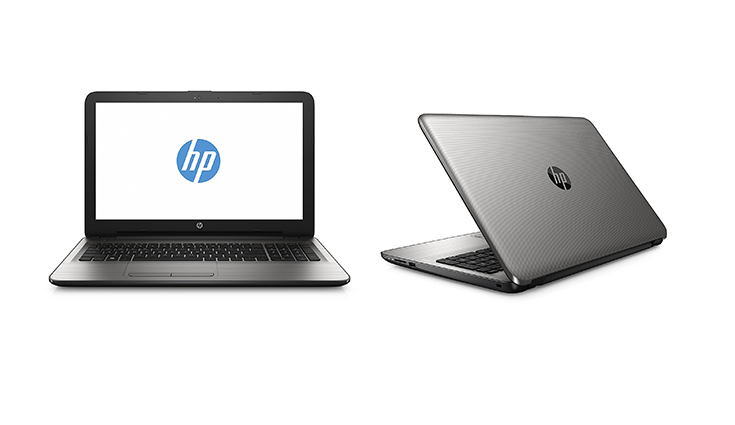 If we talk about the Indian PC market, HP has been there and ruling for quite some time now. The company has products in all kinds of category and for a price range of Rs 30,000 and below, HP 15-BE016TU seems to be a promising option. HP has gone in with some decent design language with the laptop with a matte finish running all around. It is available in either SParkling Black or Red colour variants, the latter being a little heavy on the pocket. For the specifications, we have a 15.6-inch LED 1366 x 768 pixel resolution display up front with dual speakers complementing your hold media consumption experience. The machine runs on Intel's Core i3 6th Gen processor which is clocked at 2GHz coupled with a 4GB DDR4 RAM which can be maxed out to 8GB. For the storage, we have 1 TB hard drive which should be enough if you don't carry a lot of movies with you.
In terms of connectivity, there is one USB 3.0 port and 2 USB 2.0 ports along with an HDMI port, a 3-in-1 card reader, Wi-Fi 802.11 b/g/n, Bluetooth v4.0, Ethernet and of course, a 3.5 mm headphone jack.There is a CD/DVD drive, even though we have moved onto flash drives. We also get an HP TrueVision HD webcam, but unfortunately, you will have to spend a little more to get a Windows 10 OS as it comes with DOS, out of the box. The laptop measures at 384.05 x 254.51 x 24.13 mm and weighs 2.19 Kgs. HP claims that this laptop can last up to 7-9 hours with average usage which is decent considering the price. Besides, we get 1 year onsite warranty from HP India.
Dell Inspiron 3467 14-inch – Rs 27,490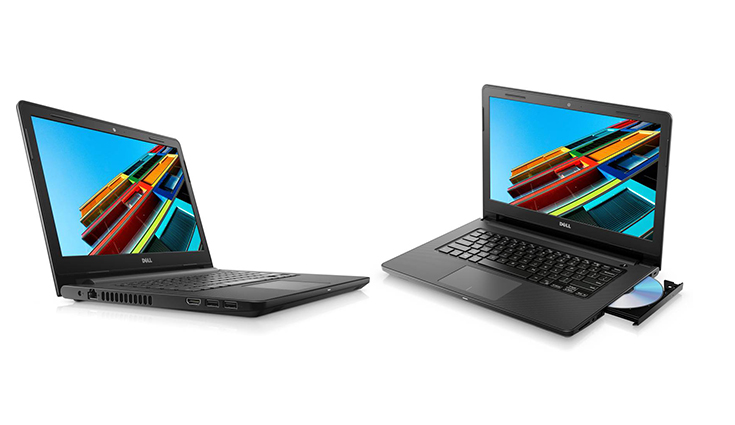 Dell has been always up there competing with HP in all kinds of PC products. Both the companies offer excellent after sale service and have managed to settle in a different set of customers. If you are more of a Dell person, the Inspiron 3467 model can be a decent choice for you. Coming in a slightly smaller screen size of 14-inch LED with the same resolution of 1366 x 768 pixels. In the design department, the Inspiron 3467 looks more sturdy and doesn't really shout a unique design. We have the same Intel's i3 (6th Gen) processor powering the device clocked at 2GHz along with a 4GB DDR4 RAM (expandable up to 8GB) and 1TB hard drive. Intel HD Graphics 520 will be there, in case you are into amateur video editing or gaming. Also, as was the case with HP, we don't get Windows 10 preloaded instead we have DOS running at the first boot.
For the connectivity, there are 2 USB 3.0 ports, 1 USB 2.0 ports, an HDMI port, a 3-in1 card reader, Wi-Fi Bluetooth v4.1 etc. Since it comes with a smaller 14-inch screen, it is way more portable than the HP counterpart. It measures at 345 x 243 x 23.3 mm and weighs about 1.9 Kgs which is decent for its size. To provide stamina, Dell has given a 4-cell Li-Ion battery which the company claims can last you about 5 hours on a single charge. Similar to HP, Dell is also giving away 1 year of manufacturer warranty with this laptop.
Acer Aspire E5-575-3203 – Rs 29,490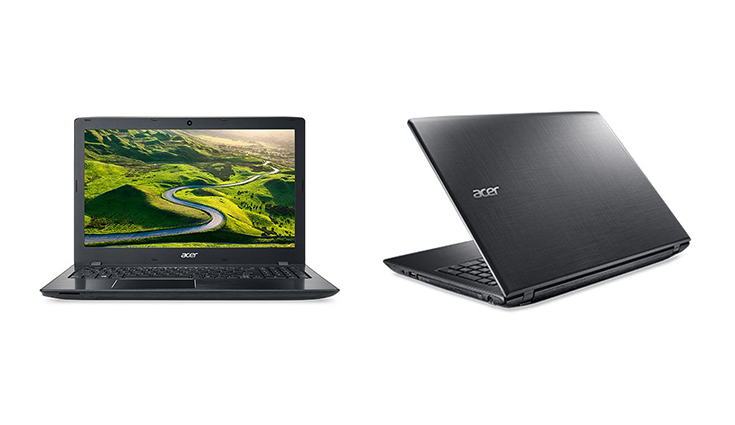 While HP and Dell are in the league of their own, other brands like Acer have had a solid ground in the laptop industry, thanks to its durability and the trust which has managed to outgun any other factor responsible for the company's growth. For the sub 30K offerings, Acer's E5-575-3203 goes neck to neck with other options in this list. Priced at Rs 29,490, the laptop offers 15.6-inch TFT colour display with a screen resolution of 1366 x 767 pixels. There are dual speakers to match up the whole entertainment purpose.
Underneath the hood, things don't change as we get Intel's i3 (6th Gen) processor which is clocked at 2GHz along with the same 4GB RAM and 1TB hard drive. However, you can max out the memory with an additional 32GB, on this one. If you are into gaming, Intel HD Graphics is what you get. Jumping into the connectivity, we get one USB 2.0 port, 2 USB 3.0 port and one USB 3.1 port along with an HDMI port and card reader. Wi-Fi and Bluetooth are already in place and you will still need to spend a little more if you wish to run on Windows OS as this device comes with Linux, out of the box.
Acer has fitted a 4 cell Li-ion battery in this one which should last you about 5 hours. Besides, the device measures 381.6 x 259 x 30.2 mm and weighs at 2.23 Kgs. There is also a 1 year domestic manufacturer warranty which comes attached with the device.
Asus X Core i3 GO1345D – 28,888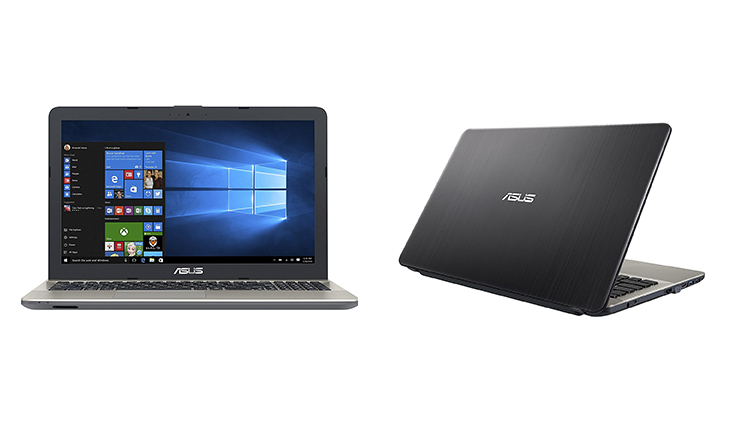 While Asus has been a little rigorous on the premium laptop segment, it has equally strengthened its budget categories. Asus's X series has been highly appreciated by the customers and the GO1345D seems to be the perfect option if your budget is around Rs 30,000. Although we don't get anything unique here as well, the aesthetics is something which sets it apart from others. We get a brushed metal finish at the back along with a black and grey colour combination running all across the body. For the display, the same 15.6-inch LED screen with 1366 x768 resolution is present here as well. However, we do get two 3 watts Sonic Master Speakers which should be better any normal pair of speakers available in other options.
On the inside, the 2GHz intel i3 6th Gen chipset is there as well, coupled with 4GB of DDR4 RAM, 1 TB of hard drive which in this case is expandable up to 128GB via memory card. No Windows out of the box, as it runs on DOS OS from the first boot itself. In the connectivity department, we get Wi-Fi, Bluetooth, 1 USB 3.1 port, one USB 3.0 port and one USB 2.0 port which is again combined with an HDMI port and a multi-card slot. Other features include a VGA webcam at the front for video calling. The laptop measures 38.1 x 25.2 x 2.76 cm weighing around 1.98 Kgs which is impressive given its 15.6-inch laptop. There is a 3-cell Li-ion battery pack inside which Asus claims can run this machine up to 6 hours on a single charge. Besides, there is a 1 year manufacturer warranty.
Lenovo Ideapad 110 Laptop – Rs 30,990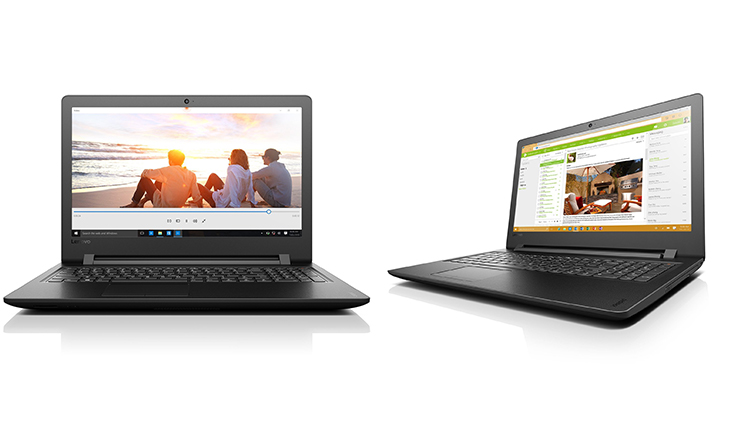 Now, although this one crosses our today's 30K limit, the Lenovo Ideapad 110 is one of the only options in this price range if you want Windows 10 pre-loaded. Yes, unlike all the other options in this list, we do get Windows 10 Home pre-loaded. Apart from that, the rest of the story isn't a lot different. A 15.6-inch HD LED display (1366 x 768 pixel resolution) flaunts at the front along with a single speaker for your media consumption experience.
Inside, we have, yet again, Intel's i3 6th Gen 2GHz processor which is combined with 4GB DDR4 RAM and 1 TB hard drive. For your connectivity leads, Lenovo has given a USB 3.0 port, a USB 2.0 port, an HDMI port, a 4-in-1 Card Reader, Wi-Fi 802.11 b/g/n, Bluetooth etc. The battery backup, as per Asus is about 4 hours on a single charge. There is a 0.3 megapixel webcam at the front. The Lenovo Ideapad 110 measures at 377 x 264 x 229 mm and weighs at 2.2 Kgs making it the heaviest of today's list. Nevertheless, we get 1 year of domestic manufacturer warranty as well.