With people increasingly becoming health conscious, there has been a rise in the use of health gadgets such as portable health monitors. Mobile phones, which play an important role in our day-to-day lives, can also be used to promote a healthier lifestyle.
There are a plethora of applications available across app markets for monitoring and maintaining a healthier lifestyle.
Here we have listed the top five applications on Android that can help users maintain a healthier lifestyle. The best part is that these five apps are absolutely free.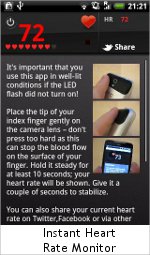 Instant Heart Rate Monitor
Fatty foods, fried snacks and lack of exercise put tremendous pressure on our hearts. Other than elders, heart related illness is even becoming common in the younger generation.
Instant heart rate monitor is a handy application that each one of us can use. It is quite simple. The user needs to put his finger on the camera of the smartphone and the application measures his heart rate.
With the use of this application users can monitor their heartbeat at regular intervals and can maintain a database that they can share with the doctor for consultation.
It is proven that a good diet would do wonders to one's physical well-being. A common notion associated with dieting is that you need to cut down on food to let your body detoxify, but this is absolutely incorrect as dieting refers to the process of having selective food as per our body's requirements.
Diet 2 Go application is a pocket guide to dieting. With its custom diet plans tried and tested by millions of users worldwide, it is one of the most popular fitness applications on Android.
Most of us love to hit the gym once in a while, but soon we get bored doing monotonous exercises, which is the worst possible thing that can happen to a gym goer.
So if you are also running out of ideas on what you are doing standing in the gym, then Jefit is what you need.
This application is built by Gymmers for fitness freaks. With variations of each exercise, it won't let you get bored and you can also punch in your workout details to monitor your progress. You can sync this application with your PC as well.
Any health plan is futile without a calorie counter. Hours in the gym will be of no use if you cannot keep a check on your calorie intake.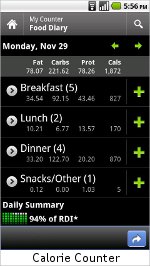 Other than about raw and cooked food, Calorie Counter also has information on dishes available at popular restaurants.
Users can punch in details of what they are eating and this application will calculate whether it fulfills a day's calorie requirements or not.
Maintaining health and a diet regime can be quite taxing on the taste buds. As all the things that add flavor and taste to food are generally banned or classified as dangerous for dieting people.
So what can you do to make dieting a useful as well as enjoyable exercise?
Recipe Search application has a database of over 70,000 recipes from around the world for dieters who do not want to ignore their taste buds.