Staying abreast with the information flowing from all direction becomes challenging if you limit yourself to print media only. Thankfully, the web content providers have now realised the need of easily readable and cleaner content on smaller screens – i.e. mobiles and tablets. In past two years, there has been a spike in the magazine style content offering publishers and applications.
Google's Android has several great looking news applications that one can actually choose from few of the best ones. Whether you like automatically generated content or personalised streams, there are apps meant for either of the purposes. Of course, you can again share the same content with your contacts over social networks and via email.
Here is the list of best free news apps that offer web content in magazine style format that are easy to eyes.
Flipboard
Flipboard was limited only to the Apple iOS platform until earlier this year. The Flipboard is now one of the best looking and user experience offering news and web content reader applications in the Google Play Store. Currently, it has been tailored for the smartphones only and requires good amount of RAM to run smoothly. So all those with 256 MB RAM on their Android devices may not enjoy the app much.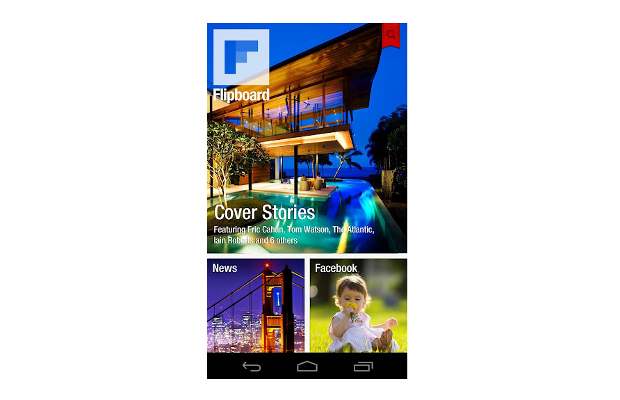 It has a great user interface. Search and add all the web content to the Flipboard and it will present that to you in easily readable format. You can also like, comment and share the web content to about twelve popular social networks and services such as Twitter, Facebook, Google+, Flickr, LinkedIn and so on. You can always add blogs along with websites and also videos to be enjoyed in pocket-able magazine format.
The more RAM your smartphone has, the better Flipboard will perform. To get the Flipboard for your Android device, visit Google Play store.
###PAGE###
Google Currents
This app is meant for reading RSS feeds, offered by websites and blogs, in a better format. Most importantly, it also offers reading the Google+ streams in a customised magazine style format. This app is uses Google's search technology and pulls in a five most trending stories from different categories- World, Entertainment, Sports, Science and more. Offline reading is also possible without the multimedia and thereby includes only text.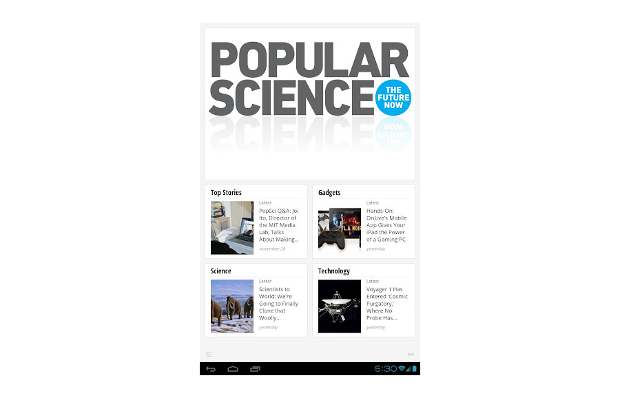 Users can also choose from the list of partnering websites to subscribe to the pre-customised content directly to their Currents app. The only limitation of this app is its relatively limited customised content.
The app comes as a part of the Android 4.1 Jelly Bean update but you can download the Google Currents app from the Google Play store as well.
Pulse News
News reading junkies will totally fall in love with the Pulse app. Configuring up Pulse is easy and it allows you to choose the categories you wish to fetch the updates from. Besides that, Pulse also enables viewing the articles and content pulled in a cleaner format.
The built-in web browser module also loads the web pages for user so that they can read the contents without leaving the app. If you have loads of RSS feeds added to Google Reader, then you can simply import them to your Pulse account.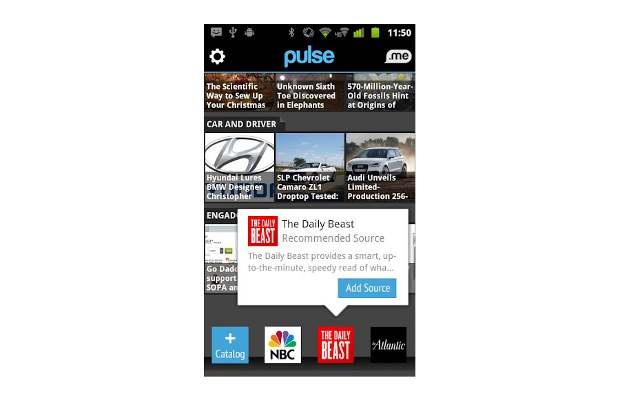 Support for different websites, blogs exists and along with that, the service also provides new bunch of publishers that offers content specifically customised for Pulse users. Users can share the web content via Email, Facebook and Twitter – well, limited yet sufficient sharing platforms. It also allows saving the stories for later reference with support to services like Evernote, Pocket, Instapaper, and Google Reader.
Meant for smartphones and tablets, the Pulse News app is available for free from Google Play store.
###PAGE###
Zite
Besides a great responsive user interface like the aforementioned applications, the Zite app allows the user to choose themes, interests and thereby offers curated content pulled from different web sources. It also offers font customisations and lets the user enjoy the content from within the app itself else users can open the link in a mobile web browser.


The app asks users to connect it with their Twitter account and thus can pull in content from the micro blogging site as well. User interface of this app is quite simple as well – use the thumbs up or down icons to mark the stories you like or dislike and the app learns from your reading habits.
Zite App is available for free from the Google App store.
Taptu
Unlike any other news reader apps mentioned above, the Taptu reader comes with decent looking ads. Of course you can purchase the "Remove Ads" plugin for Rs 156 but only if you think it is worth it.
Taptu offers one nifty features which allows you to create a SearchStream based on the search keywords that you are interested in. For instance, you can set a stream for Comic-Con and it will pull all content related to the Comic-Con and add to a separate SearchStream. Even in the existing categorical streams, you can set a keyword to show the content related to that particular keyword.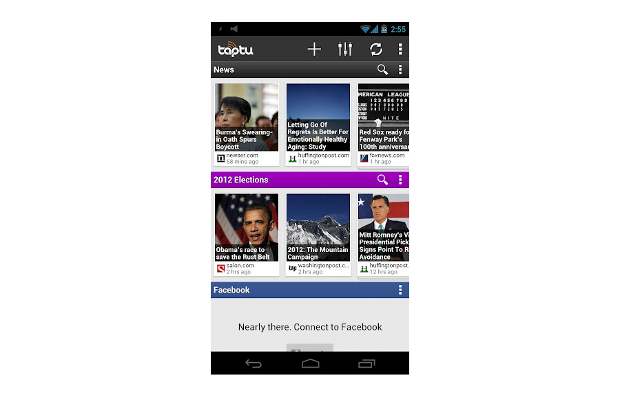 It allows users to mix, re-name and even assign colours to the content streams. It also brings number of customisable widgets which would work great with the Android 4.0 ICS and Android 4.1 Jelly Bean running devices.
To Get the Taptu with Ads, visit the Google Play store.