Apple iPhone is one phone which has a lot of amazing stuffs that includes its display, sound and camera. Here are somes applications which will enable you take the maximum advantage of these features to entertain yourself.


Moreover, all of this are available for free and in various languages.
Desi Videos
As the name suggests, this app offers Indian videos in several Indian languages including Hindi, Tamil, Telugu, Kannada, English, Gujarati and Marathi.
There are different types of videos which include latest news updates, music videos, TV shows, cooking videos, movies and clips, cricket, technology, astrology, and videos for kids.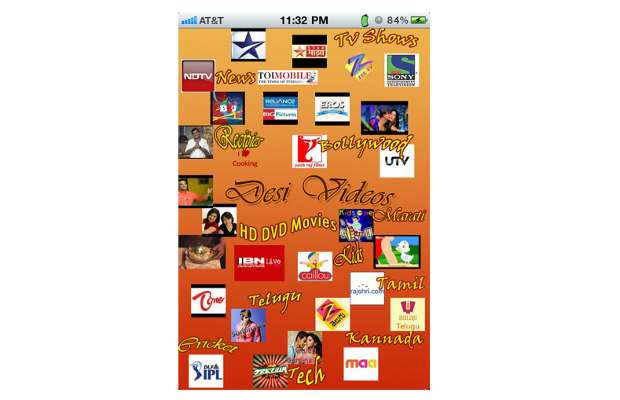 The app allows easy search of videos and even allows users to suggest videos to friends. The application connects to your Facebook account making it easy for you to share stuff from the app itself.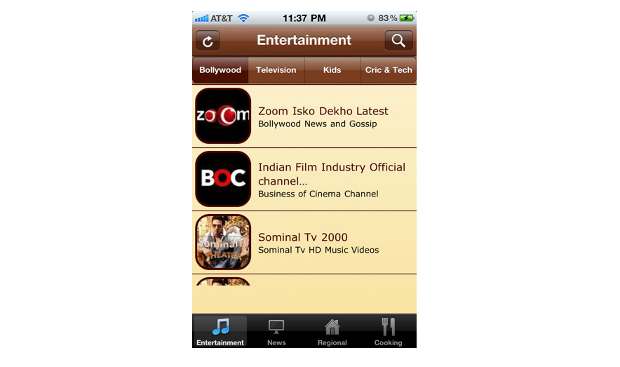 The app supports retina display for iOS 4. People who have used the app have liked its user interface and also the variety that it offers in terms of videos.
The app is available for free here.
###PAGE###
Spuul – Free Bollywood Movies
This free application offers free to watch Hindi movies. The app offers collection of both recent Indian hits to classics, and the best part is that it allows you to resume watching where you left off.
It is claimed by the developer of this application that new movies are uploaded weekly. The application allows signing in using your existing Facebook account, which also makes it easy to share favorites or create and save playlist.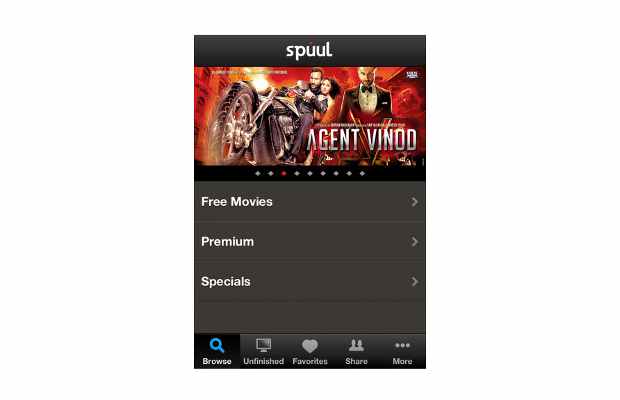 There are no restrictions on watching movies, you can watch as many times as you wish to, and the app works both over WiFi and 3G networks.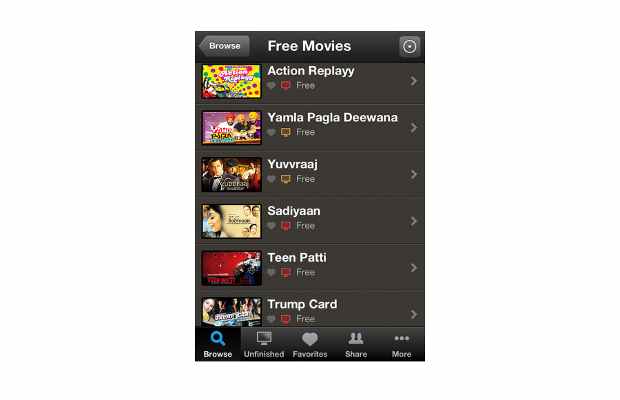 You can filter movies by language or genre. However, there are certain movies that are not available for free and for that you need to become a premium user by paying some money.
However, you can also invite your friends and win a Golden Ticket to watch some premium content.
The app and the web version of the app syncs with each other allowing you to resume watching movies from where you left off on your desktop, iPhone, iPod Touch or iPad.
You can download this app from here.
Mundu TV
Mobile TV app for Indian channels. This app is available on both Android and iOS platforms. The app provides live TV channels ranging from movies, music, reality TV, business news, English and Hindi news, regional channels, movies etc.
One of the good aspects of this application is its ability to stream videos on even slower EDGE networks. Another good aspect is ability to link one account to multiple devices, and offer similar experience across desktop or Mac too. You can also pause live TV streaming.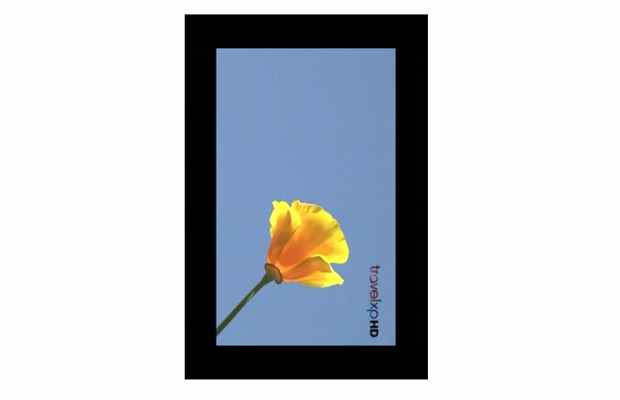 Some of the Music channels available on the app include 9x Music, 9x Jhakaas, B4U Music, Music India and Blue Frog. For movies, you have B4U Movies and UTV Movies while there are entertainment channels like UTV Stars, UTV Bindass, Cartoon Network and Pogo.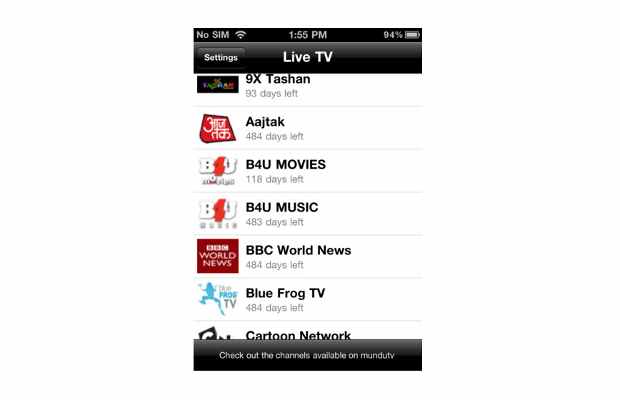 Other channels available through this app are Travel XP and NDTV GoodTimes. News channels is one of the strength areas of this app with CNBC TV 18, CNBC Awaaz, NDTV Profit, UTV Bloomberg, Aajtak, Headlines Today, NDTV India, NDTV 24×7 being available.
As far as regional channels are concerned there are Maa, Raj, Sakshi, and TV5 in Telegu, Jaya, Raj, Polimer in Tamil.
You can download this app from here.
###PAGE###
All in 1 Radio
The app not just offers several Radio channels but all allow users with a widget that has Weather, Clock and can record the songs that are playing.
You can listen more than 20,000 Higher Quality Radio stations from all over the world with "All-in-1 Radio Free". While the weather clock will display the latest weather and the current date and time.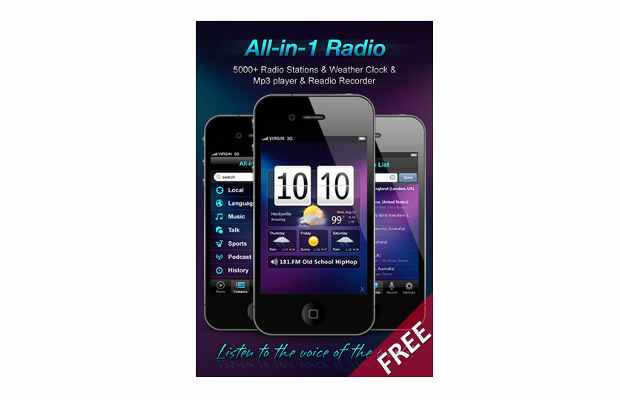 Professional search engine can help you quickly find out the stations that you want to listen.
The application automatically locates your local radio stations, and collection your favorite radio stations.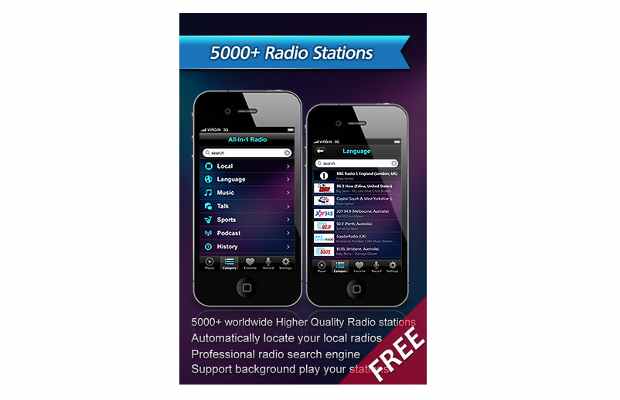 The application also supports background play, so that you can listen to the radio while running other applications.
Recording radio programs can be recorded and saved automatically. Multi-language function is there that automatically displays the current national language.
That's not all it is also a Music player and can play all music files in your iphone.
You can download the app here.
Action Movie FX
This app is very different from the apps above, it actually lets you create videos rather than merely consume it. You can use your iPhone's camera to capture videos and then using this app you can add special effects to it.
However, there is a catch – the app is free only for a limited period of time after which you will need to pay for it.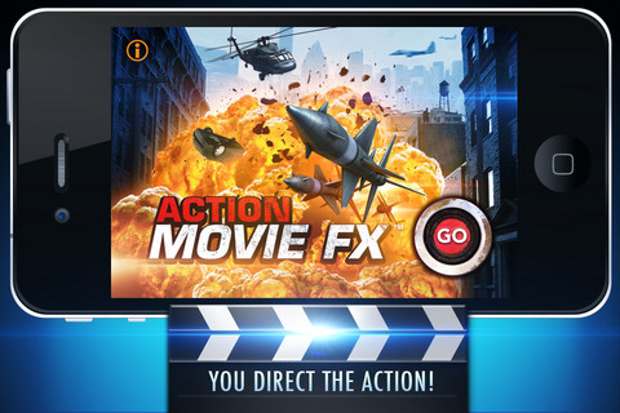 To create videos, select a scene like "missile attack" and the app adds an incoming missile and its explosion right into your movie!
You get three free effects with this app (for more you need to pay), it also adds music and sound effects.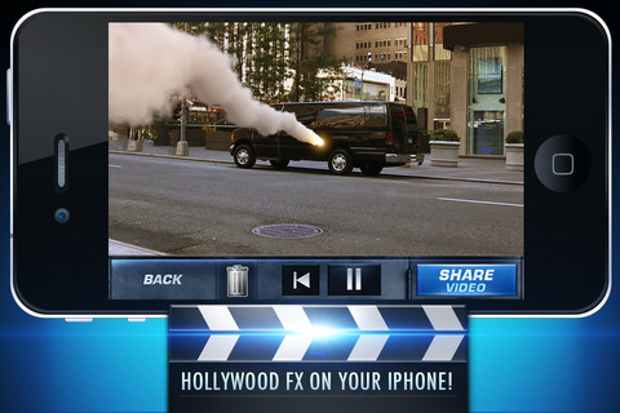 Facebook and email sharing support has been offered to share what you create. The app automatically detects scale and size of subject and accordingly helps you add effects.
Additional effects that you can buy include chopper down and tornado action bundle, airstrike and fire fight attack bundle, and carpet bomb the bad guys, or run for cover as they open fire.
You can download this app here.