Reading books is always recommended for all ages but one can't simply carry around entire collection of books every time. However, with Google Android based tablets are now being made available at affordable prices, book worms can read their favourite books on the move anytime and anywhere. There is no other joy like holding a book and flipping the pages. However, when you have to carry around your collection, you are limited by options. That's when the eBook reader applications swoop in to help you out and keep your interest intact.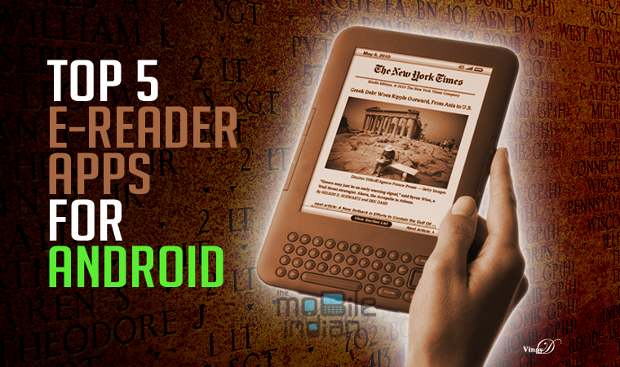 Here is a collection of five great apps meant for the avid book readers and anyone who owns an Android tablet. Apart from free ebooks downloadable, these apps also provide several other popular latest and old books at great prices.
Aldiko Reader
Aldiko is one of the most versatile and easy to use eBook readers for Android users out there. This eBook reader supports over 16 different languages and also can read the Adobe DRM protected eBook formats. By default, this Book Reader supports the eBook files in EPUB and PDF formats. That means if you have loads of files in either or both of the formats, you can easily open and read them.
Not only that, it can read the purchased eBooks from Amazon, Barnes & Nobles and even Kobo books only if they are in ePub format. Apart from reading the eBooks, Aldiko also offers built-in Dictionary support for users to quickly search or the word and find its relevant meaning.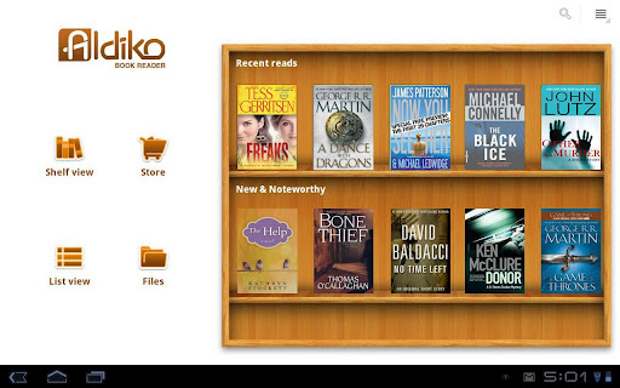 Aldiko offers the users to choose fonts type and size to suit their requirements. Aldiko Book Reader also has built-in store where you can browse for several free books and download them. The Aldiko Book Reader free version comes with advertisements inside while the premium version costs Rs 167 but has no advertisements and also promises quick updates.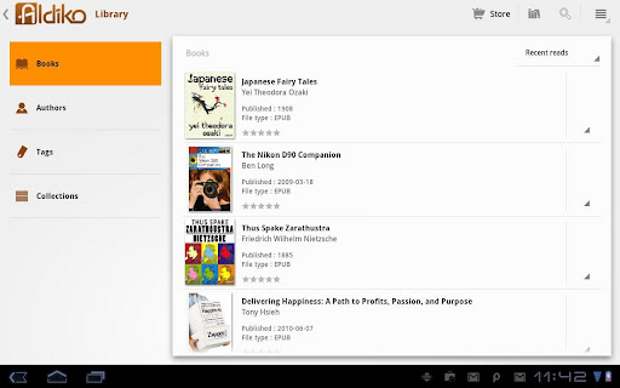 To download the Aldiko Book Reader, visit Google Play store.
###PAGE###
Kindle
Amazon's Kindle App reader for the Android devices brings all the popular free eBooks offered through the company's Kindle service. Note that there are thousands of free eBooks on Kindle that can be downloaded and enjoyed on your tablet. This application has a built-in Dictionary and shortcuts to search for text in Google or Wikipedia.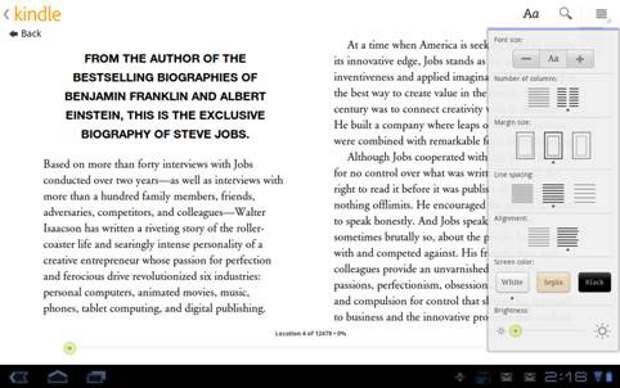 Whispersync, a feature in this app, allows syncing the same book and same reading position of the books across different devices – smartphones and PC too. This app also offers plethora of customisation options like changing the font size, screen brightness, background colour (night mode) and also assign portrait or orientation mode for the books.
If you want to buy eBooks, then you can always download and read the first chapter of that book before purchasing it. Kindle is one of the widely used apps with simple user interface and vast library of eBooks. Get the Kindle app for your tablet from Google Play store.
Kobo Reader
Kobo Reader offers several good books for free and also new books at attractive prices. Like other eBook stores, even Kobo Reader supports unlicensed and DRM-free books in ePUB format. Besides offering several eBooks, it also connects you to the stores where all books are neatly listed in a user friendly layout. What makes Kobo Reader slightly different from other is a feature that allows users to share quotes, notes and other stuff over Facebook.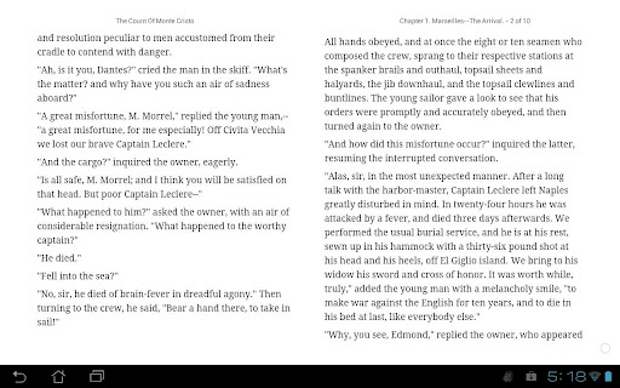 Most interestingly, you can add your DRM-free ePub books to Kobo reader via email, web browser or even Dropbox account. Kobo Reader also offers customising reading experience by highlighting your favourite passages, locking the orientation, switch between pages using volume keys, and also night mode for easier reading at night.
After signing up, the user also gets to join the community and can see who is reading which book using the Kobo Pulse. With great collection of books, enjoy the Kobo Reader on your tablet from the Google Play store.
###PAGE###
Moon+ Reader
Moon+ Reader presents you with Aldiko like book shelf interface and has automatic drive scanning utility to look for the compatible books that can be loaded on the shelf. Once the scan is finished, it will load the books along with the cover arts. Moon+ Reader is fancy ebook reading that supports different formats such as txt, html, epub, umd, fb2, chm, zip or OPDS. It offers about eleven pre-installed themes that adjust the fonts, brightness and even background depending on your environment.
Just like several other eBook reader programs, this too offers the page turn animation on your tablet but if it lags then you can always shut it off from the settings. For further customiations, it throws in loads of control and visual options for user to define and change at any moment.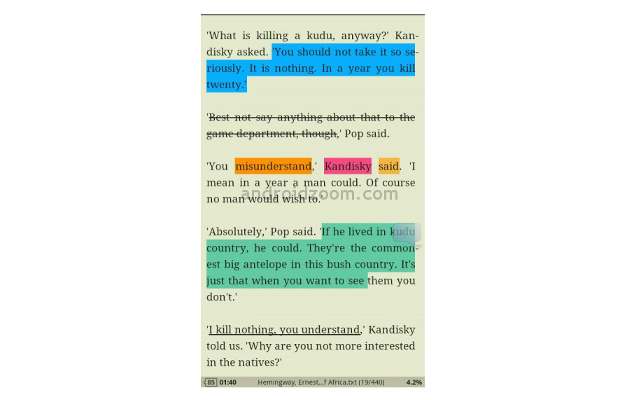 Over 50 fonts come preloaded so you can choose the one that suits your eyes. For the unformatted ebooks, it also intelligently removes the spaces. You can also take a backup of your ebooks on cloud servers by using your Dropbox account.
Moon+ Reader is available for free with ads while the premium version removes them and adds much more features. Get the Moon+ Reader free from the Google Play store.
Cool Reader
Cool Reader is one those basic reader apps that does not sport a fancy user interface but has great potential to be the top eBook reader. This eBook reader offers support to wide variety of book formats such as fb2, doc, txt, rtf, html, chm, tcr, pdb, epub, prc and mobi formats.


Specifically meant for the old school style pale yellow background but one can always change it to a suitable one. The app offers about 50 different texture backgrounds for you to choose for reading the text which can be customised by font type and size. Take notes and search for words in the dictionary. Though this app does not have that pleasing interface, the wider file format support does make it best choice for several others.
You can get the free Cool Reader app from the Google Play store.