When it comes to share market trading, timely financial news is a big asset. Here are five of the best mobile applications for financial news:
BSE/NSE Stock Markets Live
This Android application is one of the most comprehensive sources for stock market news as it pools information from Bloomberg, CNBC, Times Now, NDTV Profit, Zee Business, Moneycontrol, and Rediff Money.
You get stock tips, business news, and Nifty and Sensex data all in one application. Along with all this you get NSE (National Stock Exchange) F&O (futures and options), equity futures and options, BSE/NSE intraday charts and Indian company stock quote updates.
You can also keep track of your stock portfolio with a stocks watchlist and follow shares of companies like Reliance Industries, Tata Motors, ICICI Bank, SBI, Axis Bank, Bharti Airtel, RCom, Hero Honda, Tata Steel, Jet Airways, Kingfisher Airlines, Edelweiss, Larsen & Toubro and more.
Besides this, the app provides information on key global indicators like Nasdaq, Dow Jones, S&P500, FTSE 100, Hang Seng, Strait Times, Nikkei 225, and has the crude and forex rates in the Indian Rupee, US Dollar, and other major world currencies.
The application is free but is only available for Android. To download it, click here.
###PAGE###
Moneycontrol's Markets on Mobile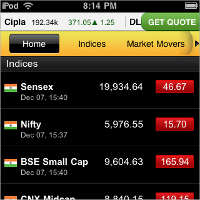 This application is from the Network18 group, which operates TV channels like CNBC, IBN Live and IBN7. The app is available on all the leading smartphone operating systems like iPhone (iOS), BlackBerry, Android, and Symbian (Nokia).
Though the information on this app comes from a single place, Moneycontrol.com, the website is one of the most popular sources of financial information in the country.
The app provides information on business, economy and financial markets, as well as real time stock quotes, and Indian and global market indices. Investors can also track their investment portfolios and can watch business news channels such as CNBC TV18 and CNBC Awaz.
The application is free and available for iPhone, BlackBerry, and Android.
For more information visit Moneycontrol.com through your phone's browser.
WSJ India Mobile Application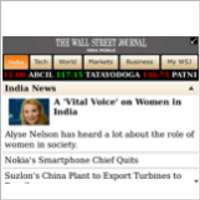 Wall Street Journal (WSJ), which is the leading newspaper in USA and is among the authorities on financial news, has a mobile application meant especially for an Indian audience.
The application is customisable and provides access to Wall Street Journal news and DowJones Newswires (a highly respected financial wire service), and it contains specialised India market and business news.
Apart from global and local financial market news, the application also provides politics, economics, finance and management news from India and around the world.
It includes search and tracking capabilities of over 8,000 companies, mutual funds, and information of all the IPOs of the past three years, with customised chart views and premium market commentary.
You can also delve into lifestyle, travel and leisure content, including personal technology news, executive jobs and travel deals with engaging videos and podcasts of global news, technology and interviews of prominent CEOs.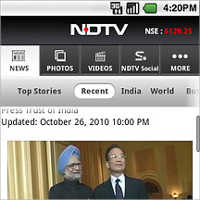 While the application is free, for premium content you will have to pay Rs 99 every month. Is it worth it? Well, yes, but with other options available for free, this 'yes' is not a resounding one.
You can download the application by sending an SMS 'WSJ' to 56767 or by entering https://wsj.com/indiamobile on your mobile browser. You can also download it from here. Though it is compatible with most phones, you can check under the 'Compatible Phones' tab after you click the link.
###PAGE###
NDTV Mobile apps
NDTV has launched mobile applications for all major mobile platforms including iPhone, Android and BlackBerry.
The app offers news in various genres including business. However, it is not a business focused app. It gives access to daily video updates from the world of news, entertainment, cricket, lifestyle, business, gadgets and health. The app also supports live streaming of all NDTV channels including NDTV Profit.
The application is free and you can download it by typing https://m.ndtv.com/app in your mobile browser.
Reuters News Pro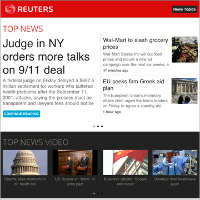 Reuters is a leading news wire service. It provides news to all the leading newspapers and channels across the world. The company has mobile applications for popular mobile platforms including iPhone, Android and BlackBerry.
The app provides access to world, business and market news, global financial data, corporate information, and personalised stock tabs. Also included is news about sports, science, health, technology and entertainment.
It has full story articles and photos optimized for easy reading on a mobile device. Although it has Indian news as well, it is not designed especially for Indian consumers.
Reuters has also launched an updated News Pro app to leverage the strengths of the iPad. The app is focused on video, interactivity and coverage that enables users to consume Reuters news and data as efficiently as possible.
The application is free. To download it you can click the links: iPhone, Android, and tap Android Market), or Blackberry.