WhatsApp has now announced that it is rolling out a new privacy setting that will help you control who can add you to groups. Before this, users could be added to any WhatsApp group without their consent.
You can now stop people from adding you to any groups if they are not in your contact list. However, it also allows you to leave that option open. The new privacy settings has started rolling out to some users and will be available globally in the coming weeks.
To restrict joining of new groups on WhatsApp, there will be the specific privacy setting that can be accessed by going to Account > Privacy > Groups from the WhatsApp settings menu. Users can select between three options including Nobody, My Contacts, or Everyone for group chats.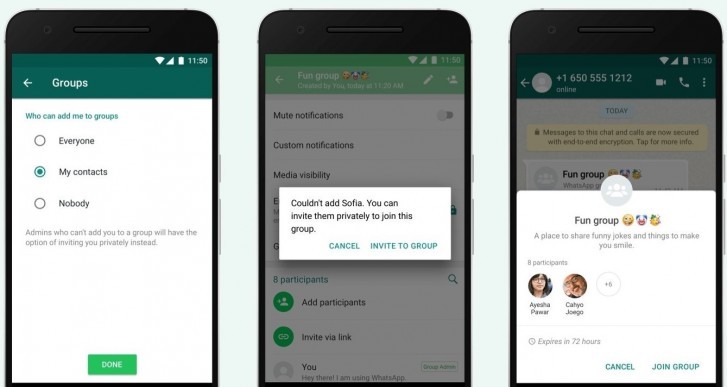 If you select the Nobody option, you'll have to approve joining every WhatsApp group to which you're invited. The person inviting you to a group will be asked to send you a private invite through an individual chat.
The My Contacts option allows only those users who are in your contacts list can add you to the group. The Everyone option will allow anyone to add you to the group and you'll have three days to accept the invite before it expires.
WhatsApp has recently launched 'Checkpoint Tipline' feature to combat the spread of fake news and rumors ahead of the Lok Sabha elections. WhatsApp users can report and submit what they think is misinformation to Checkpoint Tipline at +919643000888, directly on WhatsApp. Once a WhatsApp user shares a suspicious message with the tipline, PROTO's verification centre will seek to respond and inform the user if the claim made in a message shared is verified or not.