A couple days ago, Xiaomi announced that it will showcase its latest Redmi Note 5 Pro on pre-orders which we thought would be a special provision for buyers in contrast to their flash sale campaign. Xiaomi pitched this idea as an upgrade to the times when users are forced to wait for a weekly flash sale. At the time, this looked like a major change in the marketing side of the company since there have been numerous occasions where users have ended being disappointed at not being able to book their choice of smartphones just because all products were sold out in a matter of seconds.
While expecting some change in approach from Xiaomi, we awaited the pre-orders to go live at 12 PM today on the official Mi Store online. Our hopes went down the road as soon as we clicked on the "Pre-order" button which popped up as soon as the clock struck 12. Not only were we greeted annoyingly by being asked to wait in "queue" (which defied everything the pre-order scheme initially stood for), we had to wait several excruciating minutes till we could even proceed to the next page where we fill in all our credentials including our address.
If you thought, to book a tatkal train ticket in India was hard, wait till you try to buy a smartphone from Mi.com. Upon selecting the Redmi Note 5 Pro variant of our choosing, we were led to the next page where we add our contact information and the address we choose to get the phone delivered.
We could already sense something fishy with what was in the cart. While we were selecting the variant of our choosing on the previous page, we had stumbled upon whether to buy the Mi Protect that happens to be Xiaomi's version of a smartphone insurance. The item which was listed for an additional Rs 899 was now added to the cart at Rs 999, clearly a case of being dishonest on Xiaomi's end.
Even then, we moved on to adding the delivery address. This is when the official site went on to display further problems. Having entered all the relevant details, we were greeted by a message stating the pinched didn't match our address. Of course, your next move would be to check everything all over again or retype these credentials, we all make errors don't we? But that wasn't the case. Entering the address considering you've been staying at the same place for years, made no difference as Xiaomi's website kept on showing something wrong every time you did.
If by any chance, you get successful doing that, which we eventually did after several minutes pulling the hair off our heads, you wouldn't be surprised to see what pops up next on the screen. Xiaomi's message read that the variant of our choosing had been sold out, the same way we're notified during any of their flash sales. We didn't stop there since we had to verify if each one of these devices were really 'out of stock'. After an hour of trying and failing to order numerous times, we could confirm that no variant of the Redmi Note 5 Pro was available for purchase.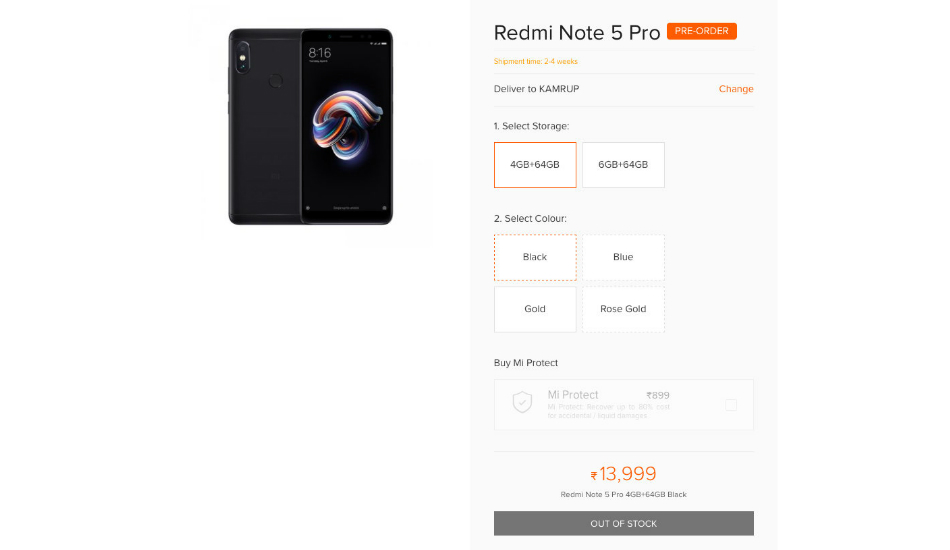 So where does that bring us to? For those who don't know what a pre-order is (including the folks at Xiaomi), it's when you pay for a device before-hand knowing for sure that the device will only ship after a stated period of time. Pre-orders, generally are a scheme for the company to know the exact number of products it has to mass produce so it can ship the same with some time kept extra for shipment.
In Xiaomi's case, it was clearly stated that the phone will be shipped between two to four weeks, which is sufficient for a company of that calibre to manufacture as much as they could for the amount of pre-order it generates. Otherwise, what exactly is the point of a pre-order then? The whole scenario where consumers are only allowed to pre-order till stocks last, defies the very principle of pre-orders to a huge extent. If this was what supposed to be expected, then what is Xiaomi's pre-order scheme if not a glorified version of its own flagship 'flash sale'?
Xiaomi might be on the move to become the next big thing by making high-end devices available for a less expensive price-tag but is shorting the supply the right way to impress potential buyers. That seems to be highly doubtful if the company doesn't sort out some transparency on their supply and demand situation. If flash sales are Xiaomi's plans to go with, then the company should stick with the same and not try luring buyers in disguise of pre-orders. And let's not forget the fact that we were asked for an additional Rs 100 when buying the Mi Protect insurance.
This brings us to wonder if Xiaomi's flagship marketing strategy is also the reason for its bad reputation. Recently we revealed how standalone offline stores levy an added premium when being asked for a XIaomi product due to its lack of availability. Though it comes off as no surprise, it's really worth noting that users have been paying some kind of a premium when buying Xiaomi branded smartphones from offline stores, with rates for an additional going as high as Rs 2,500. We just hope Xiaomi takes the necessary steps that need to be taken as soon as they can before their customers realize there are better brands to rely on and smartphones that they could 'really' buy.