Recently a couple of colleagues and friends looking to buy a smartphone went to some mobile phone retailers in their neighbourhood.While on it, they also inquired about the availability of Xiaomi phones. Patcame the reply from the retailer, " Yes it can be arranged, but you have to pay some extra amount." Does this story look familiar? For us at The Mobile Indian, it was a story to be explored.
A team of five journalists went to different mobile stores in and around Delhi to find out the truth. The stores we selected were not big multi brands stores like Croma and Sargam or Mi Homes which is owned and managed by Xiaomi; instead, we focussed on stand-alone retailers. Some of them were preferred partners ( regular mobile stores who have a tie-up with the company directly for procuring inventory) of Xiaomi while others were not.
[[VIDEOID=1286]]
On Ground investigation:
We first focused on the preferred partner stores. We asked the retailers about the Xiaomi smartphones that are readily available.Without even taking a second the reply from almost all the retailers was, "Don't worry Sir, just name the model and we will get it for you, but you have to pay some extra amount." Interesting, so there is life beyond waiting for online flash sales, we thought.
After negotiating, we finally moved ahead to buy the Xiaomi phone and offered our credit card at one of the retail outlets. The retailer's reply shocked us. He said, " Sir on credit card we will only deduct the actual cost of the phone, which will reflect on your bill as well and the extra or premium charges have to be paid in cash along with 2.5 % charges for using the credit card."
The premium these retailers were charging was between Rs 500 to Rs 2000. When we checked out the other stores which were not the preferred partner, the same story repeated except the premium was between Rs 700 toRs 2,500.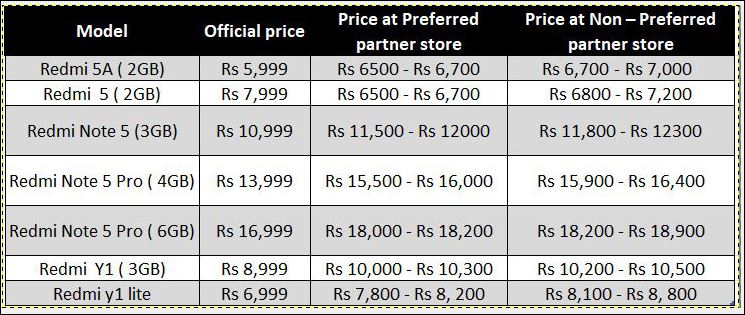 So who's responsible for this slap on the Digital India movement of the Government of India? And is this black marketing? Our take is both consumers and the Brand. Consumers because they are ready to pay a bribe or a premium for buying a product over and above its original price. On the other hand, Xiaomi should have taken steps to curb this menace. If they had spent even half of what they paid on promoting their new no. 1 status according to a research body, they would have achieved both their objectives of demonstrating strong consumer preference and actually doing something extra for the consumer. As it turns out, today they don't have a mechanism in place where the consumers can raise such issues or register a complaint.
Post finishing theinvestigation The Mobile Indian did send out an email to Xiaomi to find out their side of the story but we didn't receive any inputs from the company at the time of filling the story.
We didn't stop here. Our next move was to talk to retailers ( who spoke to us on condition of anonymity) across India to find out answers to questions like why they sell or don't sell Xiaomi smartphones and, do they charge an extra premium on devices? The responses what we got were an eye-opener. Just for the record, we spoke to 39 retailers out of which 15 were Preferred partners.
Preferred partner side of the story:
When we asked the retailers, why did become the preferred partner of Xiaomi? All of them said that Xiaomi phones are in high demand and they wanted to capitalise on the opportunity to make better revenues. On a question about are they charging customers extra for the Xiaomi phones, the reluctant answer was – thanks to the flash sales online, there was enough unfulfilled demand to demand and get extra for a Xiaomi phone from some consumers. We interrupted, So what? We are here to do business, and if we can earn some extra bucks why should we miss out."Make haywhile thesun shines."
When we asked how often they get the shipments from Xiaomi, Retailers said once they transfer the money shipments are released depending on the availability. They further added retailersdon't have the right to choose what they want. On further proddingabout inventory, they said that Xiaomi doesn't provide the credit period forany of the orders. In simple terms tretailers have first to transfer the money, that ranges between Rs 7 lakhs to 15 lakhs, to receive consignment and they cannot choose the devices. It is the prerogative of the company.
Non Preferred partner side of the story:
Well, here the things get really interesting. Most of the Retailers said to us we have not taken up Xiaomi's preferred partnership offer because of terms and conditions. When we asked them to elaborate they said the following things:
1. Outside the shop, one has to display the board of Xiaomi only. ( we don't agree with retailers on this point because during out on ground investigation we did see Xiaomi preferred partners displaying branding of other brands as well)
2. Credit period is not available for buying stocks. One has to do RTGS between Rs 7 lakhs to Rs 15 lakhs before the inventory reaches them. ( we couldn't verify it independently)
3. Samsung's promoter not allowed and their product should not be on display at eye level ( In the preferred stores we visited we didn't find phones of Samsung being displayed at prominent places like the front three rows window or on the platform. On the other hand, smartphones from Oppo and Vivo were shown along with Xiaomi devices.
4. Retails cannot pick and choose devices what they want to be shipped. ( we couldn't verify the claim independently)
5. Finally, retailers said all the terms and conditions are not paper. They are communicatedverbally.
When we enquired about how do they procure Xiaomi device for their customers? They said we take it from preferred partner stores or sometimes keep the stocks ready which are purchased at the time of online sales. Do you charge an extra premium? Yes Sir. We are not a charity but a business. When we buy the devices from preferred stores, they also charge a premium.So we add a margin to make money for ourselves.
Quite frankly, by the time this was done, we felt that there really was no difference between these retailers, especially the 'official'preferred partners and the irritating auto driver who refuses to go by the meter and charges extra, taking advantage of your situation.
What can Xiaomi do about it? Well, for starters, some transparency on the demand and supply situation, and perhaps even a clear calendar of their flash sales along with the number of devices on offer would be welcome. Here's hoping the firm moves on this, before their customers actually discover that they have many more options.