Slated for a launch on May 23, the Xiaomi Mi 7 appears on another leak ahead of its release and from the looks of it, Xiaomi is very likely planning a surprise. While it looked like the Mi 7 will feature a notch like any other Android phone in the market as of late, Xiaomi's celebratory 8th Anniversary product will possibly house an iPhone X like facial recognition system and will be the first Android phone to do so ion its release.
A week after the Xiaomi device was spotted on Gekkbench with a Snapdragon 835 SoC, little did we know that the device will feature a breakthrough technology that we've come to know as the Face ID in the Apple flagship. The Mi 7, through the latest renders, looks to feature an infrared sensor on the front above the display where a notch is cut out at the top. The infrared sensor is what would help recognize a face during lowly lit conditions.
Accompanying the infrared sensor is the front camera which we believe is a 13-megapixel sensor followed by an earpiece which by the looks of it is rectangular in shape but smaller than the ones on other smartphones. There doesn't seem to be a flood illuminator like the one found on the iPhone X but there is a dot projector if you compare the render with an internal schematic diagram of the notch on the Apple device.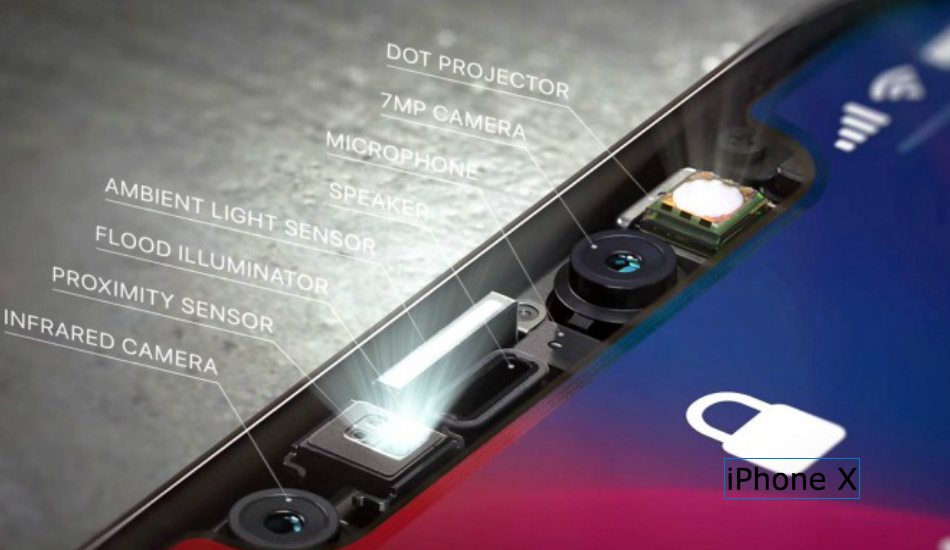 The circular component on the farthest from the left could well be mistaken for a proximity sensor but it's too large for the same. Nor does it qualify to be a secondary camera sensor since its opening is a little too narrow. It remains to be seen if Xiaomi has something new in the facial recognition business and we'd only know once the Mi 7 goes official on May 23.
Apart from the Apple-like Face ID feature, the Mi 7 is also rumoured to come with an in-screen fingerprint scanner for enhanced protection. There will also be a Xiaomi 8th Anniversary Edition Smartphone that will get launched alongside the Mi 7.