Poco F1, the first smartphone under Xiaomi's Poco sub-brand, is under fire as a company executive was found faking the camera samples of the phone which were originally clicked from some other device.
As spotted by a Reddit user, Xiaomi Global spokesperson Donovan Sung was seen posting a picture on Instagram which claimed to be clicked from the new Poco F1. Turns out the photo was actually clicked from another device's camera and the Xiaomi executive was being deceptive about the camera sample of its latest budget flagship.
The picture which was recently posted on Instagram to promote the Poco F1 looked identical to Sung's picture from April 22 of this year with the only difference being the "Shot on Mi Mix 2S AI dual camera" watermark stamped on the bottom left part of the older picture. The Xiaomi executive had also performed a poor retouch of the old photo when removing the watermark which made the picture rather suspicious for someone who'd notice. The picture was also edited to make it brighter with some extra filter or two to make it more attractive.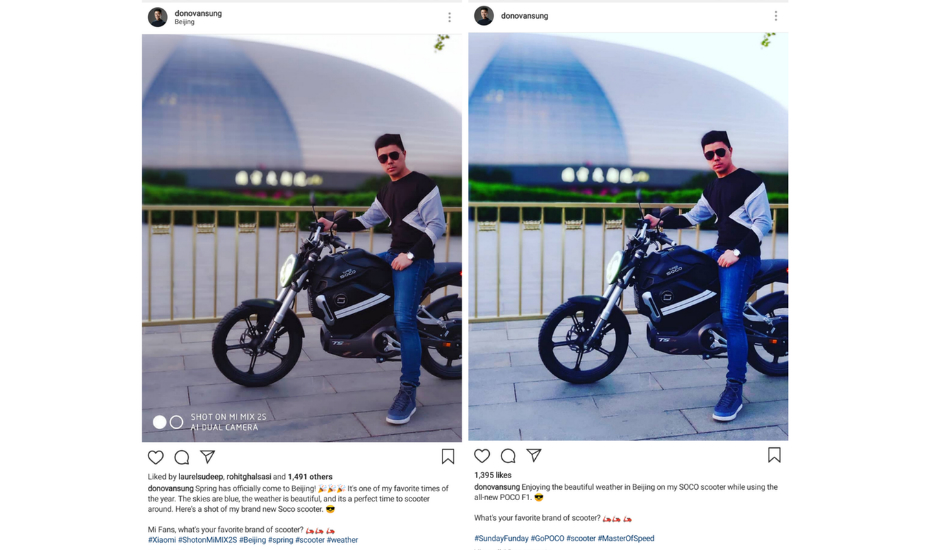 The latest picture has since been removed by Sung and Xiaomi is yet to answer on why it went to such lengths to fake a camera sample. The news comes just weeks after Samsung and Huawei were caught off guard when trying to fake photos off a DSLR camera as pictures from their own smartphones. Samsung removed its Twitter post shortly after being caught buying pictures from Getty. Huawei's attempts to promote their Nova 3i were left scarred as a behind-the-scenes picture of the phone's promo was posted by the actress who was part of the video.
While Xiaomi might not have gone to such lengths of using DSLR-like images to endorse their latest smartphone, any act of this kind is just means to being less truthful to their customers. You just can't fool your users into buying smartphones by selling them wrong information about the product. Having already achieved name success on its first flash sale of the product, did Xiaomi really need to dupe their customers into buying the Poco F1?