Do you frequently travel to the villages? If you do, here's some good news. Connectivity in rural areas is expected to improve with Haryana-based telecom solutions company Vihaan Networks Limited's (VNL) new mobile tower, which is cheap and requires no maintenance.
Called WorldGSM, VNL's tower provides connectivity for voice and wireless Broadband as well.
According to global consultancy group Deloitte, rural India is expected to fuel the growth in mobile phone services over the next four years as cell phones become a vital tool in the government's financial inclusion programme.
However, current mobile towers are powered by diesel generators, which cost as much as Rs 50,000 per month to run. As operating cost of telecom in rural regions far exceeds revenue, network providers lack incentive to offer services in these areas.
VNL was the recipient of GSMA's 2010 Green Mobile – Best Green Programme Product or Initiative award for inventing mobile base stations fueled by renewable energy. These towers are small, powerful and use solar energy.
VNL's towers not only reduce installation cost and time, and maintenance cost; they also ensure zero operating cost, making rural networks profitable.
WorldGSM mobile towers also create low cost Wifi networks. Each tower installed in a rural area can work as a Wifi hotspot effective over a 500 m radius. Five or six similar towers create a continuous Wifi zone stretching over about 6 km. This enables the network operator to offer Wifi and GSM connectivity to clusters of villages without having to lay cables.
Rajiv Mehrotra, the founder and chief executive officer of VNL, says, "Using our technology, operators can create a viable business model to operate GSM and broadband networks in rural areas."
He adds, "95 per cent of tehsils in our country are connected by fibre channel (wired broadband connection). Using our technology, almost the entire country can be provided broadband without the need to lay more cables."
Most villages have an area of less than 200 metres radius, which means that WorldGSM will enable even bigger villages to be connected without the need to install another tower.
VNL showcased its technology to a select group of journalists. They took us to Bhiwandi tehsil in Rajasthan, where they have set up a trial WorldGSM network.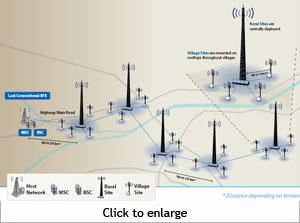 Mehrotra says that WorldGSM towers cost as little as Rs 8 lakh, which includes solar panels, batteries, backhaul, GSM antennae and Wifi solution. The tower can be installed in two hours on roof tops without a foundation having to be laid. It has no operation costs either.
WorldGSM towers do not require air-conditioning as there are no moving parts in the setup; because there is no air conditioner, there is no need for a generator either. Solar panels, on which VNL's towers operate, require only dusting once or twice a week, which can be done by the person on whose premise the tower is installed.
These cell towers offer only 2.5G network. Rajiv said, "Villages right now need to be connected first and 3G is not the requirement. We have included Wifi in our solution as there are low cost devices which work on this network. Wifi is cheaper too as it operators don't need to pay.
VNL's WorldGSM solution is being deployed in Africa, Asia and other developing regions. The company is actively looking for buyers in India and is doing trials with BSNL.
WorldGSM can certainly make a difference in how villages are connected. Everyone is gunning to go rural as there is a vast and untapped market there, but current technology is too expensive for the business to be viable.
We believe this technology can not only take broadband to rural areas but also fuel a lot of local enterprise as it enables the setup of micro networks by local entrepreneurs.