WhatsApp's Snapchat-like Stories feature which was rumoured for long finally became reality earlier this week when the Facebook-owned chat messenger confirmed the release of its new revamped Status features which would now display stories for 24 hours, similar to what we are use to seeing on Snapchat and Instagram. One can share a picture, video or even a GIF and layer it with a bunch of emoticons, text and even draw on the clicked/recorded content. The app also lets you share your status individually to some select friends or post it straightaway for all the contacts. The updates started rolling out for both Android and iOS starting today so I thought to test the feature and compare to Snapchat Stories. Here are my thoughts.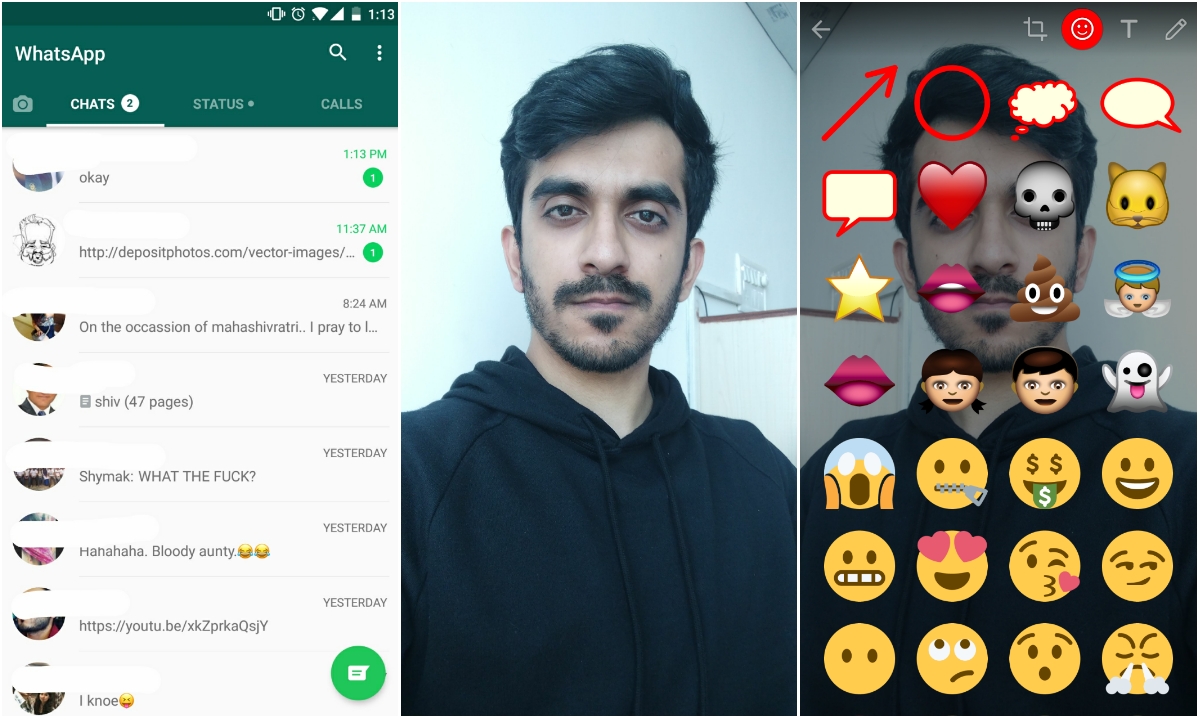 WhatsApp's new 'Status' feature is available starting with version 2.17.79 for normal users and version 2.17.81 for beta users on Android. If you are not any of the above versions, we request you first update the app from Google App Store or Apple's App Store. Opening up the app after updating will now display a new 'Status' tab on top just on the right side of Chats tab. The Call Log or 'Calls' tab now lies on the extreme right and you will also find a new 'Camera' icon on the extreme left tapping on which will open up the camera viewfinder for WhatsApp's new Status feature. Now, you can either click a picture or choose from your gallery. Tapping the little 'circular' shutter button will simply click the picture and holding it will start recording the video. Pretty familiar right? As of now, you can record a 36 second video at max. Further, You can shuffle between the front and back camera and toggle the flashlight from from the viewfinder itself.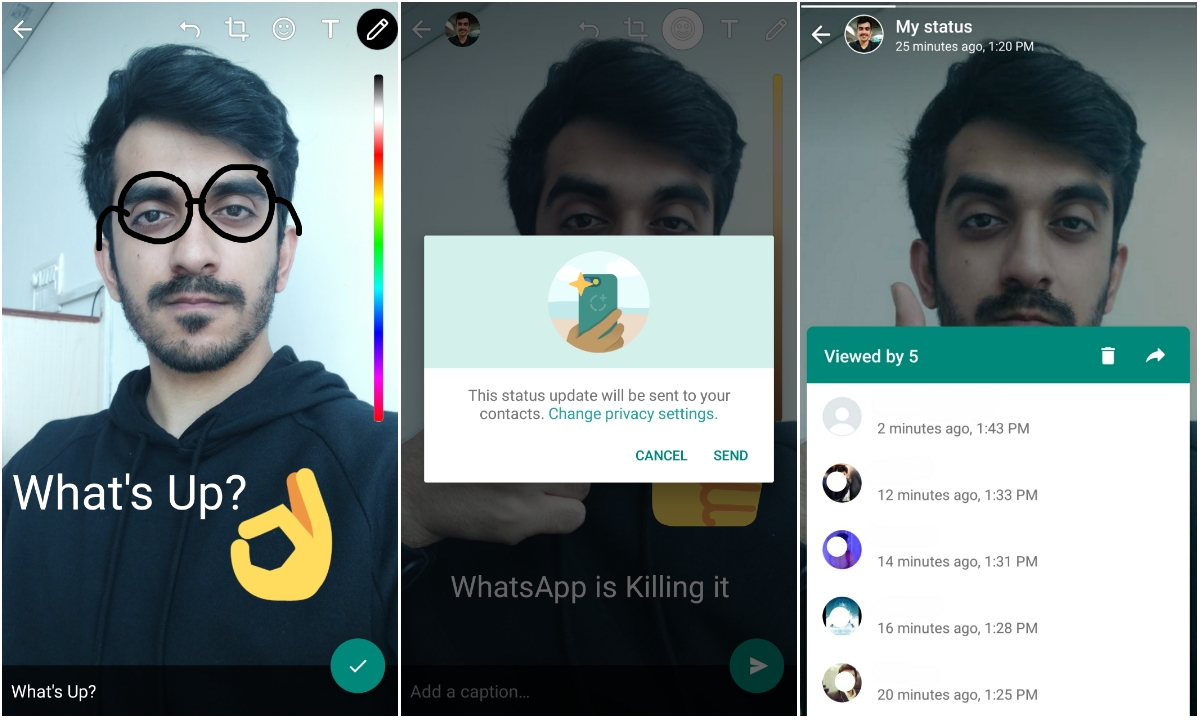 Once clicked, you get some editing tools up to along with an option to write a 'caption' at the bottom. For the editing tools, you get an option to crop the image, add over-sized emoticons, add text with an option to change colour as well and finally an option to draw. You can rotate and adjust the size of both text and emoticons. Once done with editing, hitting the 'arrow' button at the bottom will give you an option to send the new 'Status' to all contacts or choose from your contact list. To view your status, just head to the Status tab above and tap on 'My Status'. Similar to Snapchat, you can see who has seen your status. Apart from this, the Status tab also lists the new 'Statuses' from your friends (or contacts).
Why is Snapchat still better than WhatsApp Status?
Snapchat began this race of putting up stories for a limited period of time and having no access to retrieve it after that. Facebook has been countering Snapchat for quite some time now by first introducing an app called 'SlingShot'. Later, it brought the Stories to Instagram last year and soon included it in its Facebook Messenger platform as well. Still, Facebook couldn't capture the market which Snapchat had and we assume would continue to struggle. Snapchat is to instant sharing stories what WhatsApp is to chat messenger world. In other worlds, both the apps have the first mover advantage here and that is pretty hard to break, in my opinion. Moreover, you still loose on Snapchat's interesting filters which took the 'Stories' era by storm last year.
Can WhatsApp Status kill Snapchat's massive user base?
WhatsApp is probably the most used chat messenger in the world right now. The chat messenger recently crossed over 1 billion users across all platforms and stands tall in the messenger space. Even though we don't get all the features from Snapchat, people will continue to use WhatsApp as their primary chat messenger. In other words, at the end of the day chances of people using WhatsApp's new status feature is much higher than any other standalone Snapchat-like app. Growing traction of the new Status feature would mean that people will not have to install two separate apps. So if there is an app which can change instant time-restricted content sharing scenario, it surely has to be WhatsApp. What do you think? Let us know your thoughts about the new Status feature, in the comment section below.