Samsung launched the Galaxy S23 Ultra earlier in February this year. It carries a starting price tag of $1,199 (~Rs 1,24,999) for the base 8GB + 128GB RAM and storage configuration. Now, Counterpoint Research's Bill of Material (BoM) analysis reveals what it takes for Samsung to assemble a top-of-the-line flagship smartphone. The answer will surprise most people but even more when previous flagship Galaxy devices are compared.
Also Read: Samsung Galaxy F54 5G India launch on June 6, pre-booking begins today
Samsung Galaxy S23 Ultra is fairly cheaper to make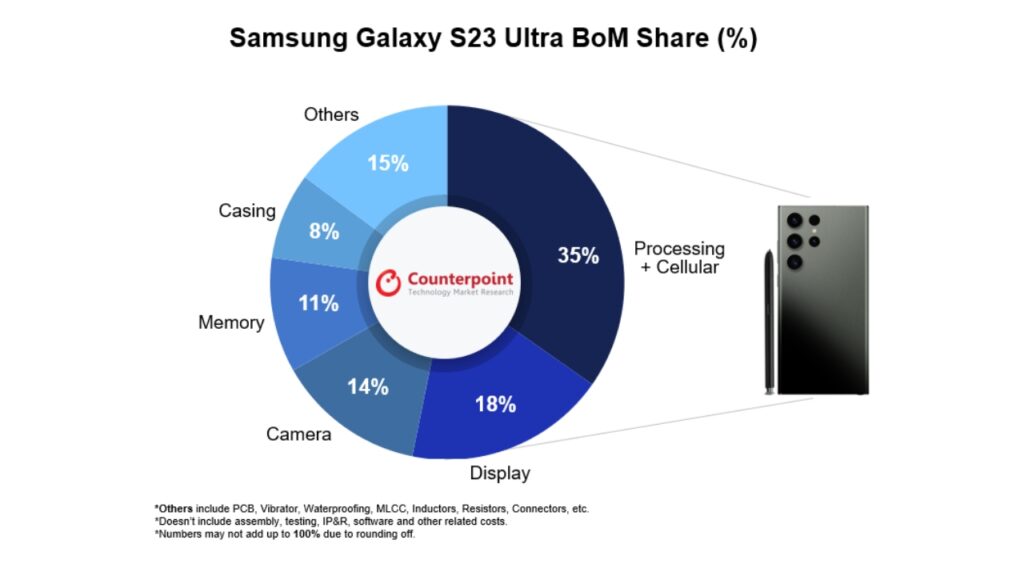 As per the research and tracking firm's bill of material analysis, Samsung shells out just $469 (~Rs 34,695) to produce the sub-6GHz base variant of the Galaxy S23 Ultra. The manufacturing cost of the phone is even cheaper than its predecessors as it was $533 for the S21 Ultra and $550 for the Galaxy S20 Ultra. The BoM cost of the last year's Galaxy S22 Ultra is unknown.
As per the data, Processor and cellular components took up a large chunk of the manufacturing cost at 35 percent. The display was the second most expensive part taking up 18 percent of the total BoM. The Galaxy S23's camera components accounted for a 14 percent share of the BoM. This was followed by memory, casing, and 'others' category with 11, 8, and 15 percent shares respectively.
Qualcomm takes the highest share in Galaxy S23 Ultra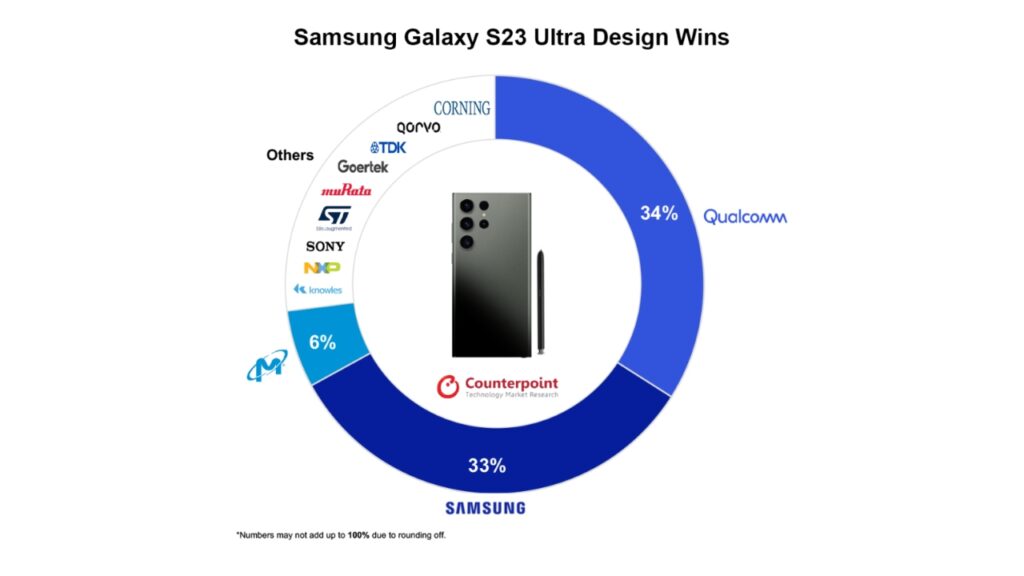 Qualcomm played an influential role in the production of the Galaxy S23 Ultra with a 34 percent share. The semiconductor company supplies the Chipset (Snapdragon 8 Gen 2), wireless connectivity components, fingerprint readers, power management ICs, audio codecs, and RF power amplifiers for the smartphone. Samsung itself is the second-largest beneficiary with a 33 percent share as it provides the 120Hz LTPO AMOLED display, NAND flash, a 200MP HP2 main camera sensor, and a 12MP selfie snapper for the S23 Ultra. This makes Samsung and Qualcomm contribute 65 percent of the component cost for the Galaxy S23 Ultra.
Several other companies also take their share in supplying components for the Galaxy S23 Ultra. Sony provides ultrawide, telephoto, and periscope camera lenses. STM makes a laser Autofocus module and a touch panel controller. Silicon Mitus and Maxim supply power management ICs. The battery is provided by ATL while the Fast charging is sourced from NXP.
It's worth noting that the Bill of Materials does not include costs like R&D, marketing, shipping, software testing, and more. Hence, Samsung is not making a profit of $731 (61 percent on retail price) on every Galaxy S23 unit that is sold. But it seems like the South Korean brand may be increasing its profile margin with the latest-generation flagship.