Manufacturers generally provide a year worth of warranty when you purchase a smartphone, which is an industry standard. However, some brands offer extended warranty plans for your peace of mind and that is what Realme is beginning to do for customers who have purchased the Realme 11 Pro series.
Realme India announced on Twitter, an extended warranty plan for the Realme 11 Pro Series smartphones that will stretch the warranty period of your device for another year, giving you a total of 2 years of warranty. Furthermore, Realme says that unlimited number of repair requests up to the benefit value can be availed under this plan.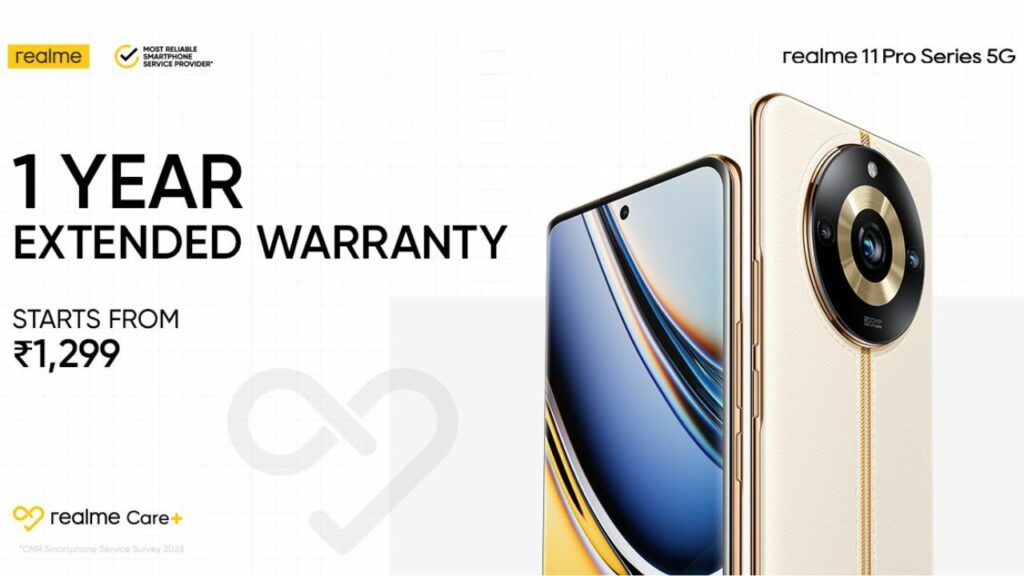 Also, if there is any mechanical or electrical breakdown/defects to the registered device which is legally imported in India, sold through official sales channels of Realme and supported by an invoice and manufacturer's warranty/guarantee, will all be covered under this plan.
However, you will have to pay a price to avail the plan. Interested buyers can purchase the extended warranty plan via Realme's official stores, official websites and selected e-commerce portals in India, starting at Rs 1,299.
As for the cost of the phones, the Realme 11 Pro+ 5G comes in two variants, where the 8GB + 256GB option is priced at Rs. 27,999, while the high-end 12GB + 256GB option is comes in at Rs 29,999. As for the 11 Pro, it comes in three variants, where the 8GB + 128GB is priced at Rs 23,999, while the 8GB + 256GB and 12GB + 256GB options have a price tag of Rs 24,999 and Rs 27,999, respectively.
The series gets a 6.7-inch curved AMOLED Display with an FHD+ Resolution and offers 10-bit colour depth, 120Hz refresh rate, 950 nits peak brightness and 360Hz touch sampling rate. It also has 20000-level automatic brightness adjustment.