JioCinema has gathered a lot of attention in the past few months, thanks to the addition of valuable content on the platform. With the IPL 2023 season coming to an end, the JioCinema and Voot merger seems to be in its final stages. However, with the merger, it seems like the Voot Select subscribers will be getting access to JioCinema Premium subscription for free. Here's how you can claim it.
As spotted by DesiDime, VOOT Select subscribers can get up to 6 months of free JioCinema subscription, which currently costs Rs 999 for a year. The Reddit user @Mr__7 backed the claim by DesiDime, and also posted a screenshot of the mail received from VOOT with the promo code to claim the free JioCinema subscription.
How to Get a Free JioCinema Subscription via Voot?
To avail the offer and get a free subscription to JioCinema, Voot Select subscribers can follow the steps mentioned below:
Go to the JioCinema Help Center to Report an Issue.
Enter your email ID and mobile number used for the VOOT Select subscription.
Enter the payment proof for the VOOT membership in details. You can find these details inside the Voot app's account section, and then tapping on Billing history.
After attaching the screenshot, mention that you are a Voot select subscriber but do not have access to JioCinema Premium.
Click on Submit.
You should then get your promo code in your email.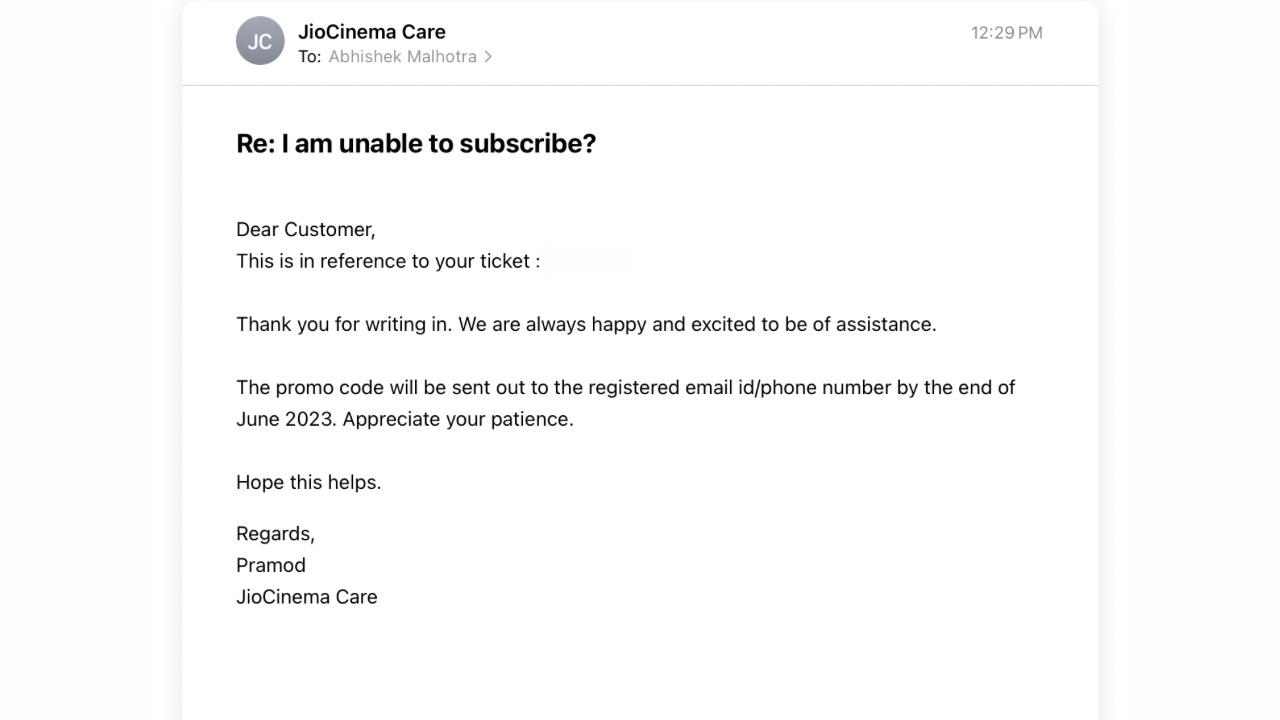 We were also able to independently verify that this method works. Soon after sending the mail, we got a reply that promo code will be sent to us by the end of June. This also means that you may not get the code immediately, and will have to wait till the end of next month.
Read More: JioFiber Rs 1,197 Plan Introduced: Check Benefits, Validity, and More
How to redeem the promo code in JioCinema app?
To redeem the code you have received, follow the steps below:
On your smartphone, download the JioCinema app.
On the home page, click on More.
Now, click on Subscribe Now.
Click on the Apply Promo Code section.
Enter the promo code you got in the email.
Click on Apply.
Now, your JioCinema Premium subscription will activate. The promo code will offer 3 or 6 months of free JioCinema subscription, which depends on your remaining VOOT Select subscription.